Information about how the British Cycling cyclo-cross rankings work.
Full racing licence
To gain any ranking points, a rider must hold a Full Racing Licence issued by British Cycling at the time of the event in which they participate. Members of other National Federations can race in any event but will not be eligible for British Cycling ranking points.
Non British Cycling members, or British Cycling members with only a Provisional Racing Licence, do not qualify for ranking points. Find out more about full racing licences.
How the British Cycling cyclo-cross rankings work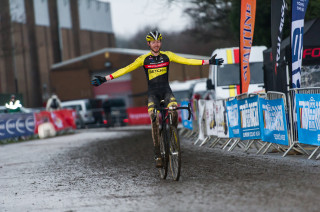 1. Rankings are produced for both male and female riders in the following categories: senior, veteran 40-49, veteran 50-59, veteran 60+, junior, youth under-14, youth under-16.
2. All rankings start from zero at the beginning of the cyclo-cross season.
3. Qualifying events are those which take place between 1 September and the end of February.
4. The senior rankings include any junior or veteran rider who gains overall points in races open to seniors.
5. The youth, junior and veteran rankings are all discrete categories.
6. Events may be upgraded, downgraded, added or removed at the discretion of the cyclo-cross Commission. Events run on a handicap basis do not qualify for ranking points.
7. Only British Cycling Full Racing Licence holders will qualify for points, but if non-qualifying riders finish in points scoring positions the schedule will not be adjusted as a result.
8. For a full breakdown of the ranking points on offer at differnet events, please see the current handbook.