Ian Field (Hargroves Cycles) won his fourth title and Helen Wyman (Kona-FSA Factory Team) her ninth at the 2015 British Cycling National Cyclo-Cross Championships in Abergavenny on Sunday.
Earlier in the day Grant Ferguson (Betch.NL-Superior) made it three consecutive years of winning the under-23 title and Tom Craig (Pioneer-Scott Syncros) also made a successful defence of his junior title in his last year before moving up to the seniors.
Elite men
Ian Field stormed to his fourth British Cycling British Cycling National Cyclo-Cross Championship on day two of the event in Abergavenny.
The 28-year-old had cited Liam Killeen as his biggest threat in the lead-up to the race and it proved to be correct as the Specialized UK rider finished second. Lewis Craven (Wheelbase Altura MGD) was third.
Steven James of Hargroves Cycles led the race out from the start, opening a small gap to a group led by Alex Paton (Pedal Heaven Colbornes RT).
Hargroves team mates Jody Crawforth and Ian Field were also up towards front, along with Liam Killeen (Malvern Cycle Sport).
Tony Fawcett (Pioneer Scott Syncros) was also up in the top ten with Steven Roach (Ride Coventry) also up there, 12 years after winning in Abergavenny.
Roach then went on to take the lead with Crawforth and Paton on his wheel as James started dropping back.
Around this time, Lewis Craven started looking to break into the top ten, as did veteran winner Nick Craig.
From a group of six, the lead group started to take shape as Craven took the lead with Killeen and Field on his wheel and a gap back to the others.
Killeen then took his turn on the front before on a small climb out of the pit area, Field made his attack, driving away and never looking back on a course that is difficult to chase a gap down on. Killeen missed the jump and never recovered, with Crawforth keeping him company.
With four laps to go, Field had opened up a 38-second gap and the other two medals would be decided from a group of Paton, Craven, Roach, Crawforth and Killeen.
On the final lap, Craven looked coming into the hurdles and it looked as though Crawforth would take third with Killeen comfortable in second but Craven found a second wind and powered forward to seal third place.
Field said after the race: "The race went to plan, I think it was text book actually. I bided my time and let other riders get the freshness and the excitement out of their legs.
"I put 100 per cent effort in when I attacked and the gap to the others grew and grew as the race went on which allowed me to ride my own race towards the end.
"Steve James went early, he was super fresh today, he was ill last week. I think he did a good job for the team getting some publicity early on. I sat on the wheels in the opening few laps, just to see what others were going to do then got going when I thought the time was right.
"The pressure on me to win the nationals gets a bit less each year, I've won it four times now, as well as the National series and had a 12th at Milton Keynes so it's been a good season for me."
And Liam Killeen added: "I came here to win, but under the circumstances I'm happy with second.
"I would have liked it to be Ian and me for a few laps but he got a bit of a gap early and I got a bit tied up with a couple of riders, he got a few seconds on me so I had to limit my losses."
Elite and junior women
Helen Wyman saw off the challenge of Nikki Harris to take her ninth British Cycling National Cyclo-Cross Championship.
The 33-year-old, who rides for Kona, beat Young Telenet Fidea rider Harris to the line by 28 seconds.
It was a tight start to the race with Harris and Wyman being the two main protagonists as expected, with Harris just holding the lead.
Amira Mellor (Paul Milnes Cycles – Bradford Olympic RC) was also keeping touch but after two laps, Harris and Wyman had opened up a gap.
Mellor was looking good in third and had Tracey Moseley (T-Mo Racing) alongside her with Annabel Simpson (Hope Factory Racing) riding well just behind.
Junior riders Evie Richards (T-Mo Racing) and Ffion James (Abergavenny RC) were also riding a good race and were up towards the front.
Mellor was to lose third place with Annie Last producing a fine performance after a slow start to pick her way through the field to jump from ninth up to third by the end of the second lap.
Wyman overtook Harris and with two laps to go, opened up a gap allowing her to pull away to victory.
T-Mo team mates Alice Barnes, back from a couple of injuries, and Evie Richards were enjoying a tussle just behind and offered a focal point for the spectators.
Mellor kept the pressure on Last for third place but couldn't stop her from taking the third step on the podium, Mellor was however crowned junior women's champion, completing a double after her excellent British Cycling National Trophy Series win.
Wyman said: "I'm really happy with today and a ninth title, it always feels good to win a National title and I like the jersey, I don't think anyone would recognise me in anything else.
"It's good to beat Nikki in any race, we are both racing at International level week-in week-out and representing the UK in this sport.
"I came here and I knew Nikki and Annie would be strong but Annie starts towards the back and has a lot of work to do to get up to us and when Nikki and myself race at the highest level, it's going to be hard to get up to us let alone race.
"We've raced seven times in the last two weeks so we are race-fit. I knew if Annie wasn't on us it would be between Nikki and myself."
And Nikki Harris said: "I was really disappointed not to take the win, I've been in front of Helen a fair few times this season and I thought I would get the jersey even though I've had a few injuries recently.
"You can only control yourself in a race and I did everything to prepare for today even though the last couple of weeks haven't been a good way to prepare. I hit a patch of ice in a race two weeks ago and knocked myself out on a lamp post and smashed my knee, but you have to keep racing so I don't think I recovered from that.
"I had to keep racing – I had already taken a break after Milton Keynes so I couldn't stop again because I had the motivation to race through."
Under-23 men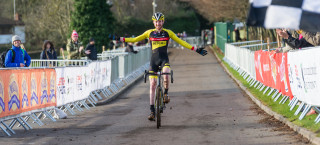 Grant Ferguson secured the under-23 race to take his third title in as many years at Abergavenny after dominating the race from the second lap and leaving the rest of the field to fight out the silver and bronze.
A fast opening lap saw Jack Clarkson (Hope Factory Racing) and Ben Sumner (Beeline Bicycles) set out their intentions, but Billy Harding (Paul Milnes RT) and Nick Barnes (Zepnat RT) were quick to keep tabs on the two and kept the gaps tight.
Ferguson was sitting calmly around eighth place, but coming out of the first lap he was on the front and opening a gap to the chasing group. Ferguson wasn't going to be caught and the battle ensued behind between Clarkson and Sumner, swapping places throughout the race.
Barnes was still in contention but the gap was becoming unbridgeable to the chasing two as the laps reduced. With four laps to go Clarkson escaped from Sumner on the finish straight and rode the remaining laps alone.
Mike Thompson and Jack Humphreys were tied together until the penultimate lap when Humphreys got the march on Thompson and got away only to be caught again on the final lap by the Hope rider who took fifth spot a handful of seconds to the good. Nick Barnes crossed the line to take fourth.
"That was a quick track," said Ferguson. "With a dry surface I thought it would be a closer race then it was, so I just wanted to take it out.
"I was a bit behind on the opening lap but just thought I'd make it a hard race, that was the plan. I wanted to get a gap and drive it once I'd got that, I didn't want to race in a group so I knew I had to drop as many as I could."
And Jack Clarkson added: "Grant was untouchable today, he was phenomenal with that speed, early doors. Billy Harding and Ben Sumner got a small gap on me so I had to get that back which took a bit out of me.
"I knew I had to get a gap on Ben once we were together. I found myself riding the technical parts better then him and found myself in front of him so I just had to go. I think he had more power than me on the fast parts. This is my first podium at a nationals so I'm happy and it's been a good season, best one ever."
Junior men

Tom Craig (Pioneer-Scott Synchros) retained his national title in the juniors race at Abergavenny, but didn't have an easy ride along the way.
The second-year junior faced a strong challenge from any one of three riders that could have realistically taken his crown.
Josh Waters made a fast start from the gun which took the field by surprise, the Sherwood Pines rider looking strong across the top field. But Alfie Moses was quick to respond to the speed and soon bridged the gap.
David Barnes was close on Moses' wheel and Craig was a little way back, but wasn't going to let any break go soon. Waters looked unstoppable as the race settled down, and the only rider able to go with him was Moses.
Barnes and Craig seemed to have missed the break but a quick turn of pace saw Craig send Barnes back to a challenging Mark McGuire who, only in his second cross race, seemed to have the measure of the field.
Going into the third lap it was Craig who entered the finish straight on the front with Moses glued to his wheel. Waters looked to have run out of steam and was struggling to keep up with the leading duo.
Will Gascoyne sensed a problem and he jumped Waters to take third spot, but as his chase to Craig and Moses got underway he snapped his chain which meant a run back to the pits for a new bike.
As the lap progressed Craig proved too strong for Moses and began to pull away, while Moses was unable to respond and Craig kept a gap to the line.
Waters looked to have found his second wind and was back in contention for a podium along with McGuire, the two battling it out for the remaining laps.
Meanwhile, Gascoyne was on a new bike and fighting back to the leaders, but was now too far back to make any serious inroads to the leaders.
Craig increased his lead on the final laps, and Moses had to settle for silver. But the race was still on for third, and it was Mark McGuire who had enough in the tank to take the sprint from Waters.
"That wasn't an easy race, I had a gap after a couple of laps but Alfie didn't give up chasing me down and trying to bring me back," said Craig. "The plan was just to go out as hard as I could from the start.
"The only place I was thinking about was the field, it was windy there so I didn't want to do any work there when I was with anyone."

Results