The British Cycling National Cyclo-Cross Championships return to Derby for 2014 and following a hotly contested National Trophy series, the racing promises to be exciting in all categories.
The National Trophy regulars will be joined by some world-class cyclo-cross and mountain bikers, ensuring that those who don the coveted national champions jerseys will be worthy winners.
Elite men
National Trophy series winner Paul Oldham will have fond memories of Derby, the Hope Factory Racing rider taking his first national title at the Moorways Leisure Centre venue back in 2011, winning with a dominant performance ahead of Jody Crawforth and Liam Killeen.
Although Oldham has looked comfortable in this season's National Trophy battle, he was unable to defeat Ian Field on the two occasions that the Hargroves Cycles rider joined the fray. With Field set to defend his title in Derby, the continental pro rider looks to be odds-on favourite for the win.
Paul Oldham hasn't had the best run in to the nationals this year but it hasn't shown in the rider's results. "I've been fighting a bit of a cold this last week," said Oldham a week out from the race. "I raced New Year's Day [at the Ripley Castle Cyclo-Cross, which he won] and that was grim and it hasn't really come out. But we'll be there, we'll look after ourselves this week.
"Only an hour to go," Oldham joked. "One more hour. Anyone can put up with it for an hour can't they?"
Oli Beckingsale is on the start list but missed the final round of the National Trophy series due to a training crash on Christmas Eve and it remains to be seen if the Olympian mountain biker and 2012/13 National Trophy series winner will take part.
Madison Genesis rider Ian Bibby is also on the start list; Bibby hasn't impressed so far at the National Trophy but is a former national champion and runner-up in 2013; a man who can pull out a big performance on the day.
So too could veteran rider Nick Craig, who finished fifth in 2013 a day after winning the veteran title. Although a podium may be a tough ask, a repeat of his Bradford performance isn't out of the question.
British Cycling spoke to Craig after his fourth place in Shrewsbury and the seasoned campaigner gave his predictions for the race.
"It's going to be interesting. Oli (Beckingsale) has had an off and there's an awful lot of good under 23s – take them out of the mix and it could be quite interesting. We mustn't write off Bibby, Fletcher, all those guys who are just hovering – so it's going to be a good race."
On the chances of a repeat of 2013 when Craig senior took the veteran 40 title while son Thomas took the under 16, the Team Scott UK rider said - "You'll need a lot of luck for that but we'll certainly have a bash."
Elite women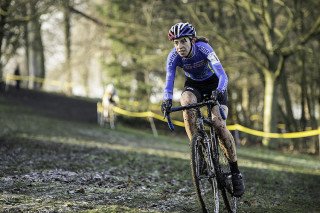 Nikki Harris broke Helen Wyman's record-breaking run of national titles in 2013, taking her first cyclo-cross national title in Peel Park, Bradford.
Harris returns to defend her title from Wyman and fans at Derby should witness fireworks between the two continental pros. In terms of form, Harris lies in second place in the UCI World Cup rankings, while Wyman is three places back in fifth place. Wyman however has chalked up an impressive string of race victories this season including the iconic Koppenberg 'cross and the European Championships.
Another continental pro on the list is Gabriella Durrin (formerly Day), riding for Team Rapha-Focus, who is sure to provide a stiff challenge for Harris and Wyman. Durrin was laid low with a lung infection for last year's race and will hope to be in top form in Derby.
The final round of the National Trophy in Shrewsbury saw a closely fought battle between eventual series winner Hannah Payton and British Cycling Olympic Academy Programme rider Bethany Crumpton, the latter showing her class by finishing a close second despite suffering a major mechanical halfway through the race. If racing goes to form, either rider could be a good outside bet for a podium position.
Speaking to British Cycling a week ahead of the event Crumpton said, "I'm not sure how I'll get on but I'll give it my best really. Hopefully a top five if I can but we'll see."
Meanwhile Payton spoke to British Cycling after clinching the National Trophy title, already looking ahead to Derby.
"I had a cold over Christmas that put me out for a week and a half", said Payton. "I think it's actually done me a lot of good because it's meant I've had a proper rest."
Other categories
The under 23 men's category has been one of the most fiercely contested of this season's National Trophy, with victory going to Ben Sumner by just one point ahead of Steve James and Adam Martin.
Yet it is 2013 national champion Grant Ferguson who enters the race as favourite, the British Cycling Olympic Academy Programme rider on the podium in the elite men's race at the final National Trophy round and clearly in great form.
Ferguson will be joined by trade teammate and fellow Great Britain rider Kenta Gallagher, who could provide Ferguson stiff opposition while giving spectators a treat with his trademark bunny-hops at the hurdles.
Along with this talented pair, expect Sumner, James and Martin to be in contention for the medal positions.
The veteran 40+ category will see Nick Craig on the start list to defend his title. Craig has been absent from the category throughout the National Trophy, choosing to contest the elite races. Craig will race the veterans race on Saturday before tackling the elite race on Sunday afternoon.
The Team Scott UK rider finished ninth in the National Trophy elite category, despite missing two rounds, so looks like a good bet for the national veteran title. Craig won't have it all his own way, with Darren Atkins in the winning habit having chalked up four wins on the way to his National Trophy title.
A head-to-head battle looks likely in the Veteran 50+ category; a battle of the Davies. Steve Davies was pipped to the title in the final round by Mick Davies and the rivalry will no doubt continue in Derby.
The junior men's race will be another tightly fought contest. Dylan Kerfoot Robson and Jack Ravenscroft animated the National Trophy series with some gripping performances and are sure to entertain in Derby. 2013 national champion Billy Harding will return to defend his title but will have his work cut out in the face of his rivals' form.
Harding showed his hand in the final National Trophy round in Shrewsbury, his first home appearance of the season, the Orange Monkey Pro Team rider finishing fifth. Jake Poole is likely to be in the mix too, along with first year junior Thomas Craig, son of Nick Craig, who won the final National Trophy round.
Both male and female under 16 categories saw dominant performances in the National Trophy, with Dan Tulett winning every round in the men's while Charlotte Broughton was similarly a class apart in the women's event, current form making them favourites in their respective categories.
This season's close fight between Craig Rogers and Euan Cameron in the under 14 boy's category is set to continue, as is the rivalry between Poppy Wildman and Lucy Horrocks in the girls.
The venue
Derby last hosted the nationals back in 2011 in cold, crisp conditions; Moorways Leisure Centre providing a great arena for riders and spectators alike. The 2014 edition will use a very similar course to that of 2011, which produce some thrilling and spectator-friendly action.
Riders begin with a straight tarmac section through the barriers before heading onto the grass for a sharp right hand hairpin, the scene of Ian Field's race-deciding crash in 2011. From here, the course heads back onto tarmac to the far side of the complex, past the pits for the first time before heading into a technical wooded section.
Out of the woods the course plies a section of switchbacks before looping back past the pits and onto the stadium area for the hurdles, which in 2011 saw plenty of drama between Liam Killeen and Jody Crawforth in the closing stages of the elite men's race.
After the hurdles, the course circumnavigates the rear of the athletics track with a final technical, twisting section before the start and finish straight.
Racing begins at 9:30am on Saturday 11 January and culminates with the elite men's race at 2:15pm on Sunday 12 January.
Reports, results and reaction will appear on the British Cycling website.