---
After Rob Jebb's record breaking ninth Three Peaks victory and Victoria Wilkinson's first win, on her debut, Andrew Kennedy tracked them both down at the finish for exclusive interviews.
Rob Jebb
The finish area at the Three Peaks cyclo-cross race is chaotic. 650 muddied and bloodied riders milling about with friends and family waiting for the prize presentation to begin. The only pub for miles the Helwith Bridge Inn is packed to the rafters with competitors, the only way to guarantee a seat is to finish in the top 20. Looking for Rob Jebb for an interview British Cycling correspondent Andrew Kennedy headed straight to the pub, and sure enough Jebb was sat comfortably with his partner Sharon Taylor and their two young daughters enjoying a quiet drink and packets of crisps.
Today Rob Jebb secured his ninth win in the Three Peaks cyclo-cross race. After a year out last season due to injury he was now back on top form to continue his dominance of this classic race. We began the interview by asking the 37 year old BT telephone engineer from Cumbria how long he could continue winning this race?
"I'll just keep going for as long as I can, I'm still young and feel very fit, I want to at least get 10 wins, so hopefully I'll be able to do that."
The weather today has been appalling how did it affect you race?
"My background is fell running, so the bad weather conditions don't bother me. I approached this race as I always do, aim for a fast start and try and get a gap on the others, then just pull away. Today my team mate Paul Oldham led up through the farm yard to Simon Fell and there were a few of us together. I moved to the front on the first running section and that was it I stayed in front.
By getting a gap on the others it takes the pressure off on the down-hills. You don't have to go as hard, taking unnecessary risks, there is less chance of puncturing.
The conditions today were the worst I've ever seen, it was very wet, the grassed areas where you can usually ride were water logged and I spent a lot more time running and pushing the bike. The low cloud and mist really didn't have any effect because I know the course like the back of my hand, and it's well signed and marshalled.
Really the only slight problem I had was at the top of Pen-y-Ghent, the dibbers were hiding, taking shelter by the wall and didn't come forward, I couldn't see them in the crowd and had to shout for them, I didn't want to lose any time.
After the Pen-y-Ghent descent I was getting tired but knew I only had a short road section to the finish. I didn't have any mechanical problems or punctures, I used three bikes but all the bike changes were strategic, I use a cross bike with carbon rims for the road sections, just to allow a bit of recovery and make it easier to get some food and drink down. It's a bit of a nightmare getting everything sorted with spare wheels and bikes, I would be happier with just one bike and a couple of spare tubs in my pocket but realistically I can't do it like that, maybe in the future that's how I'll ride it.
There has been some talk today about this being the last race, but I hope it continues. I feel I've got a lot more years in me and I certainly want to make it 10 wins, also I want the race to continue so that my two girls can race and I can come and support them."
Rob Jebb will be dominating this race for quite a few years to come, and when age does begin to take it's toll the spectators will be able to witness some awesome battles as this man will not easily relinquish the trophy that has been a fixture in the Jebb household for nearly a decade.
Victoria Wilkinson
Victoria Wilkinson is an international fell runner with Bingley Harriers. This 34 year old sports massage therapist from Skipton, North Yorkshire has very little cycling experience, but today showed her class and potential by beating last years women's winner Louise Robinson by over three minutes. We began the interview by asking her about her father Chris Wilkinson who won the race exactly 40 years ago.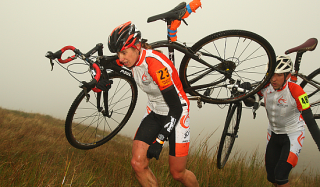 "Yes my dad won in 1972, obviously I wasn't around then but I know all about it, he's back today helping me win it, he's been part of my support team and he's given me lots of advice about how to ride the race.
I'm a fell runner really, and still competing internationally, I was racing in Italy a couple of weeks ago. I've always wanted to do this race, I live in Skipton just down the road so it's on my doorstep.
To help me prepare for today I've been doing quite a bit of road riding, mainly with the Crosstrax lads, and to be honest I've really enjoyed it, also I've done some summer cyclo-cross races but nothing as hard as today, this was a new experience.
Today has been very hard, the conditions were terrible, the tracks were hard to ride, it was rocky, muddy and very, very wet. The wind was just battering you all the time which made it hard. The wind on the road sections also made it hard, there was a bit of tailwind but it was mostly headwind. On the top of the hills it was sometimes difficult to stay upright because of the wind.
My aim today was to win the women's race, and to help me do that I needed to be up there with the lads, so early on I got involved with the leaders and tried to stay as far in front of Louise as possible. Her experience counted for a lot today, she knows this course and she couldn't be ruled out as a potential winner. I've done this course once in the running race but it's a completely different ball game, the two are totally different.
The hardest part of this race for me was sorting out the bikes, support team, mechanical stuff for bikes, it's all new to me and that was very hard. My support team have been brilliant, it's just not possible to do this race on your own.
The only problem I had was a crash on Whernside when I bent my handle bars, I had to use my spare bike, but no punctures or anything like that".
To finish the interview we asked Victoria if she would be back next year to defend her title?
"If the weather is like this I won't be riding ever again, it's been an horrendous experience and not what I want to be doing, I like it to be warm and sunny when I'm riding a bike not like today. But I'll wait and see how I feel this time next year, don't rule me out!"