2012 UCI Cyclo-Cross World Championships
Nikki Harris: "I go into 2013 with the aim of a World Championship medal"
---
One day after securing a career best sixth-place at the 2012 Cyclo-Cross World Championships, Nikki Harris has told of how she already plans to challenge for a medal in 2013.
Such a result would make Harris the first British 'cross rider to score a medal since Louise Robinson's silver in 2000 – but the 25-year-old was in no doubt of how difficult the task of winning the rainbow jersey would be, in light of Marianne Vos' dominance.
"Marianne is so completely dominant at the moment that the best you can hope for is to finish second. But of course I will go into 2013 with the aim of a medal, that's what I get up every day and train for and if I didn't have that ambition of a podium or those stripes then I may as well stop now. I will do everything I can to be the best cyclo-cross rider I can be, it might not be next year that I get everything right, but I'm sure that if I can just keep on doing the small things right and training to the best of my ability then I don't see why that goal isn't reachable."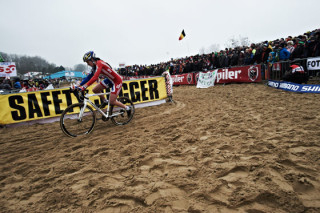 Harris went into the latest World Championships with confidence that one of her favourite courses and perfect preparation would be enough for a result – which it was – however in hindsight she admits one small mistake could have been the difference between making the podium or missing out.
"I'm really happy with sixth place; it's the best I could have hoped for, but in the first sand section I made the mistake of trying to get back on my bike too early, which resulted in me coming to a complete stand still, allowing about five other girls to come running past me."
From that point, Harris dropped to eleventh place and spent a long time chasing, before almost having the opportunity to race for a medal, but the previous efforts had taken effect.
"Luckily I was able to compose myself and make my way back up through the field, but it wasn't until the last lap that it dawned on me how close I was to that front group, I gave it everything but the group were racing each other full on and four riders racing together are always going to be stronger than one alone.
"It's a shame I wasn't in that group as it would have gave me a little more time to recover on the road sections and maybe I could have finished a couple of places higher up, but hindsight is a great thing. Obviously you're always going to have some regrets and things that you would change unless you're winning and I hope next year I will be in the mix in that group racing for a podium."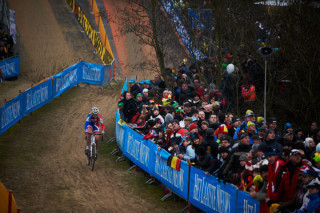 First though, Harris will return to riding for her Telenet-Fidea team and try to capture the prestigious GVA Trofee – which is one of the big three continental cyclo-cross series' – and where she currently stands second. That placing has come from ten podium placings in all competitions, but a win still remains illusive in what has been a breakthrough year for the young Brit and Harris puts that down to a meticulous approach this season.
"I sat down and thought about every little thing I could do to make me a better cyclo-cross rider. I didn't focus on one thing, I focused on all the little things. With 'cross, the race is so short that every possible second counts. If you can be just three or four seconds quicker a lap that could mean the difference between a top 15 or a top eight in a World Cup. Cross isn't just about being powerful or fast it's about maybe ten elements combined. I trained a lot during summer and really cut my racing hours down to allow me to train and rest well. I came into the season fresh and gained confidence every race I did. I still have so much to work on and I just hope that I can have another good consistent summer which will again set me up well for the following season."