2012 UCI Cyclo-Cross World Championships
The Workshop

---
Somewhere in Koksijde, garages in a hotels underground carpark house the workshop operation for the British team at the 2012 UCI Cyclo-Cross World Championships.
Only a tube with a naked flame, carefully placed away from flammable solvents heats an otherwise cold-blue concrete bunker that houses three mechanics for five days.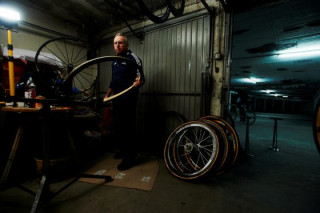 Over that period tens of wheels are checked and glued, bikes stripped and protected with the aim of keeping sand out of intricate moving springs and pivots.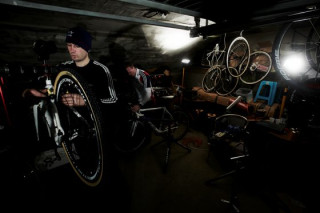 Tools range from the specialist and sublime – an airline to force grit out of crevices – to the mundane but essential – a torch to find any particularly small screws that accidentally fall to the ground.
Following each session on the road or course all riders are encouraged to request any changes required, all of which must be received by a strict deadline if they are to be implemented. Using such a system aims to minimise last minute stress for the mechanics and keep the riders alert to making changes as soon as they are needed.