│
Location: Caedmon School, Whitby
Event: 22 January 2012
Report: Snowdon Sports
---
Keith Murray won his first CXNE race of the season at Whitby, but second place was enough for Tony Fawcett to take the North East League title.


Murray (Team Scott) had managed to finish second in rounds seven and eight and has been challenging for points in most of the races he entered in the series.
But it was here in round 14, the first event ever held at Caedmon School, that he finally topped the podium and took maximum points.
It was far from an easy win for the Darlington rider. Right from the gun, Tony Fawcett (Black Hawk Bikes) was putting pressure on Murray as he went in search of the league title.
The two riders managed to break away from the pack on a clear but blustery day and exchanged the lead throughout the race.
But by the end of the race, it was Murray who found himself in the lead and he was first over the line with a time of 53 minutes and 23 seconds with Fawcett just 21 seconds behind him.
Down in third place, Tony Fawcett's Black Hawk team mate Alan Nixon finished in 54 minutes and 21 seconds.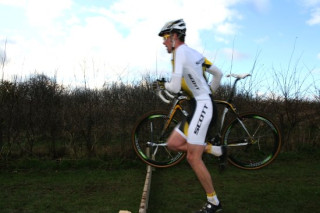 Speaking after the race, Keith Murray said: "It was more like the riders against the wind than against each other today, it was really strong.
"It was the first time this course had been used and it was important to find the right places to attack. There was a bank which turned out to be quite decisive. I attacked there and then did the last two laps on my own.
"Tony will have been very motivated for this race because he's been going well and he knew that a top six finish would win him the title. But I was very motivated for today as well.
"I had come second a couple of times earlier in the series but it's been a couple of years since I won an event. The event was really well supported and organised and it was quite a traditional track. It was quite dry but with just wet enough to give some traction going around the corners.
"It's usually the courses that require a lot of bike changes that suit me best but today, I wasn't scared to go out and race on my own and I think that's what helped me to win."
The fastest veteran on the day was Kenny Johnson (Science in Sport.com) and quickest woman was the unattached Nicola Davies. First junior was Mike Thompson (TEF/Richardsons RT).
Matthew Worton (Hetton Hawks CC) gained the upper hand in the title race by winning the youth section race with team member Stephen Lee finishing second. Fellow title hopeful, James Edmond (Ferryhill Wheelers CC) came third.
In the under 14s, Jake Dobson (Newcastle Phoenix) took top spot.
Results:
Seniors:
1 Keith Murray Team Scott sen 53:23
2 Tony Fawcett Black Hawk Bikes sen 53:44
3 Alan Nixon Black Hawk Bikes sen 54:21
4 Kenny Johnson Science in Sport V40 54:23
5 Morgan Donnelly Beacon Whs sen 54:25
6 Colin Ash Black Hawk Bikes sen 54:26
7 Tony Glover Dewentside CC sen 55:06
8 Tom Stockhill Malton Whs sen 55:10
9 Scott Gerrard Cestria Cycles RT sen 55:18
10 Matt Denby Zepnat RT V40 55:52
11 Mike Thompson TEF Richardsons RT Jun 56:12
12 James Thompson Hope Factory Racing sen 56:44
13 Vince Potter Black Hawk Bikes sen 56:59
14 Craig Gayle York Cycleworks sen 57:57
15 Jonathan Watson Charge Bikes V40 58:09
16 William Brown Black Hawk Bikes U23 58:13
17 Richard Atkinson Hambleton RC V40 at 1 lap
18 Steven Wilson MTS V50 at 1 lap
19 Thomas Atkinson Denis Distribution sen at 1 lap
20 Kenny Haswell Black Hawk Bikes sen at 1 lap
21 Mark Reed Tyneside Vagabonds sen at 1 lap
22 Tom Harcourt Black Hawk Bikes sen at 1 lap
23 Rob Powell Malton Whs V40 at 1 lap
24 Michael Harcourt Black Hawk Bikes sen at 1 lap
25 Trevor Schofield Hambleton RC sen at 1 lap
26 Dave Charman Black Hawk Bikes sen at 1 lap
27 Matthew Enticknap Walton Whs RC V40 at 1 lap
28 James Metcalf Denis Distribution sen at 1 lap
29 Andy Moss Adept Precision CC V40 at 1 lap
30 Paul Whitehill Infinity Cycles V40 at 1 lap
31 Colin James Beacon Whs V40 at 1 lap
32 Mark Mather Westbrook Cycles Team SCOTT V40 at 1 lap
33 Martin Worner Teesdale CRC V40 at 1 lap
34 Dan Middlemas Unattached sen at 2 laps
35 John Carr Cleveland Whs V50 at 2 laps
36 Laurence Seviour Unattached sen at 2 laps
37 Gary Worton Stockton Whs CC V40 at 2 laps
38 Rob Williamson Unattached V40 at 2 laps
39 Jon Allan Unattached V40 at 2 laps
40 Jason Shipman Moonglu RT sen at 2 laps
41 Ian Elmore Unattached V50 at 2 laps
42 Simon Forster Tyne and W Fire sen at 2 laps
43 Jon Bardgett Unattached V40 at 2 laps
44 Aidan Macdermott GS Metro V40 at 2 laps
45 Kevin Dowson Hetton Hawkes V50 at 2 laps
46 Dave McLean Hetton Hawkes V60 at 2 laps
47 Nicola Davies Unattached LV50 at 2 laps
48 Lucy Donnelly Beacon Whs L at 3 laps
49 Shaun Joughin Cleveland Whs sen at 3 laps
50 Pam Glover Dewentside CC LV at 3 laps
51 Dan Joyce Richardson CC V40 at 3 laps
52 Jen Milsom PSUK L at 3 laps
53 Stuart Gordon Stockton Whs CC V50 at 3 laps
54 Paul Lane Richardson CC sen at 3 laps
Youth:
1 Matthew Worton Hetton Hawkes U16 30:38
2 Stephen Lee Hetton Hawkes U16 30:51
3 James Edmond FHWMHRT U16 31:42
4 Elliot Davidson Hetton Hawkes U16 34:09
5 Jake Dobson Newcastle Phoenix U14 34:55
6 Mark Donovan Beacon Wheelers U14 35:35
7 Joe Mann Derwent Whs U16 35:45
8 Joe Howard Cleveland Whs U14 35:50
9 Miles Worner Teesdale CRC U14 37:08
10 Thomas Hordon Newcastle Phoenix U16 at 1 lap
11 Brandon Stock Cifton CC U16 at 1 lap
12 Louis Bonnin Newcastle Phoenix U14 at 2 laps
---
British Cycling would like to thank the organising team, officials and everyone else who helped promote this event. Our sport could not exist without the hundreds of people, many of them unpaid volunteers, who put in many hours of hard work running events, activities and clubs.