| | | | | | | | |
| --- | --- | --- | --- | --- | --- | --- | --- |
| | Follow britishcycling.org.uk on | | | | | | |


2011 National Cyclo-Cross Championships - Day 1

Moorways Leisure Centre, Derby | Saturday 8 January 2011
| |
Video: Nick Craig Retains Vet 40+ Title in Day 1 Finale
The opening day of the 2011 Nationals saw a packed schedule of four races with Youth and Veteran champions crowned. The first day of racing on an increasingly muddy course saw dominant performances from Nick Craig and Steven Davies in the day's two Vet races, while first year U14 rider Charlotte Broughton's runaway win was the standout performance from the Youth action.
Below: Over 200 photos from the action on day 1.
VET 50+
Steve Davies of Team Jewson took a commanding victory in the opening event of the 2011 National Champs winning the Vet 55+ race.
At the start it was Mick Rowson who got a fast start and strung out the field. It was not to last - Rowson was quickly caught by Roy Hunt. However, at half lap distance and the planks, Steve Davies had hit the front and began to build a lead.
At the end of the first lap, Davies came over the line 5 seconds ahead of a trio of chasers; Peter Harris (Pierce Cycles), Ian Wright (Raleigh Avanti) and Malcolm Cross (Hargroves Cycles). Just behind was first 55+ Vet, Dave McMullen.
Over the next lap the on-form Davies, who has dominated the National Trophy, began to pull out all the stops and by the end of lap two was 20 seconds ahead of his rivals, the trio of Harris, Wright and Cross only separated by a few seconds, while behind a battle was developing between McMullen and fellow 55+ Vet Roy Hunt.
The riders disappeared once more into the wooded section on the far side of the course, reappearing briefly on the off-camber sections at the far side of the arena. When they did reappear, Davies was still reigning supreme and as the end of the third lap came, was still in front by around 20 seconds. Harris and Wright came over the line together, while McMullen had dropped back by around eight seconds.
With one lap remaining it was clear that, barring accident, Davies would be crowned 50+ national champion. Davies reappeared into the stadium out on his own by a country mile and took no chances on the rapidly deteriorating surface. Just one more loop around the back of the arena would secure and impressive victory for the Jewson rider, who crossed the line arms raised to much applause from the hardy crowd. However, there had been a reshuffling of positions behind, with Wright overcoming and breaking free of Harris to take the silver. Malcolm cross came home in fourth place, while Dave McMullen hung on in fifth spot to take the 55+ crown, with Roy Hunt chasing hard in the closing stages taking bronze.
Alan Day of Derwent Valley ATC was first 60+ Vet home, taking the gold medal ahead of Philip Cooper and Rugby Velo's Peter Mooney, while in the Vic Barnett was first 65+ vet and took the national champion's jersey with John Ginley and David Miller taking silver and bronze.
Over 65, David Miller, Vic Barnett and John Ginley. Photo Joolze Dymond.
Over 50 Podium, Ian Wright, a jubilant, Steve Davies and Peter Harris. Photo Joolze Dymond.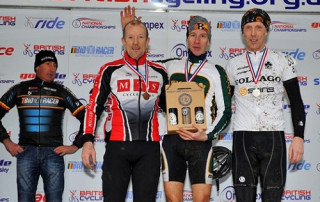 Over 55 podium, Cliff Featherstone, Dave McMullen and Roy Hunt. Photo Joolze Dymond.
Results (Full Results)
50+
1 Steve Davies Team Jewson
2 Ian Wright Raleigh Avanti
3 Peter Harris Pierce Cycles
4 Malcolm Cross Hargroves Cycles
5 Dave McMullen Evans Cycles
55+
1 Dave McMullen Evans Cycles RT
2 Roy Hunt Colnago-Microshift-Skins
3 Cliff Featherstone MTS Cycle Sport/Inkland
4 Graham Edwards Abergavenny RC
5 Andrew Roberts Evans Cycles RT
60+
1 Alan Day Derwent Valley ATC
2 Philip Cooper Individual Member
3 Peter Mooney Rugby Velo
65+
1 Vic Barnett Welland Valley CC
2 John Ginley Condor RC
3 David Miller Coventry RC
4 Mick Ives Team Jewson
5 Graham Clements Team Jewson
YOUTH U14 BOYS
Welwyn Wheelers' Joseph Fry became 2011 Youth U14 Champion with a dominant performance over three laps of an increasingly greasy Moorways course. From the off, Fry was in contention for gold, leading the field with Tomas Franklin of Hargroves Cycles as the race left the tarmac start and finish straight and hit the fields. At the end of the first lap, Fry crossed the line just ahead of Franklin while Cyclesport's Jake Poole was in bronze medal spot around five seconds back. 10 seconds behind Poole, David Barnes scrapped with Arthur Greene, while Thomas Craig was 15 seconds back in fifth position.
During the next lap, Fry began to pile on the pressure and by the end of lap two the Welwyn rider had opened a 26 second lead ahead of Franklin, with Poole still in third and Barnes, Green and Craig now is close order. The final lap came and Fry was still in control and crossed the line to take gold. Meanwhile behind him, Poole had moved up to second and crossed the line 13 seconds down on the winner. Barnes too had passed Franklin, who eventually finished fourth with Thomas Craig rounding out the top five.
Result (Full Results)
1 Joseph Fry Welwyn Valley Wheelers
2 Jake Poole Cyclesport/Piggott and Crone
3 David Barnes Palmer Park Velo
4 Tomas Franklin Hargroves Cycles
5 Thomas Craig Team Scott UK
YOUTH U14 GIRLS
In the U14 Girls, Charlotte Broughton of Leicestershire RC decimated the field to win by over three minutes and claim the National title. Broughton outclassed the field from beginning to end, opening up over a minute over the opposition on the first lap and continuing to build throughout the three laps. Behind her the competition for the silver was more intense, with Broughton's teammate Grace Garner trading blows with Matlock's Sarah Lomas. In the end it was Garner who had the legs and claimed silver, with Lomas taking bronze.
Result (Full Results)
1 Charlotte Broughton Leicestershire RC
2 Grace Garner Leicestershire RC
3 Sarah Lomas Matlock CC
4 Amira Mellor Holme Valley Wheelers
5 Ffion James Abergavenny RC
YOUTH U16 BOYS
Hargroves Cycles' Harry Franklin took victory in the three-lap U16 Boys Youth championship. Franklin led pretty much from start to finish - after the first lap he was stringing out a quartet of riders behind him; Billy Harding of Paul Milnes Cycles, Jake Wormesley of Sowerby Brothers, Long Eaton's Joe Kirkham and Maxgear RT's Chris Lawless.
The positions were the same and the end of lap two, however the elastic separating the riders had now broken, with Franklin 14 seconds up on Harding. Franklin maintained his lead into the last lap and crossed the line arms raised to take a richly deserved gold medal, with Harding taking silver and then a big gap back to Jake Wormesley. However, behind, Maxgear's Lawless took fourth spot while Kirkham slipped out of the top five which was rounded out by Heanor Clarion's James Shaw.
Result (Full Results)
1 Harry Franklin Hargroves Cycles
2 Billy Harding Paul Milnes Cycles
3 Jake Wormesley Sowerby Brothers
4 Chris Lawless Maxgear RT
5 James Shaw Heanor Clarion
YOUTH UNDER 16 GIRLS
Rapha Condor's Emily Barnes took the U16 girls title in a five way battle for top honours. In contrast with the U16 boys' race, the girls' event was a real ding-dong battle, with a continuous shuffling of the medal positions throughout the three laps. At the end of the first lap a quintet of riders flashed past the finish line with a hair's breadth separating them. Keira McVitty was first, followed by Alice Barnes (Palmer Park Velo), Amy Hill of Newport Velo, Emily Barnes of Rapha Condor and Emily Nelson of Halesowen.
McVitty was still ahead on lap two, however Barnes, in the black of Rapha Condor, was on a charge and had moved into second place followed by the similarly charging Nelson in the purple of Halesowen.
As the final lap loomed the only question was could McVitty hold on in the face of extreme pressure for the Rapha rider. In the end, the fast starting McVitty was overhauled on the final lap, with Barnes emerging onto the finish straight first to claim the top step on the podium. Barnes had put 15 seconds into McVitty in the final lap, while Nelson took bronze. Behind, Amy hill took fourth followed by Bethany Hayward of Welwyn Wheelers in fifth.
Results (Full Results)
1 Emily Barnes Rapha Condor
2 Keira McVitty Kings Cliffe Flyers CC
3 Emily Nelson Halesowen A&CC
4 Amy Hill Newport Velo CC
5 Bethany Hayward Welwyn Wheelers CC
VETERAN 40+
Defending champion Nick Craig of Team Scott UK retained his Veteran title with a superlative, faultless display of riding.
Craig's form was obvious from the off, responding to a fast starting Phil Roach, who'd strung out the bunch from the line. By the time the riders were visible on the far side of the athletics track, Craig and last year's rival Darren Atkins were ahead together and it looked for a moment like an epic duel was about to unfold.
However Craig was clearly the man on form and lapped up the slippery conditions, powering away from Atkins, who'd been the form man throughout the preceding National Trophy rounds. Craig was away by the end of lap one and continued to build his advantage, accumulating a 38 second lead by the end of lap two. Meanwhile behind, Phil Roach had slipped back following a problem in the pits, as the characteristically slower starting Chris Young began to drop his foot on the gas, climbing the third spot by the end of lap two. Behind him, Hackney's Gary Lingard began to consolidate fourth position while another Young, Mike Young of Pedalsport held fifth place.
Indeed, this is how the positions remained throughout the remaining two laps, Craig stayed smooth and deceptively fast, while behind him Atkins was visibly doing everything to stay in touch. Young consolidated his third spot in smooth and powerful style, making the 2011 podium a carbon copy of 2010 in Birmingham. However this time, there was no last lap decisive move from Craig - he was in a different league from beginning to end.
Chris Young's third place also earned him the gold in the +45 category, with Phil Roach and Anthony Green taking silver and bronze respectively.
Over 40 Podium: Darren Atkins, Nick Craig and Chris Young. Photo Joolze Dymond.
Results (Full Results)
Overall
1 Nick Craig Team Scott UK
2 Darren Atkins Team Jewson UK
3 Chris Young (+45) Wheelbase/Cannondale
4 Gary Lingard CC Hackney
5 Mike Young Pedalsport CC
45+
1 Chris Young Wheelbase/Cannondale
2 Phil Roach Rugby Velo
3 Anthony Green GA Cycles
4 Kenny Johnson Science in Sport.com
5 Chris Ledger Zepnat
Over 45 Podium, Anthony Green, Chris Young and Phil Roach. Photo Joolze Dymond.
Over 40 Team winners, Team Jewson. Photo Joolze Dymond.