Follow britishcycling.org.uk on
UCI Cyclocross World Championships 2010 - Day 1

Junior Report
First results are in from the snowy morning race, which was won in a thrilling sprint finish by Czech rider Tomas Paprstka who just overcame Frenchman Julian Alaphillipe.
For Brit riders it was a battle against snow, ice and crashes. First to fall victim was Luke Gray, reaching the start/finish straight on lap one in last position but recovered well to place 37th, one place behind Tom Moses, the best British finisher. Luke Mellor was 50th, while Dan McLay who had ridden inside the top thirty for most of the race did not finish, crashing out in the final half-lap.
On arrival course conditions reverted to ice with a thin layer of overnight snow; combined with the remainder of compacted snow from previous days practice this made going tricky, especially on edges of tarmac. Upon arrival British riders would have only one lap of reconnaissance, a final check of bike setup before the race. The only small consolation was the race timing; being a morning race there would be no chance of a thaw despite the sun rising on higher slopes of the course.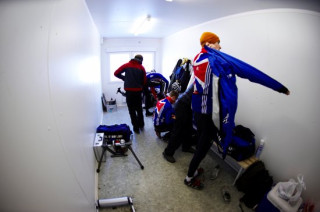 GB riders get ready to race in the portacabin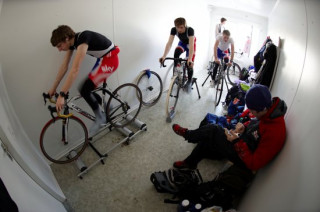 L-R: Moses, McLay, Gray, Grivell-Mellor warmup as Dixon makes notes
Into lap one of the race and as Luke Gray recovered, Tom Moses fought hard to stay on the wheel of Dan McLay who started furthest forward on the grid. However, Moses would pay for a hard start, slipping back and having his own battle against Gray, who was now making his way confidently through the dicey conditions and into the top forty.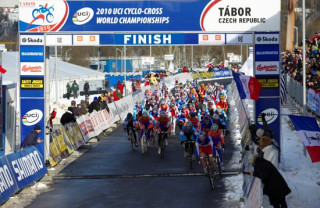 Meanwhile Luke Mellor was making his way into the race on his first ever trip with the British squad, something he will be hoping to build on in his second year.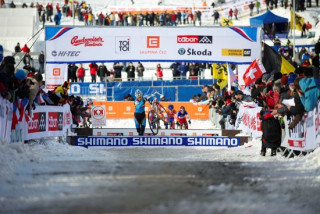 On lap one Belgium held the lead from France
After the race we got reaction from the riders and their thoughts on the upcoming British Championships.
Luke Gray:
My first lap wasn't too good - I went down in the first corner. I got a bit excited trying to go up the inside and it just seemed to slow up. I piled into some riders and I went down while people ran over my bike. Then I got up and was fifty metres off the back, before doing the same on the next corner. I had to change bikes and shoes came loose but from there I made up places, settling into the race by lap three. I was quite pleased with how I felt. When it comes to next week I'm quietly confident for the Nationals. I'll be so fast nobody can see me!
Luke Mellor:
I think the week has gone well; it was my first time away with British Cycling. It helped to go on the course each day because the conditions changed a lot. The first day it was snowy, yesterday was wet and today was icy so really slippery on some of the corners. In the race I moved up well in the early stages. Unfortunately the chain came off and it took me a lap to get back into the race from there. I could move through and feel good then, I just gave everything and it has been a good experience and I want to come back and do better next year.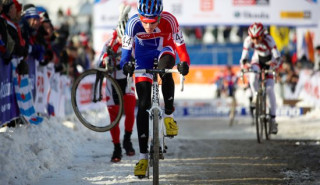 Tom Moses
It's been an alright week - I felt better than I have been recently - I had a bit of a dip in early January but Phil West has decreased my training to build up for this and I've got a good base now but I think I did a bit too much at the start of the week - yesterday in the mud I thought it was a really good course, I couldn't contain myself, I was smashing it round in the big ring for bits!
But that meant I didn't have enough for the race. In the first two laps I had it in my legs, I could move through easy, I could make places and ride all the course just right, but after a couple of hard days coming into the event I just didn't have it in me, I felt a bit drained and had a lack of power in the back end of the race which cost me pretty dear. In the final laps I saw Luke coming back to me and I thought, I've got to beat him! Then I got a bit giddy off the bridge and slapped off - so I had to press on a bit to keep it.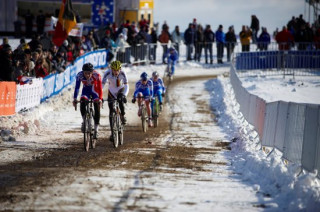 It's always good to kick a guy in the week before even he did come off! It'll be good next week, I'm looking forward to it. If I rest up for a week now though I've got the legs for the Nationals. A race like this gets you in the mindset for the Nationals, coming off not a great result shows you what you can do to improve so it gets you motivated for next week. I'm motivated for it now. I'm going there to smash it.
I've learned a lot this week from riding in different conditions and how important it is to stay relaxed. Those first few laps I was relaxed and it was easy to swing it in the corners, but when I got tired I got tense, the technique went and I was losing time. But it was a good week and a good trip.
Dan McLay
The week has gone alright, coming off the plane we got a couple of days in on the course, I thought the course was alright, pretty tricky, all the corners came clumped together and in the few straights you could get the gas down. I was enjoying it.
The first 200 metres of the race went well, I missed a pedal but then moved up once we got going, then had a bit of a slide on the first off road corner. I think that knocked my confidence a bit in the corners. I was moving along alright despite not feeling too good and with two to go the legs started to come round and I felt good at the end, making up places. Unfortunately though I had a crash at the end and that one hurt, it was the end of the day for me. The front wheel went away from me under braking. It started going and I got close to not falling but with no forward momentum I landed heavy. I couldn't get round the next lap without getting pulled so I called it a day.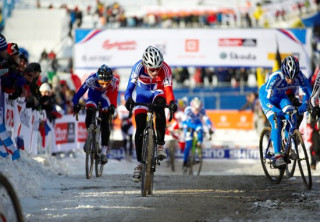 Results
Junior Men
1 Tomas Paprstka (Czech Republic) 0:40:30
2 Julian Alaphilippe (France)
3 Emiel Dolfsma (Netherlands) 0:00:09
4 Matej Lasak (Czech Republic) 0:00:19
5 Gianni Vermeersch (Belgium) 0:00:20
6 Gert-Jan Bosman (Netherlands) 0:00:39
7 David Menut (France) 0:00:48
8 David Van Der Poel (Netherlands)
9 Laurens Sweeck (Belgium) 0:00:56
10 Michiel Van Der Heijden (Netherlands) 0:01:00
11 Radek Polnicky (Czech Republic) 0:01:01
12 Tim Merlier (Belgium) 0:01:09
13 Clément Le Bras (France)
14 Yannick Eckmann (Germany) 0:01:11
15 Clément Venturini (France) 0:01:14
16 Michael Boros (Czech Republic) 0:01:31
17 Bob Jungels (Luxembourg) 0:01:32
18 Vojtech Nipl (Czech Republic) 0:01:40
19 Emilien Viennet (France) 0:01:49
20 Diether Sweeck (Belgium) 0:01:53
21 Lars Forster (Switzerland) 0:01:54
22 Jannick Geisler (Germany) 0:02:00
23 Janusz Lessnau (Poland)
24 Danny Van Poppel (Netherlands) 0:02:14
25 Fabio Alfonso Todaro (Italy)
26 Lukas Müller (Switzerland) 0:02:27
27 Eduard Michael Grosu (Romania) 0:02:28
28 Wenzel Böhm-Gräber (Germany) 0:02:32
29 Jens Vandekinderen (Belgium)
30 Julian Lehmann (Germany) 0:02:42
31 Jon Ander Insausti (Spain) 0:02:50
32 Francesco Acqvaviva (Italy) 0:02:56
33 Cody Kaiser (United States Of America) 0:03:05
34 Bartosz Pilis (Poland) 0:03:06
35 Nicolas Samparisi (Italy) 0:03:17
36 Thomas Moses (Great Britain) 0:03:24
37 Luke Gray (Great Britain) 0:03:28
38 Pablo Rodriguez Guede (Spain) 0:03:43
39 Chris Wallace (United States Of America) 0:04:08
40 Kris Dahl (Canada) 0:04:11
41 Paulo Gonzalez Fontan (Spain) 0:04:14
42 Scott Thiltges (Luxembourg) 0:04:16
43 Fabian Lienhard (Switzerland) 0:04:20
44 Jeff Bahnson (United States Of America) 0:04:21
45 Mackenzie Carson (Canada)
46 Pietro Santini (Italy) 0:04:27
47 Jaroslav Chalas (Slovakia) 0:04:47
48 Rudy Lorenzon (Italy) 0:05:18
49 Lex Reichling (Luxembourg) 0:05:31
50 Luke Grivell-Mellor (Great Britain) 0:05:55
51 Peio Goikoetxea (Spain) 0:06:18
52 Kiernan Orange (Canada) 0:06:24
53 Skyler Trujillo (United States Of America) 0:06:27
54 George Stancu (Romania) 0:06:53
55 Tom Schwarmes (Luxembourg) 0:07:17
56 Marek Michalec (Slovakia) 0:07:38
57 Matt Spinks (United States Of America) 0:07:48
58 Conor O'brien (Canada) 0:08:22
59 Lukas Gebrlin (Slovakia) 0:08:34
60 -1lap Daniel Hula (Slovakia)
61 Jonas Pedersen (Denmark)
Under-23 Men
1 Pawel Szczepaniak (Poland) 0:55:37
2 Kacper Szczepaniak (Poland) 0:00:20
3 Arnaud Jouffroy (France) 0:00:21
4 Tom Meeusen (Belgium) 0:00:46
5 Marek Konwa (Poland) 0:00:56
6 Arnaud Grand (Switzerland) 0:00:58
7 Robert Gavenda (Slovakia) 0:01:00
8 Sascha Weber (Germany) 0:01:09
9 Tijmen Eising (Netherlands) 0:01:20
10 Elia Silvestri (Italy) 0:01:27
11 Matteo Trentin (Italy) 0:01:33
12 Lars Van Der Haar (Netherlands)
13 Kenneth Van Compernolle (Belgium) 0:01:39
14 Vincent Baestaens (Belgium) 0:01:45
15 Jiri Polnicky (Czech Republic) 0:01:53
16 Micki Van Empel (Netherlands) 0:02:08
17 Lubomir Petrus (Czech Republic) 0:02:09
18 Marcel Meisen (Germany) 0:02:10
19 David Lozano Riba (Spain) 0:02:17
20 Corne Van Kessel (Netherlands) 0:02:43
21 Matthias Rupp (Switzerland) 0:02:47
22 Cristian Cominelli (Italy) 0:02:52
23 Jan Nesvadba (Czech Republic)
24 Matthieu Boulo (France) 0:03:01
25 Valentin Scherz (Switzerland) 0:03:05
26 Jim Aernouts (Belgium) 0:03:12
27 Bryan Falaschi (Italy) 0:03:39
28 Zach Mc Donald (United States Of America) 0:03:40
29 Daniel Summerhill (United States Of America) 0:03:47
30 Mattias Nilsson (Sweden) 0:03:50
31 Ole Quast (Germany) 0:03:52
32 Karel Hnik (Czech Republic)
33 Joeri Adams (Belgium)
34 Dave Hackworthy (United States Of America) 0:04:20
35 David Menger (Czech Republic) 0:04:32
36 Yu Takenouchi (Japan) 0:04:37
37 Pit Schlechter (Luxembourg) 0:04:44
38 Jerome Townsend (United States Of America) 0:04:56
39 Michael Schweizer (Germany) 0:05:03
40 Marek Canecky (Slovakia) 0:05:29
41 Irwin Gras (France) 0:06:11
42 Kenneth Hansen (Denmark) 0:06:14
43 Matej Medved (Slovakia) 0:06:21
44 Luke Keough (United States Of America) 0:06:27
45 Khangarid Naran (Mongolia) 0:06:44
46 Mitchell Huenders (Netherlands) 0:06:45
47 Jonas Schau Guddal (Denmark) 0:06:50
48 Melvin Rulliere (France) 0:07:19
49 Daniel Ruiz Echeandia (Spain) 0:07:25
50 Hikaru Kosaka (Japan) 0:08:11
51 David Puskas (Hungary) 0:08:25
52 Fabian Danner (Germany) 0:08:29
53 Myagmarsuren Baasankhuu (Mongolia) 0:08:34
54 Jared Stafford (Canada)
55 Inigo Gomez Elorriaga (Spain)
56 Jan Denuwelaere (Belgium)
57 Andrey Ryzhkov (Kazakhstan)