Follow britishcycling.org.uk on

UCI Cyclocross World Championships 2010
Training Day - Friday
Return To Worlds Home

The entire GB team hit the Tabor course for the first time today. For the Senior riders it was a case of gathering information, for the Juniors some final preparation on a course that will host their races in under 24 hours. Luke Webber talks us through Tabor's opening gambit.
How deep is the snow surrounding the World Champs course in Tabor? Standing knee-deep in the white stuff wasn't the way I'd planned to answer that question, but it gave me an idea regardless.
Despite this step too far, the course itself remained mostly snow-free: only spectator routes held knee deep drifts and lethally slippery compacted areas. Telling the difference between both was pretty impossible as Brian Furness - British Cycling's cyclocross co-ordinator can attest to; because where I found the depth, he found slick ice.
This then was a personal summary of day one on course, which in 48 hours will be rammed with 30,000 beer swilling and beer spilling cross fanatics, all wanting to see their heroes pull on a rainbow jersey.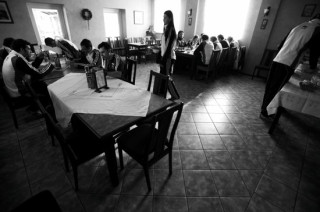 Back at camp-BC riders had checked bikes on rollers, before lunching while vans were packed for the 20 minute drive to downtown Tabor.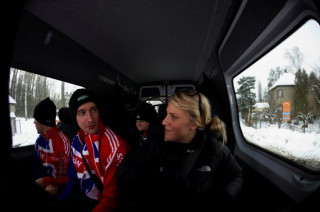 COURSE ANALYSIS
Ruts; just like Simon Burney said, they're forming and they're freezing. That's thanks to a 12-hour spell with little snow and temperatures rising enough for a little melt to take place. But as the mercury drops below freezing overnight the course will become treacherous, and a place where only the masters of cross will tread confidently.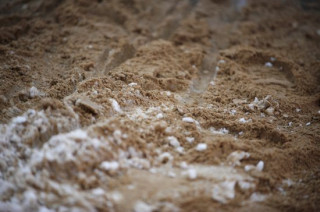 When summarising the parcours of Tabor, you're talking three kilometres of steps, barriers, black ice, ruts and handslinger hairpins all on a substantial hillside covered in snow. In places this snow is inches; in others feet. Watch your step!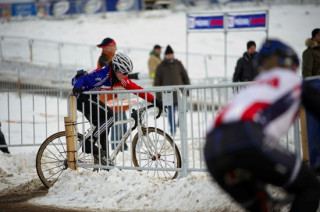 All the big hitters trained on course today; Nys, Albert and Stybar followed by a gang of cameramen at every turn. It was only in the final hour of daylight that anyone dared open up the throttle, but most still preferred to play safe on a course that was being ridden, re-ridden and then second-guessed in relation to weather forecasts.
Tomorrow will be the first indication as to how the course will race, with Brits Dan Mclay, Luke Gray, Luke Grivell-Mellor and Tom Moses taking their opportunity on cyclocross racing's biggest stage. All four looked confident in the conditions today and we'll have the full report, results and photos from that race, as well as the second day of training for the Seniors tomorrow.