Western Cyclo Cross League Round 11
Hengrove Park, Bristol | Sunday 13th December 2009
Words And Photography: Graham Robins - http://www.grahamrobins.net/

On a cold day marking a return to Hengrove Park, GWR Racing's Peter Kench finished victor at round 11 of the Western League. Taking place in Hengrove Park on the Southern edge of Bristol this was the first time for many years Hengrove hosted cyclo cross, thanks to the promoters Dream CC. A robust parkland course skirting an old airfield with one small wooded coppice made for a race which was mainly flat and very fast.
A total of 43 riders assembled at the start on a cold windy morning for the race. There was a very fast start with many riders managing to stay in touch with the leaders. However the fast pace soon started to take its toll and the race soon stretched out around the course.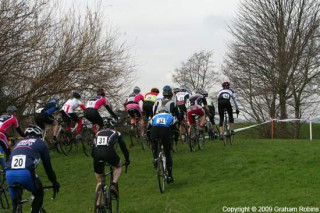 A group of five riders opened out a gap and these five were to contest the win. Eventual winner Peter Kench (GWR) was content to share the lead as the laps ticked down with Simon Burgess (Somer Valley) and Scott Chalmers (SIS), with Jeremy Addis and Chas Thursfield from promoting club (Dream CC) in close company.
With a couple of laps to go Jeremy started to drop back and Chas had a puncture, but he managed to pit and get back in the race without losing too much time.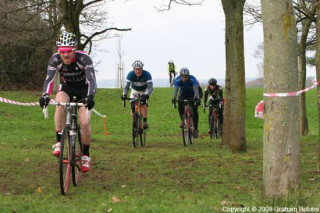 As the leaders took the bell Peter was clear and finished well clear before Simon and Scott arrived at the last corner together, Simon managed to out sprint Scott on the line to take second place.
Results - Dream CC Cyclo Cross, Hengrove Park - Western Cyclo cross league round 11
Senior
1st Peter Kench GWR Team 8 laps 61.58
2nd Simon Burgess SVCC + 20 seconds
3rd Scott Chalmers SIS.com same time
4th Jeremy Addis Royal Dean Forest + 1.15
5th Chas Thursfield Dream CC + 2.45
6th Joe Rowe Wyre Forest RC
7th Andy Webb Kenilworth Wheelers 1st Vet
8th Peter Brookes Somer Valley 2nd Vet
9th Dan Smith GWR Team
10th Martin Wright Dream CC 3rd Vet
11th Rob Lee Strada
12th Andy Roberts Evan Cycles RT 4th Vet
13th Richard Sanders LVIS @ 1 lap
14th Andrew Swimpton Unatt @ 1 lap
15th Richard Miller Dream CC @ 1 lap
16th Tony Chapman Dream CC @ 1 lap
17th Johannes Roux Climb On Bikes @ 1 lap
18th Alan Green Dursely RC @ 1 lap 5th Vet
19th S Brown Unatt @ 1 lap 6th Vet
20th Leon Gifrit LVIS @ 1 lap
21st Ian Daws Dream CC @ 1 lap
22nd Simon Baynes Giant CC @ 1 lap 7th Vet
23rd Jon Brunt VC Walcot @ 1 lap 8th Vet
24th Steve Gallagher Unatt @ 1 lap
25th Tony Broce Unatt @ 1 lap 9th Vet
26th Anthony Lake Tri Team Glos @ 1 lap
27th Rob Collin Servern RC @ 1 lap 10th Vet
28th A De Heveningham LVIS @ 1 lap
29th James Rimmer Wellington Wheelers @ 1 lap 11th Vet
30th David Buckle Gloucester City CC @ 1 lap 12th Vet
31st Mark Rickaby Unatt @ 1 lap
32nd Kelly Brocklehurst RNRMCA @ 1 lap
33rd Robin Worman RNRMCA @ 1 lap 13th Vet
34th Mike Povis Unatt @ 2 laps
35th Andy Smith Somer Valley @ 2 laps 14th Vet
36th Dave Bohin Bristol RC @ 2 laps 15th Vet
37th Mark Horton Severn RC @ 2 laps 16th Vet
38th Richard Headley Unatt @ 3 laps 17th Vet
Team
Dream CC - Chas Thursfield, Martin Wright, Richard Miller
Youth
1st Alex Sheehan
Under 12
1st Harry Sheehan
2nd Dylan Povis