Todmorden Cyclo-Cross On Ice

Event Date: 3 January 2010
Images & Report: Joolze Dymond

Joolze Dymond was on hand to capture the action at the final round of the 2009-10 Yorkshire Points Cyclo-Cross series at Todmorden, on the Lancs-Yorks border. As with much of the rest of the country, the venue was in the grip of ice and snow and the organiser - Chipps Chippendale - had revised the course to cut out some of the icier sections. Despite this, a good field of over 130 riders enjoyed an excellent and challenging event.
FLICKR SLIDESHOW

REPORT
Only mad dogs and English men go out in the midday snow.... Or something like that! I'm sure the locals of Todmorden were slightly bemused at the 130 or so lycra clad cyclo-cross aficionados as they literally skated around the local Centre Vale Park. A dumping of snow over night coupled with sub-zero temperatures made for a pretty interesting time for all! One of the legendary features of the course, a cobbled climb, unfortunately fell victim to the arctic conditions and the course was redirected around the edge of the football field instead. Despite the lack of this interesting feature, the riders still had plenty to contend with, with a fair smattering of climbing, descending and sketchy cornering, all crammed into a just over a mile. Add a brass band and a few beers and you could almost believe you'd been transported to Belgium....
First out to tackle the icy conditions were the youths and as the 30 min race got under way a group of 4 riders quickly separated themselves from the main field. The four in question, Ed Parland, Joseph Moses, Tom Armstrong and Jack Humphries, played a fast game of cat and mouse all vying for that winning position. As each lap unfolded it was clear these 4 were going to be hard to separate and then with just a few remaining laps to go a collision at the top of one of the climbs left Parland in a winning position with only Armstrong left in contention.
Noel Clough wrapped up the series win, with Adela Carter taking the women's category

Despite a hard fight, Moses and Humphries couldn't get back on terms and Parland took the win and with it the narrowest of victories in the overall series, taking it from Moses by just 1 point. The current National youth champion Lucy Garner was looking odds on favourite for the win in her race until an unfortunate encounter with a frozen pram rut ended her race prematurely, leaving Hannah Leyland to take the race. Our best wishes go out to Lucy as she was taken off to hospital hopefully with just a nasty sprain...
Next up and with conditions not getting any easier, it was the vets and women. Matt Denby, keen to get some last minute training, ready for the Nationals, didn't waste any time, swiftly moving to the front, where he stayed the entire race to complete a remarkable clean sweep in the 8-event series. Roy Hunt tried to hunt the Zepnat rider down but couldn't get any closer than 10 seconds before having to be content with the over 50's win as well as runner up to Denby.
Adela Carter rounded off an amazing first year in the sport by taking a comfortable win in the women's race confirming the series win quite confidently despite a few comedy moments including losing her back wheel momentarily!
Finally, with temperatures plummeting ever downwards, as the sun departed, the senior and junior race got under way with over 40 riders "keen" to take on the icy challenge. With some top names lining up, this was a quality race. In amongst the throng could be spotted Rob Jebb along with "old" favourites Nick Craig, Noel Clough and Chris Young plus a couple of younger faces such as top junior Dan McLay.
Matt Denby (left) went through the series unbeaten to claim the Veterans' title - other riders had more lowly, yet equally laudible, ambitions for the race!

It was McLay who threw down the gauntlet, quickly taking the lead with only Ian Bibby able to respond. These two settled into an almighty battle at the front of this fast moving race, racking up an incredible 13 laps over the hour. McLay was keen to take the win, but Bibby had other ideas. With his plans to ride another cross thwarted by the snow, he was delighted to have such a battle on his hands as he sharpened up his form ready for next week's Nationals.
Each lap saw the riders constantly swapping places, until finally Bibby got the gap he needed to take the win with McLay taking a well deserved second and first junior home.
Nick Craig "warmed up" for next week's national championships with third place
As these two were busy fighting their won race behind another interesting battle was underway for third. Noel Clough looked to be riding strongly with Stuart Reid giving him a real fight for the remaining podium spot. However, as the race came to a close, it was the ageless Nick Craig who surged through to claim third, relegating Reid to 4th. Clough in fifth had done enough to take the series by 4 points from Neal Crampton. Despite missing the last round, Tom Moses had enough in the bag to take the junior series win.
Special mention has to go to Ben Edwards who rode the entire race on a 35year old Raleigh Wayfarer in original condition - the only concession to the icy conditions were a few 'lucky' pegs attached to the front cables. Dressed as the lord of the manor Edwards's courteously completed the race in a spiffing 36th spot, proving style can triumph over function!
Riders' Comments:
Ed Parland - Youth Winner: That was a tough one the competition was pretty fierce. It was pretty much like an ice rink out there, it was grippy in the deeper snow but on the corners it was interesting! As this was the last round of the series I had to win this one to take the series, it was pretty close between me and Joe for that title. I pushed on hard all race but I couldn't shake the others then I attacked on one of the climbs and two of the guys slipped back and that was it I just went for it from there and it worked out okay. It's a shame they took the cobbles out I'm sure I would have enjoyed that.
Matt Denby - Vet Winner: It was very good despite the conditions. It was quite slippery but good fun I really enjoyed it and it's good training as it might be like this next week at the Nationals. Roy (Hunt) was pushing me quite hard out there. I think I managed to get a gap of about 10 seconds by about the second or third lap and it stayed at that for the rest of the race. My mind is pretty focused on next week really and I raced yesterday at the Notts & Derby, which was equally as fun, but yeah it's all about next week. That said I wanted to make sure I got 8 out of 8 for the Yorkshire Series and came over in the week to practise a few sections, mainly the bank - I fitted studs to be able to run up it pretty nippy. I left the studs in anyway even when they said the bank was out and they proved pretty useful. I succeeded in my aim securing the Series win with a clean sweep, so yeah a good end to a cracking series.
Adela Carter - Women's winner: That was rather good out there today; it was exciting, cold and fun! I made some wonderful mistakes on the technical sections and my rear wheel came out on the third lap, but it was okay it went back in again! So that was okay I didn't have to manual the whole thing! It was good fun and the fast bits were really fast as the ground was so hard. It was quite hilly, but with plenty of grip on the climbs and the descents in was the corners where the ice seemed to be at it's worst, so they made it all a bit dicey! We've had a really good turn out of women in the Yorkshire Points this year and that's really exciting to see. It's my first year and it's great to see so many women out there and I hope it will just grow, it's so much fun. CX is such an accessible way into cycling for everyone.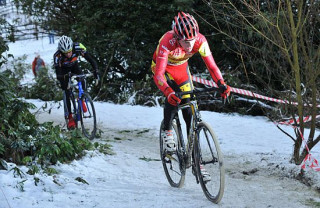 Dan McClay (right) and Ian Bibby produced a race long battle for the win, with Bibby eventually coming out on top

Ian Bibby - Senior Winner: It was pretty slippy out there but it was rock hard so it was a pretty fast race with just a few sketchy bits. I took it a bit easy on a few of the corners, as it wasn't worth risking it this close to the Nationals. This is part of my conditioning ready for next week as I haven't really done any CX and as I'm riding next weekend I thought I'd better get some practise in! I actually was going to ride another one but the A66 was closed so I headed over here instead. It was a good race with Dan: it took me a good couple of laps to get up to him and then I managed to get a gap but I came round to the finish straight and I got caught by a back marker and went a bit off line and Dan got round me. So we spent the rest of the race changing positions, until I managed to get another gap with a lap or two to go and took it to the line. I've never ridden anything as icy as this before, it was interesting but I still prefer the mud.
Dan McLay - Junior Winner: It was a hard race and Bibby gave me a real good workout. I could see him catching me on some sections and then I was extending my gap on other sections: we spent the whole race battling it out. First time he came past me we nearly had a back marker collision and when I went past him we nearly had a tree collision, it was really tricky out there in places. It was a good course and I didn't expect to enjoy racing in the ice as much as I did and it turned more into a thinking race more than a bike handling race in the end and it worked out pretty good. I'm delighted to be up there fighting it out with Bibby and guys like that, I was trying to win it but knew at the same time I couldn't take any chances with the Nationals next week. It was an interesting course and I suspect that a few people will say it was dangerous, but that's cross, you ride your race according to the conditions and overcome whatever you're faced with.
Ben Edwards - Lord of the Manor! I decided it would be a great start to the year to ride my first cyclo cross race on my 35 year old Raleigh Wayfarer, in it's original condition, suitably attired as Lord of the Manor! Unfortunately getting knobbly tyres for 26 1 3/8th is pretty tricky, so I didn't have the best grip out there! Why am riding this? Well I wanted to promote my Cycle Recycle thing I run, where we take unwanted bikes and recondition them, selling them on cheaply to encourage more people to ride.
Was it enjoyable today? Absolutely! The huge smile gives it all away! I have to say though I think there may have been a bit of dickie bow envy out there on times.
Chipps Chippendale - Event Organiser: It will have been a great event in 6 months time, when people look back and say 'that was amazing when can we do it again?' But to be honest given the weather we've had, entries are pretty much on a par with last year, so that's a fair turn out, so yeah I think it's been good. It's a shame we had to take out the fabled cobbled climb. I'm sure it'll still be a legendary feature of the course even though we couldn't use it this time and people will still talk about that aspect of the course for sure.
As part of my preparations for this event I've ridden quite a few of the Yorkshire Points Series myself to get an idea what the courses were like. They all seemed to have distance and speed, people seem to like my course as it's more technical, even without the cobbles, the icy conditions has added an extra dimension to the circuit. The ice was okay, well as long as you weren't trying to ride round corners, brake, steer in a straight line or in fact try stopping!
I think now we've started the ball rolling I'll have problems not doing another one next year, looks like I've created a monster, we'll be back, in fact we may be back sooner rather than later. We may be running an evening event mid summer.
2009-10 Yorkshire Points Cyclo-CrossRound 8
Results (Final Series Standings on Yorkshire Cyclo-Cross Association Website)

Seniors & Juniors
1 Ian Bibby Motor Point S
2 Dan McClay Hargroves J
3 Nick Craig Scott V40
4 Stuart Reid Wheelbase S
5 Noel Clough Fietsen Tempo V40
6 Ian Taylor Craven Energy Tri S
7 Neal Crampton Crosstrax S
8 Paul Bethel Macclesfield Wheelers S
9 Perry Bowater CC Giro J
10 Rob Jebb Wheelbase S
11 James Thompson Sheffrec CC S
12 Oliver Webster Crosstrax J
13 Simon Maudsley Crosstrax S
14 Robert Watson Paul Milnes RT S
15 Paul Young Glendene CC J
16 Chris Young Team JD Cycles V40
17 Dave Powell Ragley S
18 Jack Clarkson Pedalsport J
19 Martin Woffinden J
20 Phillip Hinchliffe Bradford RCC S
21 Richard Hollows S
22 James Dyson Pedalsport S
23 Greg Minally GMFRS S
24 Andy Geall Pedalsport S
25 Tim Kershaw Singletrack S
26 Nick Kotlarewski Paul Milnes RT S
27 Phillip Simcock DMC S
28 Richard Crabtree Pedalsport S
29 Myles Chandler S
30 Martin Tonge Rossendale RC S
31 Oliver Townsend Clouds Trails S
32 Chris Harrop S
33 Phillip Mykytiuk West Pennine RC S
34 Dave Switzer Dulwich Paragon S
35 Martin C? GMFRS S
36 Ben Edwards S
37 Anthony Jordan S
38 Matt Wild HAHA S
39 Andy Gowan S
Veterans/Women
1 Matt Denby Zepnat CC V40
2 Roy Hunt Colnago V50
3 Paul Watmough Shepherds Cycles
4 Peter Wilkin Fietsen Tempo V50
5 Tim Beachill Huddersfield RC V50
6 Duncan Stuart Keswick Bikes V50
7 Julian Hodgson Pedalsport V40
8 Mike Young Pedalsport V40
9 Adela Carter Crosstrax LS
10 Ian O'Brien Wakefield Tri Club V40
11 Richard Allen Here Come the Belgians V40
12 Dermot McKee Times one (X1) V40
13 Andrew Metcalfe U/A V40
14 Charles Warren U/A V40
15 Alan Dorrington Here Come the Belgians V40
16 Phil Ingham U/a V40
17 Paul Hesketh Clayton Harriers V40
18 Kevin Hickie Bronte wheelers V40
19 John Belson U/A V40
20 Joe Haywood Lancashire RC V40
21 Glen Harp Team Darenth V40
22 Dave Headon Horwich CC V40
23 Steve Sears Sowerby Brothers CRT V40
24 Ian McParland Bronte wheelers V40
25 Marie Stuart Keswick Bikes W
26 Graham Kennerley Lancaster CC V40
27 Rob Allen Leisure Lakes V40
28 John Gillmore V50
29 David Jennaway U/A V40
30 Peter Payton Cyclesport Pendle V50
31 Mark Anderton V40
32 Clive Greatorex Tod Harriers V40
33 Stephen Artingstall Zodiac CRC V50
34 John Houses
35 Tim Evans East Bradford CC V40
36 Dave Hudson Pendle Forest V40
37 Owen Henrikson U/A V40
38 Richard Naylor V40
39 Graham Piccavey Huddersfield Star Wh V40
40 Nikola Butler Pedalsport LS
41 Peter Bradford Paul Milnes RT-Bradford Olympic V40
42 Jenn Hopkins Minx LS
43 Kirsty Forrester U/A LS
44 Gavin Butler Chester RC V40
45 Paul Sutcliffe U/A V40
46 David Ward U/A V70
47 David Danbury U/A V70
Youth
1 Edward McParland JD Cycles U16
2 Tom Armstrong Ribble Valley U16
3 Joseph Moses Bronte Wheelers U16
4 Jack Humphries Red Rose Olympic U16
5 Jake Womersley Sowerby Brothers CRT U16
6 Billy Harding Paul Milnes RT-Bradford Olympic U14
7 Oliver Evans East Bradford CC U16
8 Nick Barnes Seacroft Wh U16
9 Tom Jolly Pedalsport U16
10 Joe Dransfield Wakefield Jnr Tri Club U16
11 Ben Pygott Pedalsport U16
12 Hannah Leyland VC St Raphael U16G
13 Pascal Darke U14
14 Grace Garner Leicester RC U14G
15 Amira Mellor Holme Valley Wh U14G
16 Ryan Watmough Shepherds Cycles U16
17 Joe Howard Wakefield Jnr Tri Club U16
18 Rob Harper Wakefield Jnr Tri Club U14
19 Vanessa Woffinden Cycle Sport Pendle U16G
Under-12
1 Joe Parker U12
2 Joe Pilling U10
3 Jack Ford U10
4 Jenson Young U10
5 Louis Hartley U10
6 Dex Sparrow U12
7 Lucy Howard U12
8 Alfie Ridout U12
9 Adam Hartley U12
10 Alex Grice U10
11 Jack Barlow U10
12 Nicole Stiff U12
13 Owen Dilworth U10
14 Mason Holliman U10
15 Tylor Koch U8
16 Simeon Young U12
17 Tom Whitworth U10
18 Amy Hinchcliffe U12
19 Harry Kershaw U10
20 Toby Kershaw U10
21 Sophie Stiff U12
22 Marcus Hiley U8
23 Thomas Ford U8