Welsh League Round 5
Blackweir Park, Cardiff
Report: Liz Slater | Images: Alison Wilde
Thanks to the perseverance of organizer Simon Nurse Welsh League riders have been treated to an extra helping of the popular Blackweir Park this season. Running alongside the River Taff, the course makes good use of the flood defence banking, and smooth, round stones and tree roots aplenty wait to catch out even the best bike-handler. "A brilliant course" was one rider's comment on the venue.
The U12s were not spared the banking and even had a log to test their dismounting abilities; there were helping hands on offer though for the younger riders. Ben Beckingsale of Abergavenny RC set the pace from the start. A challenge by League leader and team-mate Teifion Best on the third lap faltered and Beckingsale took his second win of the series with Jessica Roberts (Towy Riders) in 2nd place. Nathan Ford (Abergavenny RC) looked to be enjoying the more technical nature of the course and finished 3rd. Again, leading U10s Megan James and Joe Beckingsale (both Abergavenny RC) matched each other with determination throughout the race, Beckingsale finally getting past James as they raced for the line and receiving a congratulatory hug from his rival.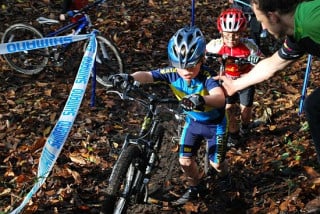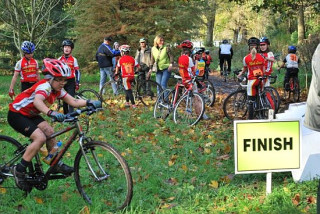 The very healthy entry of 24 Youth riders were set the challenge of the main course but, with two riders having just returned after breaking their wrists, fingers were crossed that there would be no more broken bones. As expected it was William Worrall of Towy Riders, with his "energetic" style of riding, who came into view first at the end of lap one, already with a substantial lead. As the race progressed a chasing group of three distanced itself from the rest of the field, but Owen James (Towy Riders), Matthew Thompson (Maindy Flyers) and Amy Roberts (Cardiff Ajax) were left to fight for 2nd and 3rd behind Worrall. James finished 2nd with Thompson 3rd and Roberts 1st U16 Girl in 4th. Ben Beckingsale's broken bones looked to have mended well as he made it a family hat-trick finishing 1st U14 Boy in 7th place, behind fellow fracture victim, Adam King and Ffion James matched sister Megan's victory with 1st place in the U14 Girls.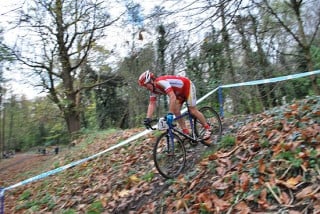 One or two old faces and several new ones lined up with the regulars for the Senior race. As in the Inter-Area the previous Sunday, Lee Williams (Team Wiggle) took to the front off the start-line followed by Ian Jeremiah (Cardiff JIF) and Andrew Baum (unattached). On the 3rd lap Baum was once again unfortunate to break his chain and dropped down to 12th. As Williams increased his lead Jeremiah fought to stay ahead of Luke Moseley (Climb On Bikes) and Julian Winn (Abergavenny RC) chased Veteran Mark James (MI Racing). Williams was a convincing winner ahead of Jeremiah (1st Veteran) and Moseley, with Winn 4th and James 5th and Baum working his way back up to 6th. Sam Anstice (Newport Velo) was 1st Junior and Melanie Alexander (Cardiff JIF) 1st Woman.
SENIORS/JUNIORS/VETERANS/WOMEN
1 Lee Williams Team Wiggle S
2 Ian Jeremiah Cardiff JIF V
3 Luke Moseley Climb On Bikes S
4 Julian Winn Abergavenny RC S
5 Mark James MI Racing V
6 Andrew Baum S
7 Ross Porter Cwmcarn Paragon V
8 Richard Lansdown Bikeshed Wales S
9 Mark Davies Cardiff JIF S
10 Mark Spratt Cardiff JIF S
11 Joe Lally CC Abergavenny S
12 Matthew Jones Cwmcarn Paragon S
13 Rhys Powell Abergavenny RC S
14 Adrian Peall S
15 David Walker Cardiff JIF V
16 Sam Anstice Newport Velo J
17 Ned Potter Climb On Bikes V
18 Andy Pearce Forza Cycles V
19 Jeff Thomas Abergavenny RC V
20 Martin Grimes Climb On Bikes V
21 Lynn Lines Gateway Cycles RT V50
22 No. 47 S
23 Simon Lingard S
24 Chris Davies Ogmore Valley Wheelers V
25 Andy Hoskins Cardiff JIF S
26 Matthew Corran M & D Cycles S
27 Luke Cornish Towy Riders J
28 Gareth Chislett Abertillery Wheelers S
29 Jonny Young Cwmcarn Paragon S
30 Keith Davies S
31 Stephen Corbyn Dragon XC S
32 Chris Matthews Ogmore Valley Wheelers V
33 Shaun Lewis M & D Cycles S
34 Melanie Alexander Cardiff JIF W
35 Simon Nurse Cardiff JIF S
36 Cy Strike Abergavenny RC S
37 Bryn Ruston Cardiff Ajax V
38 Alastair Scott Cardiff Ajax V
39 Mathu O'Hagan M & D Cycles S
40 Michael Roach V
41 Colin Miller V
42 Phil Harries Cardiff Ajax V50
43 Nina Davies Ogmore Valley Wheelers W
44 Gareth Hall Cwmcarn Paragon S
45 Jeff Lewis Cardiff Tri V
46 William Tennison J
47 David Miles Schmoos/Swansea CC V
48 Gareth Hayes hrcycles.com S
49 Steve Higgins-Worrall Abergavenny RC V
50 Paul Colman Pembrokeshire Velo V
51 Chris Forkins Kingston Wheelers S
52 Sean O'Sullivan V
53 John Hosking Abergavenny RC V
54 Laura Williams Cardiff JIF W
55 Sean Wheddon J
56 Tony Howell Ogmore Valley Wheelers V
57 James Shaw Pembrokeshire Velo S
58 David Brookes S
59 Marcus Burkitt Cwmcarn Paragon V
60 Tim Jones Bynea CC V
61 Phillip George S
62 Mark Alexander Ogmore Valley Wheelers S
63 Serena Wood M & D Cycles W
64 Steve Davies V
65 Jemma Nurse W
66 Carol Miller W
67 Andrew Parry Abergavenny RC S DNF
NOVICE WOMEN
1 Stephanie Best Abergavenny RC NW
2 Kay Higgins-Worrall Abergavenny RC NW
YOUTH
1 William Worrall Towy Riders U16
2 Owen James Towy Riders U16
3 Matthew Thompson Maindy Flyers U16
4 Amy Roberts Cardiff Ajax U16g
5 Adam King Maindy Flyers U16
6 Joe Anstice Newport Velo U16
7 Sam Beckingsale Abergavenny RC U14
8 Scott Davies Towy Riders U16
9 Ffion James Abergavenny RC U14g
10 Rebecca Hunt Newport Velo U16g
11 Elinor Barker Cardiff Ajax U16g
12 Rowan Miller Maindy Flyers U14
13 William James Brecon Wheelers U14
14 Taylor Preece Cardiff JIF U14
15 Emily Haycox Maindy Flyers U14g
16 Alex Burkitt Cwmcarn Paragon U16
17 Amy Hill Newport Velo U16g
18 Samuel Leigh-Cattrall Towy Riders U16
19 Sarah Crowley Cardiff Ajax U16g
20 Dan Colman Towy Riders U16
21 Sophie Burkitt Cwmcarn Paragon U16g
22 Ellie Coster Newport Velo U14g
23 Jack Grant Newport Velo U14 DNF
24 Geraint Manley Cardiff JIF U16 DNF
UNDER 12
1 Ben Beckingsale Abergavenny RC U12
2 Jessica Roberts Towy Riders U12g
3 Nathan Ford Abergavenny RC U12
4 Ieuan Best Abergavenny RC U12
5 Teifion Best Abergavenny RC U12
6 Lowri Thomas Abergavenny RC U12g
7 Elizabeth Bennett Cardiff JIF U12g
8 Bethan Manley Maindy Flyers U12g
9 Rhys Roberts Towy Riders U12
10 Max Thompson U12
11 Grace Bennion Maindy Flyers U12g
UNDER 10
1 Joe Beckingsale Abergavenny RC U10
2 Megan James Abergavenny RC U10g
3 Huw Higgins-Worrall Abergavenny RC U10
4 Owain Roberts Towy Riders U10
5 Tomos Lane Abergavenny RC U10
6 Mitchell Cole Abergavenny RC U10
7 Rhys Thomas Abergavenny RC U8
8 Rhys Barter M & D Cycles U10
9 Ella Doheny Abergavenny RC U10g
10 Alex Griffiths Abergavenny RC U8
11 Alex Powell Team Dirty Weekend U10
12 Ryan Phillips U10
13 Isabelle Bennett Cardiff JIF U8g
14 Aled Trott Abergavenny RC U8
15 Rose Walker Cardiff JIF U10g
16 Thomas Chaplin Abergavenny RC U10
17 Connor Lewis-Stanley M & D Cycles U8
18 Anna James U10g
19 Cai Wynne-Williams U8 DNF
20 Rhys James U8 DNF
More Images