Report: Cyclo Cross Inter-Area Championships

Posted November 1 2009
Report & Images: Joolze Dymond | Full Results
We've got the full report, results and photos from the Inter-Area Cyclo Cross Championships that were held in Leicestershire on Sunday.
With the cyclo cross season now in full swing during a relatively mild and in some cases positively summery weather, it was inevitable that sooner or later riders would have to experience a muddy one. On paper it looked as if the Inter Area Team Championships would be fitting that bill, with severe weather warnings, forecasting torrential rain and strong winds would be heralding in true 'cross weather.
True to it's word the weather started out as forecast with heavy rain greeting the first influx of keen riders from around the UK, gathered in Beaumont Leys, Leicestershire to contest the outcome of the Inter Area Team Champs.
In complete contrast to your usual 'cross, riders swap their team kit and allegiances to race for their 'area' of the UK. And so we have the unusual situation where season rivals are joined for this one day, racing under the same colours for chance of a medal.
First up, tackling the 2.5km course in pretty grim weather were the youth riders, 71 young competitors eager to do themselves and their respective teams proud in a squelchy 30 minutes. From the start it was Sam Lowe, riding for East Midlands who opened up the gambit closely followed by Hugo Robinson - Eastern and Joe Fox - West Midlands. It looked like it was going to be another replay of any National Trophy, except Lowe was determined that it wouldn't be a replay of Ipswich and took control of the race edging in for the win just five seconds ahead of Robinson. With three riders counting per-team all eyes were now on finishing positions of various riders. In the end it was Yorkshire A team - comprising of Joe Moses, Ed McParland, Nick Barnes and Jake Wormsley who took the gold, with East Midlands A taking silver just one point ahead of West Midlands A.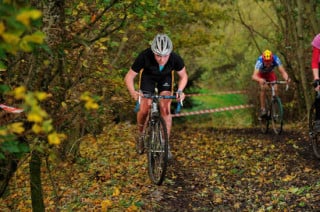 Next up it was time for the Veterans and Women to take to the well cut up course, though for them the heavy rains had by now been replaced by strong winds drying the mud up a treat but transforming it into a slugfest. Geoff Giddings, keen to defend the East Midlands win the previous year was in the thick of the action duelling it out with Yorkshire riders Chris Young and Noel Clough and West Midlands Phil Roach. Young quickly tired of the company and headed for the lead, with no one able to respond he was home alone and took a comfortable win. Giddings suffering from a bad cold was unable to stop Clough from stealing a march and had to concede second spot to the Yorkshire rider. Then with Matt Denby riding hard into fifth, it was all over with Yorkshire grabbing the Gold, comfortably from West Midlands, while East Midlands had to be content with bronze.
Meanwhile in the women's event, Annie Last fresh from a three week break, showed no break in form as she cruised to an easy win, very nearly lapping the entire women's field in the process and leading her East Midlands team mates: Louise Day, Christine Howard and Sarah Collins, to the team win. Yorkshire took yet another medal bagging silver ahead of Eastern who took bronze.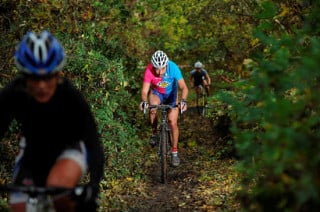 Finally it was the deciding race for the senior title that was played out in the ever strengthening winds, ripping out course tape providing another obstacle to the 70 or so riders, who already had two sets of hurdles, a jaunt into a BMX section plus a labyrinth of corners to negotiate.
Rumours that the West Midlands would be unleashing the big guns with Roger Hammond potentially lining up were unfounded and Paul Oldham riding for the North West in a fashionable baggy number was denied a potential clash of the Titans. Lee Williams - Wales, took up the challenge, tussling with Oldham over the opening laps, the two riders quickly opening up a gap, with Rob Jebb - North West in hot pursuit, whilst Dave Collins, Oldham's usual team mate had divided loyalties as he was riding for East Midlands headed the rest of the huge field as it splintered quickly like a glass hitting a hard floor.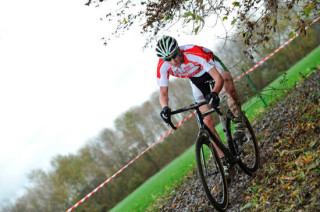 Nearly sixty minutes later Oldham took the win, with Jebb delivering the North West a resplendent second spot over a minute later. Collins battling hard with both the course and other competitors took third, and then began the wait to see who'd bagged the team gold. Despite a strong one-two for the North West they eventually had to settle for silver and it was a surprised but equally delighted East Midlands Team of Dave Collins, Dan Booth, Keith Murray, Lee Shunburne, Phil Dixon & Chris Metcalfe who took the gold, the only area successfully defending their success from '08. North East completed the line up in third.
---
Rider Reactions
Dave Collins - East Midlands
That was a surprise win, we rode really well as a team and our effort obviously paid off. It's always a bit of a surprise as you have to wait until all your riders are in, with 4 to count from the 6 team members it can be a nail biting time. I'm also surprised I managed to get 3rd in the race after a made a huge hash of my first two laps via a catalogue of schoolboy errors that left me playing catch up. Probably setting my tyres for conditions this morning didn't help either, by time we started racing the wind had dried up the course considerably. But all the same a great win in the end, the team did well!
Paul Oldham - Northwest Team
A bit different to your normal CX race, racing for a team prize rather than an individual win, it was really windy out there and incredibly slippery and our first muddy 'cross of the year. Any mental insecurity I supposedly had last week at the Trophy didn't appear this week I'm back on full form, the only insecurity I have is with my jersey! It's a tad big for me, great for the tail wind but not great going into that wind! Having said that I don't think I'm at the peak of my form yet there is still a bit to come I reckon.
It's an odd feeling that today I'm racing with some off my rivals rather than against them, Jebby's on my team and helped us into second spot, but at the end of the day you still have to just ride your own race and do the best you can and hope the rest of your team does the same. Great day out and after the weather we had this morning I'm sure we're all happy that we've just been left with the strong winds rather than having to race in all that rain that the young 'uns did.
I was lucky, riding out with Lee (Williams) we managed to get an early gap, I really thought he'd give me a hard time out there so I kept pushing on and he couldn't stay with me in the end and I was out on my own for the rest of the race. With just 2 laps to go it started to get really slippery out there, you only had to make a wrong move and you'd be down on the floor and your gap would suddenly be wiped out, so I made sure I got round in one piece and took the win.
Annie Last - East Midlands Team
My first cross race of the season, I've just returned from a three week break from any riding and this is the first time I've touched my cross bike since last season. I started steadily out there, took the first lap easy to find my feet, get into my rhythm and suss out the competition. Then I started to push on and no one came with me so I kept the pressure on until the end. It was fun, really windy and a bit slippery but definitely fun. Fingers crossed that the team have done enough to scoop the top spot. I'll do a bit more 'cross I reckon, but not sure what, everything now focuses on my mountain biking as I can concentrate on riding full time at last as I'm now on the Academy program and really looking forward to what I can achieve in 2010.
Chris Young - Yorkshire team
Yeah that were good, when I set off I looked behind and could see quite a lot of Yorkshire jerseys, so I thought we'd be onto a good result today. There were a few of us out there on the first lap, me, Geoff (Giddings), Noel (Clough) & Phil (Roach), we were all taking it in turns for the first lap or two just weighing each other up and then I thought I'd have a bit of a go and managed to get a gap, it was an easier race riding out in front. When it's slippy like this it's always the best place to be as if you're in a group there is always someone falling off in front of you.
Great course, pretty exciting with loads of corners to keep you on your toes, you could over push it as you'd be sliding off, you just had to get it right and it was good fun.
We really had to live up to the Yorkshire youth team, who took the team prize this morning; I train those guys so I have to keep fit just to keep up with them these days!
Sam Lowe -
That was a good race for me; especially after last week at the Trophy where I got 4th I wasn't best pleased with that result, especially as I lost the leaders jersey too. So to come back and get the win in the next National event is brilliant and unexpected on this type of course as it was quite technical and my technical skills let me down a little bit. After a while the course got really cut up and really slippery, but I managed to hold off Hugo over the last few laps and got the win so really pleased with that. Delighted too that the team did so well, I didn't know what we'd be able to do, so to grab silver is excellent.
Youth Yorkshire A Team -
Great race for the team, we all had a good start and we're all up there in the race and made our results count and we got the team win. The course was excellent, really tight and twisty and the BMX section was fun It was brilliant to swap our third we got last year for gold this year, Chris (Young) our coach has been putting us through our paces and it's really paying off.
TEAM RESULTS (top 5) - Full Results
Senior Men's Team Result
1 EAST MIDLANDS A 32 Collins, Booth, Dixon, Parkin, Shunburne, Metcalf
2 NORTH WEST A 45 Kent, Oldham, Bethell, Woffindin, Jebb, Beswick ??
3 NORTH EAST A 53 Ward, Murray, Lewis, Fawcett, Glover
4 LONDON A 72
5 WALES 78
Women's Team Result
1 EAST MIDLANDS A 13 Day, Last, Howard, Collins
2 YORKSHIRE A 26 Bland, Carter, Shenton, Shackleton
3 EASTERN 30 Buick, Fenton, Hindle
4 CENTRAL A 35
5 CENTRAL B 44
Veteran Team Result

1 YORKSHIRE A 8 Young, Watson, Denby, Clough
2 WEST MIDLANDS A 18 Roach, Wright, Atkins
3 EAST MIDLANDS A 29 Shaw, Giddings, Marshall, Green
4 YORKSHIRE B 40
5 EASTERN A 55
Youth Team Result
1 YORKSHIRE A 30 McParland, Moses, Harding, Barnes
2 EAST MIDLANDS A 33 Lowe, Tennyson. Kirkham, Garner
3 WEST MIDLANDS A 34 Ferguson, Fox, James, Newey
4 NORTH WEST 37
5 LONDON A 39