South West Cyclo-Cross League Round Five

Sunday, 18th October 2009, Dragon Leisure Centre, Bodmin
Report: Vin Cox, Photos: Karen Wyle

Victory for Sport Beans Star Will Bjergfelt in Bodmin
A prolific winner and strong man on the road this season, and a handy mountain biker as well, Sport Beans/Wilier rider Will Bjergfelt rode away from the seasoned specialists in Bodmin to win the fifth round of the South West Cyclo-Cross league organised by Vin Cox.
Victor in round 5, Will Bjergfelt

Report
Roy Wyle-Smith (Shred Racing), the new leader of the South West series, took off like a scalded cat as the starting gun fired with a 41 strong pack strung out behind him. His closest rival for the series, Vin Cox (Empella cyclo-cross.com) was organiser and commentator of the event, so Wyle-Smith was out to extend his lead by banking a good performance ahead of his own organising stint for the next round of the series.

Cox could only enthuse over the PA as his friend and former team-mate began to pull clear with road star Will Bjergerfelt (Sport Beans/Wilier) for company. Behind the leading pair, a gripping battle began, featuring nine riders who bunched-up, split and then re-grouping as the laps progressed.

The two leading veteran class riders, Tim Carpenter (Empella/cyclo-cross.com) and Adrian Clode (Gucheroti/JJ coach), were in this chase group and instigating much of the action. Also in on this action was Junior rider Harry Smith (Shred Racing).

The course clearly favoured bunch racing despite it's twisty nature. A new feature for the course this year was 'The Secret Woods', a stretch of path cut through the jungle-like woodland bank beside the sports fields and providing challenges and a change in character for the competitors.
Even this however wasn't enough to break the groups up. Meanwhile, out front of the race, at around the twenty minute mark, Bjergfelt made his move on Wyle-Smith and simultaneously the second group convulsed. Bjergfelt showed real class and quickly put time between himself and Wyle-Smith who would have loved to repeat his 2004 win at the Cornish venue. Behind these two leaders, Ben Price (Unattached) pulled clear of the chasers with Carpenter leading the following group which began to fall apart behind him as the pace got ever faster.

Bjergfelt steadily took the corners closer and closer to the limit and romped away for the victory with Wyle Smith securing a solid second place despite frantic action in the chase behind him. Price, who was stumbling repeatedly over the dismount barriers was caught by Carpenter but the big surprise was Adam Bright (Gucerotti / JJ Coach) who jumped from the chasing group and gave it everything to take the final podium spot.

In an effort to clinch that third place, Bright had brought Southfork team mates Pete Dawe and Luke Eggar back into the battle with him and sure enough veteran Adrian Clode (Guerciotti /JJ Coach) was close behind too. Carpenter though got the better of his veteran rival Clode and sprinted to the line for fifth spot overall but unlucky Price punctured on the last lap and limped home a long way down.

Junior rider Smith too lost contact with the chase group under the relentless pressure at this point but had already established a handsome lead in his category. Viv Cox (Empella cyclo-cross.com) took the top women's prize; a seat-post donated by sponsors USE. A similar prize when to Will Bjergfelt along with a horn to help him alert all those riders he has to lap in races.
Photos from Karen Wyle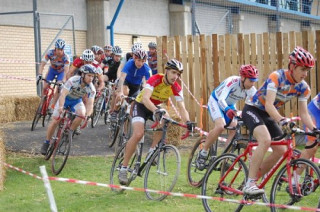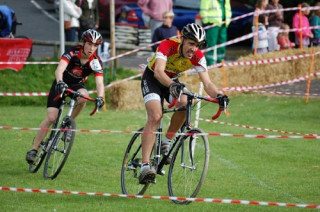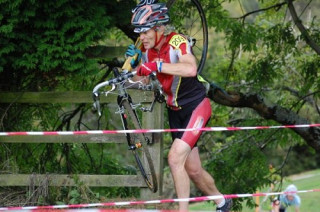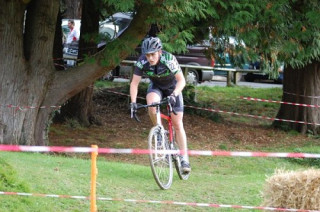 Results
Overall
1. Will Bjergfelt Sports Beans 55.49
2. Roy Wyle Smith Shred Racing 1.42
3. Adam Bright Guerciotti / JJ Coach 2.03
4. Luke Eggar Southfork Racing 2.43
5. Tim Carpenter Empella cyclo-cross.com Vet 2.53
6. Pete Dawe Southfork Racing 3.08
7. Adrian Clode Guerciotti / JJ Coach Vet 3.26
8. Garry Pike Alltrax 3.3
9. Harry Smith Unattached Jun 3.5
10. Matthew Loake Southfork Racing 5.01
11. Graham Sheldon Unattached 5.23
12. Mark Percival Guerciotti / JJ Coach Jun 5.4
13. Ben Price Unattached 1 lap
14. Andrew Retter Okehampton CC
15. Stephen Sincock Guerciotti / JJ Coach Vet
16. Robin Delve Mid Devon CC Vet
17. Alan Sanders CS South Hams
18. James Birch Shred Racing Jun
19. Alan Drury Mid Devon CC
20. Richard Taylor Exeter Wheelers Vet
21. Adrian Bellew Okehampton CC Vet
22. Nick Percival Guerciotti / JJ Coach Vet
23. Robert Lillicrap Unattached Vet
24. Mike Neely Empella cyclo-cross.com
25. Rob Smith RN Cycling
26. Martin Crocker Southfork Racing
27. Mark Deakin Somerset RC Vet
28. Nick Butler Southfork Racing Vet
29. Lee Bradley Guerciotti / JJ Coach Vet
30. Will Hornby CS South Hams
31. Lester Young Empella cyclo-cross.com Vet
32. Tim Bridgman Okehampton CC
33. Mike Mulroy Velocake
34. John Morse Velocake Vet 2 lap
35. Jon Wood WR Racing
36. Daniel Young Alltrax
37. Hugo Bugg Unattached
38. Viv Cox Empella cyclo-cross.com Wom 3 lap
39. Simon Perrett Okehampton CC

Category-by-Category

Senior
1. Will Bjergfelt Sports Beans
2. Roy Wyle Smith Shred Racing
3. Adam Bright Guerciotti / JJ Coach
4. Luke Eggar Southfork Racing
5. Pete Dawe Southfork Racing
6. Garry Pike Alltrax
7. Matthew Loake Southfork Racing
8. Graham Sheldon Unattached
9. Ben Price Unattached
10. Andrew Retter Okehampton CC
11. Alan Sanders CS South Hams
12. Alan Drury Mid Devon CC
13. Mike Neely Empella cyclo-cross.com
14. Rob Smith RN Cycling
15. Martin Crocker Southfork Racing
16. Will Hornby CS South Hams
17. Tim Bridgman Okehampton CC
18. Mike Mulroy Velocake
19. Jon Wood WR Racing
20. Daniel Young Alltrax
21. Hugo Bugg Unattached
22. Simon Perrett Okehampton CC

Veteran
1. Tim Carpenter Empella cyclo-cross.com
2. Adrian Clode Guerciotti / JJ Coach
3. Stephen Sincocl Guerciotti / JJ Coach
4. Robin Delve Mid Devon CC
5. Richard Taylor Exeter Wheelers
6. Adrian Bellew Okehampton CC
7. Nick Percival Guerciotti / JJ Coach
8. Robert Lillicrap Unattached
9. Mark Deakin Somerset RC
10. Nick Butler Southfork Racing
11. Lee Bradley Guerciotti / JJ Coach
12. Lester Young Empella cyclo-cross.com
13. John Morse Velocake

Junior
1. Harry Smith Unattached
2. Mark Percival Guerciotti / JJ Coach
3. James Birch Shred Racing

Women
1. Vivien Cox Empella cyclo-cross.com

Youth
1. Dan Nash St Austell Wheelers U16
2. Adam Fersdon Mid Devon CC U16
3. Joel Kelly Mid Devon CC U14
4. Laura Clode Guerciotti / JJ Coach U16 Girl
5. Tom Green Mid Devon CC U16
6. Charles Hough Unattached U14
7. Nathan Olson Penzance Wheelers U14
8. Will Kelly Mid Devon CC U14

Under 12's
1. Harry Birchall EMBC U10
2. Matthew Bryant EMBC U12
3. Karla Hodson Guerciotti / JJ Coach U12 Girl
4. Freddy Birchall EMBC U8
5. Robert Waddy Unattached U12
6. Kora Olson Penzance Wheelers U8 Girl