Watson Roars to First Yorkshire Win
Yorkshire Points Cyclo-Cross Round 4
Sunday 18 October 2009, Huddersfield
Tri-Cycling Cyclo-Cross - Report & Images: Phil Ingham
Lots More Images & Video from Flaming Photography
Images: Youth & U12 Races | Senior Races |
Video: Senior Race | Under-12, Youth, Vets & Women
Report
The fourth round of the Yorkshire Points Cyclo-Cross series took riders to Huddersfield New College. A cold wind whipped across the venue, but after weeks of dry weather, the mainly grass course was very hard and fast and it produced some exciting racing.
The Senior race was dominated by Robert Watson, who led almost from the start and simply rode away from the rest of the field to record his first win at this level. Junior rider Oli Webster took second after a long battle with Tom Moses, who faded to sixth in the closing stages. Neal Crampton took third after another close battle with Ian Taylor, who was 4th, with Chris Young closing in on fifth place in the last couple of laps. The overall series is shaping up to be one of the best in years, with six or seven riders in contention.
Senior race winner Rob Watson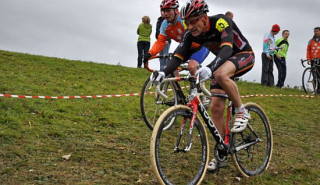 Matt Denby, the Vet race winner, passing a backmarker
The Vet's race was another Zepnat dominated affair with Matt Denby continuing his 100% record in the series with a fourth straight win. The series title already looks his. Behind him, Steve Barnes showed he's coming into form nicely, holding off Jough Watson for second place. Peter Wilkin was fourth and first over-50. Adela Carter was the first woman in an impressive 18th place.
A big Youth field of 28 started the day's proceedings and it was Ed McParland who once again showed that he's the class act in the category, alongside Joseph Moses. The pair enjoyed another good battle, with McParland winning alone in the end.
The event also featured the popular Yorkshire Under-12 championship and 24 riders went to the start line. Reece Wood was the eventual winner, from Aire Valley RT team-mate Jake Beech, with Joe Parker third. Grace Featham took the girls' title from Hannah Wood and Rebekah Lord. The under-10 and Under-8 winners were Joe Pilling and Sam Murray respectively. The combined field for the three Under-12 races was well over 60 riders.
Results
Seniors & Juniors
1 Robert Watson Paul Milnes RT S
2 Oliver Webster Crosstrax J
3 Neal Crampton Crosstrax S
4 Ian Taylor Craven Energy Tri S
5 Chris Young Team JD Cycles V40
6 Tom Moses Team Wallis - CHH Cycling Team J
7 Robert Thackray Paul Milnes RT S
8 Keith Murray Hope S
9 Simon Maudsley Crosstrax S
10 James Thompson Sheffrec CC S
11 Paul Young Glendene CC J
12 Johnny Limebear Batley CC/Hargreaves Cycles S
13 Jack Clarkson Pedalsport J
14 Mark Buckingham Huddersfield Star Wheelers S
15 Phillip Hinchliffe Bradford RCC S
16 Callum Chamberlain Mountain Trax/Torq S
17 James Dyson Pedal Sport S
18 Robin Bradbury Aire Valley RT S
19 Jonathan Hobson Team Chevin Bang & Olufson S
20 Scott Woodhead Crosstrax J
21 Andrew Windrush York Cycleworks S
22 Andy Geall Pedalsport S
23 Marcus Spencer Batley CC/Hargreaves Cycles S
24 Jonathan Wolff U/A S
25 Miles Chandler Batley CC
26 Oliver Dixon Clifton CC J
27 Tom Atkinson Malton Wheelers
28 Sam Streeton York Cycleworks S
29 Lewis Meadows S
30 Rob Powell Malton Wheelers S
31 Herschel Stevens Triangle RT J
32 Andrew Wood Bronte Wheelers S
33 Paul Milsom Calder Clarion S
34 Andy Faichney CRC Hull S
35 Chipps Chippendale Singletrack S
36 Bob Johnson S
37 Giles Grover S
38 Andrew Morrison Swindon RC S
39 Richard Crabtree Pedalsport S
40 Chris Oldfield Wakefield Tri S
41 Richard Dransfield VC Bradford S
Veterans/Women
1 Matt Denby Zepnat.Com V40
2 Steve Barnes Zepnat.Com V40
3 Jough Watson Zepnat.Com V40
4 Peter Wilkin Fietsen Tempo V50
5 Mike Young Pedalsport V40
6 Peter Rice U/A V40
7 Charles Warren U/A V40
8 J S Hick V40
9 Wayne Nicholson York Cycleworks V40
10 Ian O'Brien Wakefield Tri Club V40
11 Andrew Metcalfe U/A V40
12 Sean Davidson Aire Valley RT V40
13 Kevin Saville Norton Wheelers V40
14 John Ginley Condor RC V50
15 Graham Bird Bradford RRC V40
16 Jim Shenton Paul Milnes RT-Bradford Olympic V40
17 Julian Hodgson Pedalsport V40
18 Adela Carter Crosstrax LS
19 Phil Ingham U/a V40
20 Stuart Spencer Moonglu RT V40
21 Paul Sleaford Norton Wheelers V40
22 A Hunt Crosstrax V40
23 Giles Bailey Huddersfield Star Wheelers V40
24 Hannah Shenton Paul Milnes RT-Bradford Olympic LJ
25 Steve Sears Sowerby Brothers CRT V40
26 Graham Piccavey Huddersfield Star Wh V40
27 Brian Perks Pedalsport V50
28 Kevin Hickie Bronte wheelers V40
29 Tim Evans East Bradford CC V40
30 Richard A Thackray Featherstone RC V40
31 John Howard Wakefield Tri Club V40
32 Renee Saxton Otley CC LS
33 Lynn Bland Norton Wheelers LV40
34 Andrew Shelbourne Wakefield Tri Club V40
35 Sharon Smith U/A LS
36 Julian Humphrey Sheffrec CC V40
37 Andrew Cook U/A V40
38 Chris Jones Sowerby Brothers CRT V40
39 Peter Dixon U/A V40
40 Ed Battye Crosstrax V40
41 Ian Hagyard Clifton CC V50
42 Neil Pilling U/A V40
43 John Whiteley WY Fire and rescue V40
44 David Green Bronte wheelers V40
45 Mark Law U/A V40
46 Peter Bradford Paul Milnes RT-Bradford Olympic V40
47 Peter Stone U/A V40
48 Clive Greatorex U/A V40
50 Steven Thewliss Aire Valley RT V50
51 Adrian Lord U/A V40
52 Ted Sarmiento XNU CC V40
53 Brian Crossley U/A V50
54 Nikola Butler Pedalsport LS
55 Christopher Parker East Bradford CC V40
56 Nerys Rolinson U/A LV40
57 Chris Nunn Paul Milnes RT-Bradford Olympic V40
58 Lorraine Gandy Wakefield Tri LV40
59 Malcolm Harding East Bradford CC V50
60 Garry Marsh Seacroft Wheelers V50
61 John Bolton U/A V40
62 Fred Rothwell Paul Milnes RT-Bradford Olympic V50
63 Clare Crabtree Pedalsport LS
64 Chris Beetham West Yorkshire Police CC V40
65 Phillip Wadsworth U/A V50
66 Richard Fenn Calder Clarion V40
67 Maggie Lewis Norton Wheelers LV50
68 David Ward U/A V70
Youth
1 Edward McParland JD Cycles U16
2 Joseph Moses Bronte Wheelers U16
3 Nick Barnes Seacroft Wh U16
4 Edwin Oliver-Evans EBCC U16
5 Thomas Warren U/A U16
6 Billy Harding Paul Milnes RT-Bradford Olympic U14
7 Seb Marsh Seacroft Wheelers U14
8 Ollie Wood Aire Valley RT U14
9 Leon Gledhill Holme Valley Wh U14
10 J Dransfield Wakefield Tri U16
11 Tom Jolly Aire Valley RT U16
12 Ben Pygott Pedalsport U16
13 Chris Barnes Seacroft Wh U14
14 Sam Dransfield Wakefield Tri U14
15 Leon Woodhouse Holme Valley Wh U16
16 Lauren O'Brien Wakefield Jnr Tri Club U14G
17 Jessica O'Brien Wakefield Jnr Tri Club U16G
18 Hannah Saville Norton Wheelers U14G
19 Matthew Jones Sowerby Brothers CRT U16
20 Leon Crossley Wakefield Jnr Tri Club U14
21 Ruby Pilling Wakefield Jnr Tri Club U16G
22 Rob Harper Wakefield Jnr Tri Club U14
23 Michael Goodwin U/A U16
24 Melissa Lowther Wakefield Jnr Tri Club U14
25 Ben Lough? U/A U16
26 Joe Law U/A U14
27 Natalie Gilli Wakefield Jnr Tri Club U14
28 Alex France Holme Valley Wh U14G
Under-12
1 Reece Wood Aire Valley RT
2 Jake Beach Aire Valley RT
3 Joe Parker Crosstrax
4 Thomas Humphrey Sheffrec CC
5 Seth Waterman Holme Valley Wh
6 Brad Dransfield NMYS
7 Bryan Barrett Pedalsport
8 Ben Dransfield Wakefield Junior Tri
9 Thomas Wilson EBCC
10 Ben Dickinson Holme Valley Wh
11 Grace Featham Wakefield Junior Tri 1st Girl
12 Hannah Wood Wakefield Junior Tri 2nd Girl
13 Simeon Young Pedalsport
14 Chris Law PFR
15 William Turner
16 Joe Faichney CRC Hull
17 Rebekah Lord East Bradford 3rd Girl
18 Lucy Howard Wakefield Tri
19 Christy Bullett U/A
20 Sophie Thackray Paul Milnes RT
21 Stephen Jones Pontefract
22 Elizabeth Denby Aire Valley
23 Callum Colmon Yorkshire Road Club
24 Sam Taylor-Woodhouse Holme Valley Wh

Under-10
1 Joe Pilling Wakefield Junior Tri
2 Mason Hollyman Sowerby Bros
3 David Lewis North Midland Youth
4 Jack Ford Holme Valley Wh
5 Tiras Walterman Holme Valley Wh
6 Jimmy Harding East Bradford
7 Tom Whitworth Hudds RC
8 Alex Grice EBCC
9 Jennie Roberts Pedalsport
10 Jenson Young Pedalsport
11 Fionn Kerry Holme Valley Wh
13 Harry Streeton York Cycleworks
14 Harry Shelbourne Wakefield Junior Tri
15 Felicity Gledhill Holme Valley Wh
16 Sunniuah Waterman Holme Valley Wh
17 Amy Hinchliffe Wakefield Tri
18 William Thackray Paul Milnes RT
19 Ruby Boyes Hudds SW
20 Freya Bolton Pedalsport

Under-8
1 Sam Murray Westbrook Cycles
2 Henry Hollyman Sowerby Bros
3 Marcus Hiley Pedalsport
4 Rowan Gandy Wakefield Tri
5 Seth Bolton Pedalsport
6 John Culpan Pedalsport
7 Taylor Nunn Paul Milnes RT
8 Thomas Sheard
9 Elphina Waterman Holme Valley Wh
10 Chloe Hinchliffe Bradford RCC
11 Ellis Murray Westbrook Cycles
12 Louis Pasquier Wakefield Tri
13 Sajai Waterman Holme Valley Wh
14 Alex Bailey Hudds SW
15 Hannah Whitworth Huddersfield RC
16 Alice Shelbourne Wakefield Tri
17 Jake Oldfield U/A
18 Lucy Milson Calder Clarion
19 Kate Dickinson