Record Breaking Start to 09 Scottish Cross Series
Scottish Cyclocross Series Rd 1, Plean Country Park, Stirling
Sun 5th October 2009
Report: Andy Wardman | Pics: Trina Ritchie
Record numbers of riders turned out for the first race of the 2009 Scottish Cross Series at Plean Country Park on Sunday with 115 riders in the open race and over 50 kids in the U12's event!
Last year's tweaks to the course were well received by riders and made a great 'cross course even better. With this in mind the organisers Stirling Bike Club, applied the old adage - 'if it aint broke, why fix it', and ran with the same course: lots quick rolling dirt road, sweet flowing singletrack sections, a tough leg stinging run up and a couple of short, steep descents made for close, exciting racing across all categories.
In stark contrast to last year's race where riders were subjected to sub zero temperatures, icicle beards and a frozen, super sketchy race course, this year the weather gods were in better fettle providing the attended masses with blue skies and sunshine with only a little bite in the air. As a result the course held up well with little mud to be seen.
Busy times at sign-on
Youths, 11am
16 Youth riders took to the start for the first race of the day (30mins plus 1 lap of racing). By the end of lap 1 Stuart Mcluskey, Tom Arnstein and Scott Lindsay were locked together out front, 25 seconds up on Callum Chirnside and Kyle Yates chasing hard behind with Louise Borthwick a further 50 seconds back, closely followed by Sean Noon and first year Youth rider, Rory Mellis.
The leading trio stayed together through much of lap 2 before Scott Lindsay moved to the front opening up a small gap on Mcluskey and Arnstein. From here Lindsay powered away stretching his lead all the way to the finish to comfortably take the win. Mcluskey took 2nd with Arnstein 3rd. Louise Borthwick rode a great race to take the Youth girls win and also 6th place overall. Bravo!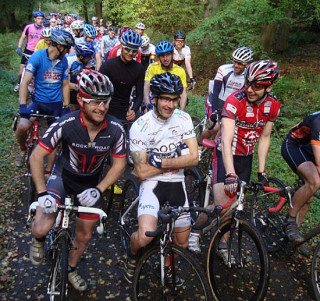 Start-line smiles from the riders of the senior race
Open Race - Senior Men/Women/Vets/Juniors, 12.30pm
The start line was buzzing for main race of the day with a massive 115 riders ready to do battle. A super quick start soon had the field strung out and by the end of the first lap it was junior Kenta Gallagher (fresh from racing at the MTB XC Worlds for GB) alone out front, with Craig Hardie and James Fraser-Moodie in hot pursuit 5 seconds down, followed closely by a larger group including Davie Lines, Gary Macrae, Paul McInally, Paul Newnham and Bruce McLeary.
Gallagher continued to ride hard at the front, stretching his lead to 10 seconds over Fraser-Moodie and Hardie by the start of Lap 3. Disaster struck next lap though as a puncture, run to the pits and wheel change dropped Gallagher several places. Fraser-Moodie took over the lead and looking strong started to stretch out a gap over Hardie in 2nd, with a charging McInally close behind in 3rd, Macrae in 4th, Gallagher chasing back hard in 5th and Lines close behind in 6th.
Over the closing laps Fraser-Moodie continued to extend his lead out front riding on to take the win in convincing style. Behind McInally bridged up to and then rode away from Hardie to claim 2nd spot. Hardie dug in well for 3rd to hold off Gallagher in 4th and first Junior. A great ride from Newnham moved him up to 5th at the finish ahead of McLeary in 6th.
Gary Macrae took the win the Vets race (and 7th overall) ahead of last year's overall series champion Iain Nimmo in 2nd and Steve Nicholson close behind in 3rd.
In the Womens race, Ruth Fraser-Moodie took the win in fine style, leading from start to finish. Behind Maddy Robinson rode strongly to take 2nd spot ahead of Brenda Callander in 3rd. Lewis Kirkwood, fresh off a great mtb season took 2nd in the junior men, with Andrew Leith rounding out the podium.
Simon Muir leads women's winner Ruth Fraser-Moodie
U12's races
The IslaBikes U12's race also had a record entry with a huge field of 54 children lining up at the start for 15mins plus a lap of racing over a 700m course. Add in a big crowd, lots of cowbells and cheering and it felt just like a mini World Champs!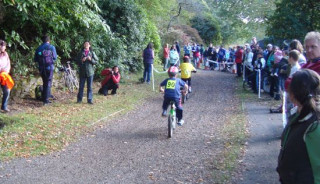 Under-12 action, with a big field turning out for the first round
From the gun Jamie Willoughby was quickest away leading the field down the fast/start finish straight into a tough 50m climb with short steps to negotiate. Willoughby was able to ride up this whilst behind many had to jump off and run up. Most impressively, several of the kids had their dismounts for this hill dialled, whilst others were able to make impressive attempts at riding the whole thing!
By lap 3 Emma Borthwick had closed the gap on Willoughby to just 7 seconds with Erica Allen and U10 rider Cameron Mellis close behind. By the bell though Willoughby, thanks in part to some fine passing manoeuvres had stretched his lead back up to 30 seconds and was able to celebrate his U12's win in style with some sweet air over a bump just before the finish line! Emma Borthwick took a great 2nd place with Erica Allen 3rd. Cameron Mellis took the win in the U10's from Joshua Graham in 2nd and Murray McNeish close by in 3rd. George Southby led home the U8's from Abbie Stewart and Murray Fotheringham.
Big smiles and some fine finishing celebrations suggested the kids all enjoyed the racing as much if not more than the spectators!

Prize Giving
With the chuck wagon doing a roaring trade, riders, spectators and officials gathered together at the start/finish area for the prize presentations. First up were the U12's, each receiving a medal and a goody bag for their efforts as well as the top three in each age category receiving additional prizes prizes and a trip to the podium.
Additional prizes across all categories were kindly provided by race sponsors Rock and Road Cycles , Asda and Wheels Cycle Centre.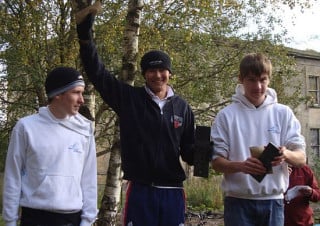 Junior podium, with Andrew Leith (Discovery CC), Kenta Gallagher (777 Racing) and Lewis Kirkwood (Glentress Riders)
More Race Pics at foot of page

Also, Trina Ritchie and others were on hand to capture the action from around the course - lots of great images are at: http://www.flickr.com/groups/scottishcyclocross/pool/
Next Up - Round 2, Auchentoshan
The series takes a weekend off before returning on Sun 18th October for Rd 2 of the Series at Auchentoshan, Glasgow. Held on an absolutely amazing woodland/parkland course with usually a little mud thrown in, it's one not too miss! For all the latest news, happenings and info on the Scottish Cross Series as well as links to our fantastic series sponsors, check out www.scottishcyclocross.org.uk
09 SCX Rd 1 - Results (Provisional)
Podium Spots:
Open Men
1. James Fraser-Moodie (Pedal Power)
2. Paul McInally (Rock and Road Cycles)
3. Craig Hardie (Hardie Bikes)
Open Women
1. Ruth Fraser-Moodie (Pedal Power)
2. Maddy Robinson (Velo Club Moulin)
3. Brenda Callander (Stirling Tri Club)
Vet Men
1. Gary Macrae (Leslie Bike Shop)
2. Iain Nimmo (Squadra Porcini)
3. Steve Nicholson (Dumfermline CC)
Junior Men
1. Kenta Gallagher (777 Racing)
2. Lewis Kirkwood (Glentress Riders)
3. Andrew Leith (Discovery CC)
Youth Boys
1. Scott Lindsey (I Cycles)
2. Stuart Mcluskey (VC Glasgow South)
3. Tom Arnstein (Velo Ecosse)
Youth Girls
1. Louise Borthwick (Edinburgh RC)
2. Rebecca Leith (Discovery JCC)
3. Catherine Angus (Carnegie Cyclones)
U12's
1. Jamie Willoughby (Drumlanrig)
2. Emma Borthwick (Edinburgh RC)
3. Erica Allen (Wallace Warriors)
U10's
1. Cameron Mellis (Carnegie Cyclones)
2. Joshua Graham (Peebles)
3. Murray McNeish (Wallace Warriors)
U8's
1. George Southby (East Bradford)
2. Abie Stewart (Glasgow Riderz)
3. Murray Fotheringham (Glasgow Riderz)
Full Results:
YOUTH
Pos Name Club Cat
1 Scott Lindsay I-cycles Y
2 Stuart Mcluskey VC Glasgow South Y
3 Tom Arnstein Velo Ecosse Y
4 Callum Chirnside Discovery JCC Y
5 Kyle Yates Leslie Bikeshop Y
6 Louise Borthwick Edinburgh RC Y F
7 Sean Noon Edinburgh RC Y
8 Rory Mellis Carnegie Cyclones Y
9 Jonathan Mitchell Johnstone Wheelers Y
10 Matthew Peters Wallace Warriors Y
11 Rebecca Leith Discovery JCC Y F
12 Aiden Cameron Carnegie Cyclones Y
13 Catherine Angus Carnegie Cyclones Y F
14 Edward Fletcher Cairngorm CC Y
15 James Thomson Glasgow Riderz Y
16 Lewis Mulholland Johnstone Jets Y
OPEN RACE - SENIORS/VETS/WOMEN/JUNIORS
Pos Name Club Cat Laps
1 James Fraser-Moodie Pedal Power RT S
2 Paul McInally Rock and Road S
3 Craig Hardie Hardie-bikes.com S
4 Kenta Gallagher 777 Racing/ Kudubikes J
5 Paul Newnham Edinburgh RC S
6 Bruce McCleary Colnago/ Microshift/ Skins S
7 Gary McCrae Leslie Bikes V
8 Steve Couper Sandy Wallace Cycles S
9 Gareth Barnes Walkers CC S
10 Iain Nimmo Squadra Porcini V
11 Steve Nicholson Dunfermline CC V
12 F Cobain Nae Fawz Nae Bawz S
13 Mark McKay VTT Pyrenees V
14 James Melville Glasgow United V
15 Davie Lines Endura Racing S
16 Lewis Kirkwood Glentress Riders J @ 1 Lap
17 Steven Turbitt Glasgow United S @ 1 Lap
18 Steve Sheridan Glasgow Ivy CC S @ 1 Lap
19 John McCaffery Leslie Bikes V @ 1 Lap
20 Mick Nally Dunfermline CC V @ 1 Lap
21 Porco Falkirk BC V @ 1 Lap
22 John McCallum VC Moulin S @ 1 Lap
23 Sam???? P Sandy Wallace Cycles S @ 1 Lap
24 Alistair Dow The Bicycle Works V @ 1 Lap
25 Andrew Leith Discovery JCC J @ 1 Lap
26 Graham Barclay Leslie Bikes V 50 @ 1 Lap
27 Charles Fletcher Cairngorms CC J @ 1 Lap
28 Colin Bain Athelite Tri Club S @ 1 Lap
29 Alan Quinn Glasgow United V @ 1 Lap
30 Gavin Hay Edinbrugh Tri V @ 1 Lap
31 Brendan Roe Leslie Bikes V 50 @ 1 Lap
32 Gordon Duncan G3R V @ 1 Lap
33 Paul Payne None S @ 1 Lap
34 Ruth Fraser-Moodie Pedal Power RT F @ 1 Lap
35 Keith Johnson Walkers CC S @ 1 Lap
36 Simon Muir Velo Club Moulin S @ 1 Lap
37 Jonathan Herbert S @ 1 Lap
38 George Buchanan Glasgow United S @ 1 Lap
39 N Holl V @ 1 Lap
40 Gavin Hanna Walkers CC V @ 1 Lap
41 Brendan Milliken Pedal Power RT S @ 1 Lap
42 Chris Marquis Velo Club Moulin S @ 1 Lap
43 Fraser Hamilton Ayr Roads CC S @ 1 Lap
44 Iain Arnott Peebles CC V @ 1 Lap
45 David Kerr S @ 1 Lap
46 Edd Shackley Glasgow Ivy CC V @ 1 Lap
47 John Meredith Velo Club Moulin S @ 1 Lap
48 Michael Keeley SBC S @ 1 Lap
49 Steve Boyd Deeside Thistle V @ 1 Lap
50 B? Rowan? Glasgow S @ 1 Lap
51 Paul McGreal Peebles CC S @ 1 Lap
52 Scott Russell Walkers CC V @ 1 Lap
53 S Field SBC V @ 1 Lap
54 Jez Hastings West Lothian Clarion V @ 1 Lap
55 Shane Lawton Pedal Power RT/ marines S @ 2 Laps
56 M Dauln? Cairngorms CC V @ 2 Laps
57 Steve Lockhart Walkers CC V @ 2 Laps
58 Owen Philipson SBC S @ 2 Laps
59 Davie Graham SCX V @ 2 Laps
60 Russ Walton Cotswold Outdoor S @ 2 Laps
61 Andy Turnbull Falkirk BC S @ 2 Laps
62 Keith Mailer? S @ 2 Laps
63 Andy Douglas Pedal Power RT V @ 2 Laps
64 Euan Mair G&G Cycles S @ 2 Laps
65 Guy Baconking? V @ 2 Laps
66 Struan Donald S @ 2 Laps
67 Russell Newham Walkers CC S @ 2 Laps
68 Robert Morley GMBC V @ 2 Laps
69 Maddy Robinson Velo Club Moulin F @ 2 Laps
70 Gary Murray L & B Fire Rescue Tri Club V @ 2 Laps
71 Jeffrey Gallagher 777 Racing MTB Club V @ 2 Laps
72 Calvin Price V @ 2 Laps
73 Scott McKendrill S @ 2 Laps
74 Simon Kirkness S @ 2 Laps
75 Andy Duncan Ythan CC S @ 2 Laps
76 Kenny Christie Johnstone Wheelers S @ 2 Laps
77 Keith Leinster S @ 2 Laps
78 Michael P??? Falkirk BC S @ 2 Laps
79 D Harcourt DBSC S @ 2 Laps
80 Allan McCrimmon West Lothian Clarion V @ 2 Laps
81 B Skinner G3R S @ 2 Laps
82 Wayne Jamieson S @ 2 Laps
83 Howard Perkins V @ 2 Laps
84 Kenny Wilson SBC V @ 2 Laps
85 Thomas Fletcher Cairngorms CC V @ 2 Laps
86 Brenda Callander Stirling Tri V F @ 2 Laps
87 Mike Ferguson Johnstone Wheelers V 50 @ 2 Laps
88 Ainsley Turbitt Glasgow United S @ 3 Laps
89 Dave Grant V @ 3 Laps
90 Martin Tunstall Edinburgh RC V @ 3 Laps
91 Ewan Cleland Rockhard MBC S @ 3 Laps
92 Anna Walker Walkers CC F @ 3 Laps
93 Craig Lapsley SBC S @ 3 Laps
94 Stuart E???? Flying Fox S @ 3 Laps
95 Graham Kelly V @ 3 Laps
96 Lesley Kirkwood Peebles CC V 50 @ 3 Laps
97 Chris Bryson S @ 4 Laps
98 Lindsay Leinster S @ 4 Laps
99 Steven Clubb S @ 4 Laps
100 E Mowat S @ 4 Laps
101 E Williamson Nae Fawz Nae Bawz J @ 4 Laps
More Images
3rd overall Craig Hardie
Paul McInally rode a great race to finish 2nd in thesenior men's category
Paul Newnham leading eventual Vets winner Gary Macrae
Kenta Gallagher on a run-up
Series sponsors