Helen Wyman Diary - Stateside 'Cross
National Cyclo-Cross champion Helen Wyman reports from the USA where she's looking forward to a new season with her new sponsors.
---
Part 6: Cross Vegas and a Steel Band
A disappointing 7th, but what a great experience. That just about sums up my evening at Cross Vegas '09. I've never before experience conditions like this to race in and I know I'll be more prepared next time. A 7th place is normally one to forget but I think this is one I won't forget.
Helen flying over the hurdles - image: Joe Sales
The atmosphere at races here in America is great and Cross Vegas is top of the tree. The support is massive for everyone and you feel really welcome and ready to put on a show. I managed to lead the race, but the conditions got to me on lap 2. Oh well, onwards and upwards. It's now back to Europe and World Cup in Treviso.
I never thought night racing would be my thing, but I won a night cross in Switzerland last year and backed that up with a win her in Star Crossed. I'll be back for more racing over here in the USA, maybe this season. We'll see what comes up, but I think I'll stick to day time races for a while.
I had the day in the bike show yesterday. A couple of hours of signing postcards with my Kona/FSA team mates Ryan and Barry and then it was time to meet a few other sponsors and also try to fit in a bit of time to hang out with some cool people.
The guys a Schlamm were good to hang out with and it was nice to exchange stories of not being able to breathe during the previous day's race with Dan. Great stand, good sweets (Of course the chewy sweets make all the difference).
With very tired legs and heavy bag of sponsored products, I left the show to return to the Kona party. Kona a cool crowd and to make sure everyone had a good time, they had a steel band playing at the poolside party. It was a great night and everyone had a seriously good time.
As for America, that was all I could squeeze in. It's now for the long return to Europe and time to try to get everything ready for the first world cup. I'm sad to leave, but looking forward to seeing everyone back home.
Thanks to everyone for making the trip possible and such good fun (Barry, Ryan, Dusty, Smiley, Joe CB Sales, Dave, Salami, Mr Burney, Dan, Mark, everyone at Kona, Giro, NACT, Schlamm and anyone I've missed.....you know who you are).
---
Part 5 - The last days in Portland
Being the first time I've ever travelled to America, I'm really trying to make the most of everything. This has involved lots of road trips, crazy amounts of internet research on the region and trying to squeeze all of those things into the hours I'm awake.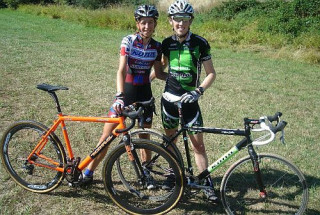 Helen Wyman with fellow Kona rider Aaron Schooler
One thing I had set up before I left Europe was a training ride with Aaron Schooler who rides for H&R Block/Kona. Being based with Elite Athletics World here in Portland, we were lucky they had already got us clearance to use a first class training ground at a local hotel. We had a lot of fun and it was my first cross training session involving all of the elements of cross that I'll use over the season. I must say at this point that my Major Jake is an unbelievable bike and I'm looking forward to racing it all over Europe this winter. Having been on Carbon bikes for many season, I wondered how it would feel, but it's amazing.
The next thing I wanted to fit into the trip was a look at Mount St Helens. Being so close to it and sharing a name, I felt it would be nice to see a volcano first hand. So we took in the views and I even did the tourist thing and brought a mug from the visitors centre. I've worked out how to hold it already so that all you can see is Helens, so hands off everyone else!! I'm praying it gets back to Europe in one piece.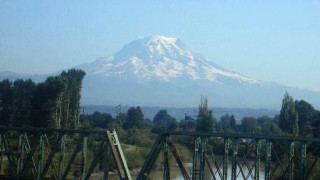 The epic and legendary Mt St Helens
I've been trying to keep things American, but it seems sometimes you don't need to try; America sometime inflicts itself on you. On our return to the Elite Athletics World base in Portland, we came across a van that had been modelled to look like a pig. You have to see the picture to believe it........only in America.
Having won my first race, I called in the promise that Stef had made to me, that I could take a trip to Victoria Secrets so we drove to Redmond, Seattle and went shopping for the afternoon. While the guys were drinking coffee, recovering from the Burrito and Karaoke of the night before, I shopped till I dropped.
Right: seen on the road, a pig-van
The first 2 races of my trip have been fantastic. I was made to feel really welcome, the support at the course was amazing and the help I've had from Elite Athletic World was perfect. I'll be sad to leave Portland, but Las Vegas will hold just as many fun experiences, and the chance to meet the rest of the Kona crew. I'll be at the bike show on Wednesday and Thursday, as well as racing on Wednesday night at 7pm. Its going to be a full on few days and I can't wait.
---
Part 4 - Puncture finishes winning chance for Wyman
Yesterday's second place finisher, Sue Butler managed to take full advantage of Helen Wyman's misfortune with an solid race win at the Rad Racing GP. British national champion Helen Wyman (KONA/FSA) had made a good start to the race, taking an early lead with Butler. Both managed to put in a good early lead to Alison Dunlap who was continuing her good come back from retirement.
Just after passing the pit, Helen got a front puncture and fell back to 20th place, minutes down on the lead. But with nothing to loose, and a crowd to please, Helen began a big chase back to finish 4th.
Following her win last night, Helen is lying 3rd in the North American Trophy Series. Butler has now taken over the lead in the series from Helen.
After the race, a disappointed Helen said, 'That's racing; I'll just have to try to make up for it next time out. I couldn't have punctured in a worse place really. But I gave it my all and I know my form is good.'
The next race for Helen is Cross Vegas, before returning to Europe for the first round of the World Cup in Italy on 4th October.
Helen continued, 'It's a shame for Kona/FSA also as I would have liked to have got a double win for them. They've put a lot of faith in me to take over from Wendy Simms who was World Number 1 last year, but I guess one out 2 isn't too bad.'
Brief Result
1. Sue Butler
2. Alison Dunlap
3. Kari Studley
4. Helen Wyman
5. Barbara Howe
---
Part 3 - More experiences in the USA
Having had a couple days in Portland now, I thought it was important to stretch my horizons a little and see what else was in the region. So having finished a 4 hour ride with John, Stef and Dave we decided to head out in the car for a trip to a local waterfall. Now I come St. Albans, and spent my teenage years in Norfolk, so Waterfalls aren't really something you just stumble across. Multnomah Falls were our chosen destination, around 15km's from our base in Troutdale.
At 543 feet high, I wasn't going to be disappointed. They were truly stunning and with beautiful weather it's a great place to spend some time. It was a cool place to take some pics with my new Major Jake, although we did get a lot of funny looks. On the flip side, a local cross racer happened to be there and it good to chat to him when he noticed the cross bike.
From there, after the obligatory coffee stop, we headed into the hills for a rolling drive back home. As I mentioned in my last blog, I wanted to keep things American, so when we stumbled upon a pumpkin field, I just had to stop. It was seriously cool. To have a field full of Kona coloured pumpkin was great. I'm sure the farmer didn't mind us jumping in the field to take some pics.
The weather here is basically the same as you'd expect in the UK. Plenty of drizzle, but when it's nice, it's really nice. It's only then that you see the benefits of all that rain, as the area is so green. I'd love to have a bit more time out here to explore the area. I think it would be the perfect place to spend some of the off season weeks, perhaps walking in the hills or cruising on a mountain bike.
In the next couple of days I'll be doing a training ride with H&R Block - Kona rider Aaron Schooler. He's a great young rider from Canada, and I've arrange a training session with him and Stef before we all head to Seattle for the first of our races. I'm really looking forward to it already.
Other than that, the guys will be at the karaoke again I'm sure (They haven't missed a night yet), and I'm going to try to keep getting my body clock adapted to the pacific time zone.
As ever thanks to everyone who's supporting me this season for making this possible.
---
Part 2: Wyman Wins in America
It was a great start in America for UK Cyclo-Cross National Champion Helen as she cruised to a comfortable win in Star Cross in Seattle. Wyman, riding in the new colours of Kona/FSA was keen to start well with her new team and didn't disappoint.
Sue Butler took the lead from the line, but Helen quickly battled past before the first set of planks on the tight twisty course. From there Helen took control of the race ahead of a group of 3, including Sue Butler and Alison Dunlap. Alison, in her first cross race for 2 years was a real powerhouse as she showed that she back and means business.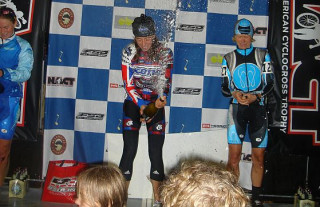 The race, run at 7pm local time, was under flood light and started in great conditions. After the pre-race favourites were introduced, the race started and so did the rain. It was on lap 2 that Helen managed to get away from the following pack and she set about getting a lead of 40 seconds. However a slip one of the final corners on lap 5 put Helen back in sight of the chasers. Helen kept it calm and set about stretching her lead again and managed to finish around 30 seconds ahead of Sue Butler who managed to avoid a crash involving Dunlap, who finished 3rd.
Helen now leads the NACT series and will take that lead to the race tomorrow, Rad Crossed.
Brief Results:
1. Helen Wyman (Kona)
2. Sue Butler (Monavie/Cannondale)
3. Alison Dunlap (Luna Chix)
4. Alison Sydor (Rocky Mountain - Maxxis)
5. Kari Studley (Velo Bella)
6. Emily Van Meter (Hudz/Subaru)
7. Wendy Williams (Hudz/Subaru)
8. Sarah Stewart (Total Restoration Cycling Team)
9. Jenni Gaertner (Vertical Earth)
10. Kristi Berg (Redline)
---
Part 1: Settling In!

I have arrived safe and well in Portland Oregon and what a place. It's so beautiful here and I really enjoyed my first day out on the bike and can't wait to keep riding as I prepare for my first race in Seattle this weekend.
I'm trying to keep things as American as possible, just so that I can get a real taste of life 'State Side'. It's my first time outside Europe and I want to get the most of the experience. I've been really lucky to have some great support here. Firstly, my good friend John 'Salami', from Elite Athletics World. As well as giving me a place to stay, he's been giving me tour of the town and pointed me in the direction of some great training routes. Then there's Dave 'Drummer', pro mechanic, who has taken delivery of my bike and got it set up for me. This has shown me that it's not only in Belgium where you get full race support just because you're a racer.......It's here in the US of A too.
So Part 1 of me being American had to be a monster truck and the Dukes of Hazzard rolled into one. So I headed out for some photos in my new kit and with my new bike to a cool spot nearby. Having been told a monster truck is big, I had in mind what it would be like, but it was huge. Anyway, it was great fun so thanks guys.
After the photo's I headed out for a ride to try to get some feeling back in my legs after the travel. I took a really nice route down a local valley and tried to keep things as flat as possible. Its was great, saw a lot of massive American cars straight from the TV shows, a cop car and a whole row of yellow school buses just like in the movies. Every other house has an American flag its great!
This is the first outing for my new kit, and I can't wait to get racing for Kona/FSA this weekend. It's around 3 hours drive to the race and it's also the first time for me to hook up with my new team mates at the event.
The next few days will involve some harder training rides and then some pre-race prep as the race approaches. For the guys, I think the evenings will involve a lot more Karaoke, trips to Taco Bell and a selection of beers from what I am assured are fine micro-breweries from Portland.
Thanks to everyone who's supporting me this season for making this possible. I can't wait to see what the next few days of my American Adventure holds for me.
Links:
www.helenwyman.com
www.twitter.com/cx_helen
www.sleepathlete.com
www.forgoodnessshakes.com/
www.eliteathleticsworld.com
jetsetbikemechanic.wordpress.com/