Thwaites Wins Yorkshire 'Cross Finale
Paul Milnes Cycles Summer Cyclo-Cross Series
Round 9 - Greetland, 12 August 2009
Mark Thwaites produced a commanding and polished performance to claim his fourth win in four starts in the Yorkshire Summer Cyclo-Cross series, sponsored by Paul Milnes Cycles. However, it was Oli Webster, who finished fourth, who claimed the series overall after a consistent summer which saw him take two wins and four runner-up spots. Simon Maudsley took second on the day, his best result of the series, with Matt Denby - now fully recovered from his leg injury - taking third and with it second overall in the series.
The Under-14 field streams away just after the start
The event took place at a sun-kissed Greetland Allrounders rugby club, high on the moors above Halifax, where the heather was just coming out, completing beautiful setting for the race. The riders were treated to the usual twisting, turning course, with lots of sandy singletrack, which makes this such a popular venue. This also make overtaking tricky for big chunks for the course, so a good start is a must and Thwaites was well up in the first half-dozen riders and had taken the lead by the end of the first lap. From then on he simply rode away from the rest of the field.
Mark Thwaites in full flow as the sun goes down behind him
Earlier, in the Uner-14 race Edwyn Oliver-Evans took his seventh win of a series he has completely dominated. Behind him there was a tight battle for second, with Amira Mellor taking it and showing that she is a match for any of the boys, coming in first in the Under-12 category as well. Mason Hollyman was the first Under-10 home, with Max Rushby the first of the big Under-8 turnout.
This summer series of nine events has attracted some very encouraging entries, with over a hundred riders lining up once again. Yorkshire is a 'Cross hotspot and the series has once again proved that there is a demand for evening racing in the summer. Much credit goes to series co-ordinator Fred Rothwell and his team of race organizers and volunteers who make it such a slick and enjoyable series of events.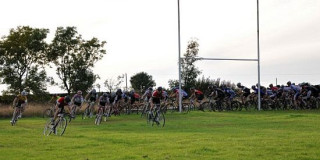 The main race seconds after the start
The end of series Great Prize Presentation Night takes place on Friday 4th September at Meltham Sports and Community Centre. Thanks to the series sponsors, there's approximately £2000 in prize money to give away! There will also be live music. Under 14s go free, whilst over-14s' tickets cost £7.50. To book telephone Fred Rothwell on 01422 832195 or Andy Whitworth on 01484 607830 (daytime) or email trycycling@btconnect.com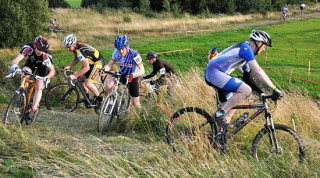 A typical tricky Greetland banking catches a couple of riders out
Results
Over-14
1 Mark Thwaites Team Assos
2 Simon Maudsley Crosstrax
3 Matthew Denby Zepnat RT
4 Oliver Webster Crosstrax
5 Robert Watson Paul Milnes RT/Bradford Olympic
6 Derek Chiles
7 Roy Hunt Colnago
8 Simon Rodgers Car Park Heroes
9 Johnny Limebear Batley CC
10 Mike Young Pedalsport
11 Jack Humphreys Red Rose Olympic
12 Nick Kotlarewski Paul Milnes RT/Bradford Olympic
13 Joseph Moses Bronte Wh
14 Paul Whatmough Shepherds Cycles
15 Andy Whitworth Huddersfield RC Salamander Fabrications
16 Myles Chandler Batley CC
17 Owen Mitton Huddersfield RC Salamander Fabrications
18 Andy Geall Pedalsport
19 Mark Rushby Pedalsport
20 Jack Clarkson Pedalsport
21 Jonathan Hobson Chevin Cycles Bang & Olufsen RT
22 Bob Addley Otley CC
23 John Hopkinson Aire Valley RT
24 Blue top mountain biker
25 John Ginley Condor Road Club
26 Richard Crabtree Pedalsport
27 Martin Tauontrie Otley CC
28 Charles Warren U/A
29 Graham Bird JD Cycles
30 David Woodhead West Pennine
31 Ralph Bentley Otley CC
32 A Hunt Crosstrax
33 Ian McParland Bronte Wh
34 Tim Baldwin Paul Milnes RT/Bradford Olympic
35 Julian Hodgson U/A
36 Giles Bailey Huddersfield Star Wheelers
37 Scott Weston Crosstrax
38 Paul Stephenson U/A
39 Martin Jones Colnago
40 Richard A Thackeray Featherstone Road Club
41 Simon Pateman U/A
42 Owen Henrikson U/A
43 Richard Burnham Condor Road Club
44 John Belson U/A
45 Dan Goodey Crosstrax
46 David Senior Huddersfield RC Salamander Fabrications
47 Stephen Knight Huddersfield Star Wheelers
48 Andrew Gibson-Moran Pedalspoert
49 Renee Saxton Otley CC
50 Paul Smithson Keighley & Craven AC
51 Gary Kitching
52 Colin Humphreys Red Rose Olympic
53 Tim Evans East Bradford CC
54 Nigel Hollyman Sowerby Bros CRT
55 John Redmond Paul Milnes RT/Bradford Olympic
56 Richard Truman Go-Ride
57 Richard Durham Team Swift
58 Jonathon Jolly U/A
59 Peter Hamilton Paul Milnes RT/Bradford Olympic
60 Suneil Curwen Pedalsport
61 Sharon Smith
62 A Lord U/A
63 Richard Stansfield VC Bradford
64 Steven Cavell Condor Road Club
65 Christopher Parker East Bradford CC
66 N Rollinson U/A
67 Christopher Beetham West Yorkshire Police CC
68 Clare Crabtree Pedalsport
69 Steve Sears Sowerby Bros CRT
70 Brian Crossley U/A
71 Fred Rothwell Paul Milnes RT/Bradford Olympic
72 Nicola Butler Pedalsport
73 Ian Small Zodiac CRC
74 Dawn Hartley
75 A Durham,
Under-14
1 Edwyn Oliver-Evans East Bradford CC U14
2 Amira Mellor Holme Valley Wheelers U12
3 Joseph Parker Crosstrax U12
4 Bryan Barrett Pedalsport U12
5 Mason Hollyman Sowerby Brothers RT U10
5 Max Rushby Pedalsport u8
7 Rebekah Lord Eastlands U12
8 Tom Whitworth Huddersfield RC Salamander Fabrications U10
9 Jenson Young Pedalsport U10
10 Simon Young Pedalsport U10
11 Henry Hollyman Sowerby Brothers RT U8
12 James Baldwin Pedalsport u8
13 Lucy Whearby Pedalsport U8
14 Sam Murray Westbrooke cycles u8
15 Olivia Ingham Go-Ride U8
16 Ruby Boyes Huddersfield Star Wheelers U8
17 Hannah Whitworth Huddersfield RC Salamander Fabrications U8
18 Dylan Boyes Huddersfield Star Wheelers U8