British Cyclo-Cross Championships - Day 2

11 January 2009, Peel Park Bradford
Reporting & Images: Joolze Dymond, Larry Hickmott & Phil Ingham

WOMEN'S RACE
Day two of the championships brought a thaw to the soil and a mean wind to the trees of the Peel Park venue. First out onto the course were the competitors for the women's championships, where once again the question was whether anyone could challenge Helen Wyman's dominance and prevent her from winning a fourth title.

Above: Wyman leads Day, early on the first lap

Showing intent from the start, Wyman surged confidently to the front down the start straight and turned onto the first grassland section alongside her team-mate Gabralla Day. Annie Last was close behind, with the rest of the field. Wyman and Day were very smooth through the first winding woodland section and by the time they had reached the double hurdle, at one third of a lap, they had broken clear and already had a five second lead, with Last leading the chase.

Day and Wyman continued to build their lead through the first lap and at the steep banking - which leads into the long off camber traverse and the steps, towards the end of the lap - they were 16 seconds clear. Wyman also had a bike length between herself and Day, who looked to be working the harder of the two of them.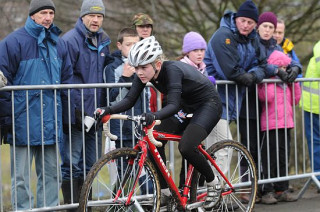 Above: Ruby Millar, Junior champion

Leading the chase at the top of the climb was Junior rider Ruby Millar, who had moved ahead of Annie Last. Lily Matthews was right behind them in fifth, with one of the pre-race favourites, Sue Clarke, well back in sixth in the company of Corrine Hall.

Lap two saw Wyman turn the screw on Day and, although not bursting clear, she gapped her team-mate and just gradually opened up a significant lead. By the end of the lap it was 14 seconds and to all intents the race for the title was over.

Behind the leading duo, Ruby Millar looked comfortable in third, with Sue Clarke, having finally got going, some 15 seconds behind her in fourth. Annie Last, a medal certainty in many people's eyes, was going backwards and clearly not having a good day. Lily Matthews was soon past her and Corinne Hall and Isla Rowntree were closing too.

Lap three saw little change. Day had pegged Wyman back at about 15 seconds, but still looked to be working very hard. Up the final banking the increasingly muddy surface was breaking up and all the leaders were forced to dismount except Millar and Rowntree, who both showed nice skills in keeping rolling.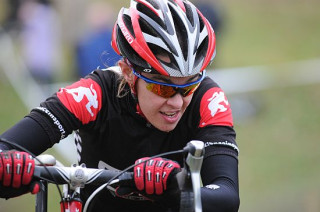 Above: Sue Clarke - a bad day at the office, but she still won a medal

The penultimate lap was a bad one for Ruby Millar. She'd looked comfortable for much of the race, but Clarke began to close on her and she was suddenly in trouble. Going up the big bank, Millar was slogging and Clarke finally caught her and passed her with an aggressive out of the saddle climb of the slope. Last was also having problems with her bike clogging with leaves and mud and looked disheartened as she struggled to clear the mess. At the front, Wyman had broken the elastic to Day and was suddenly going away again.

The final lap was a procession for Wyman, who cruised round to take her fourth title - one less than Caroline Alexander's record - by almost a minute from the gutsy Day. Clarke continued her late surge and took the bronze medal, with Millar holding on for fourth and taking the Junior title in the process. Louise Day worked her way into the top ten and took the veterans' title.

Post-Race Comments
Helen Wyman: "Yeah that was a good day out there, I can't say it was plain sailing for me, Gaby was pretty close for a good 4 laps it was only really on the last lap that I managed to get a bigger gap between us. Gaby was only 20secs adrift from me, which is pretty close.
It's good when a team mate comes with you in a break, I want her to do well, she's a good rider, though we didn't really have a plan, other than I just wanted to keep going hard and see if Gaby could stay with me. I was thinking after a lap and a half she'd have still been there I'd have had to change my tactics, fortunately I got a 20m gap quite early on and then forged on. I always try to ride hard from the gun to try and open an early gap, it gives me more confidence to do that also if you encounter any problems in the race you still have time to sort yourself out. Today I didn't really have any problem, well that is until I hit the guy on course who was repairing a section of tape; I've no idea where he appeared from!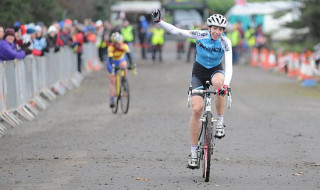 Above: Helen Wyman claims that fourth title

The conditions weren't too bad, but to be honest I'd be happy with anything, I've been practising in the ice at home in Belgium, so I've got pretty good at that, it's been hard and fast, but then when it turns mushy you think, mmm, but to be honest either way if good for me, I can adapt to the conditions. Mind you the wind here was madness, I nearly got blown off at the top it was crazy! I was thinking I need to eat more! It's great to pick up my 4th National jersey, my form is there now and with two world cups and then the Worlds to look forward to I hoping that I can do a ride there. I just hope it warms up a bit over there as it's okay riding in the ice but its not great training in it!"

Gaby Day: "I was happy with my race today, I obviously go into races hoping to win, but with this race I've been ill leading up to it and my training hasn't been what I wanted, so I was happy with all that how I rode in the end here. I tried as long as I could to stay with Helen and put a bit of pressure on her. But the headwind was really, really hard work and Helen was stronger on some of the straights and that's where I think she got away. The wind was so strong I had to go into the small ring for some of the climbs my legs were struggling, that was so frustrating but it was so strong. I just concentrated on building a gap between 3rd and me so I could focus on gaining Helen, but she was just too strong for me to make too much headway, maybe next year I can get the better of her!"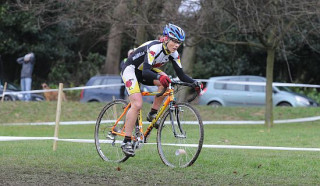 Above: Louise Day, Veteran champion

Louise Day: "It was a real battle out there today, but to have competition makes it a much better race, it kept me pushing on every lap there was just no let up. I felt quite confident out there especially with the running, that was perfect for me as that's my background, I'm not a highly technical rider but here that was okay, I good at just slogging around so this course was perfect for me. Sometimes it's hard for me to focus when Gaby is riding in the same race, I'm so worried about Gaby and sometimes I think I shouldn't be doing this really, but it's all Gaby's fault as she got me into it!"

Ruby Miller: "I think riding at the Revolution last night warmed me up for this, at the start of the week my legs felt dead as I've been doing a lot of training, but I think last night the short sharp races, got my legs turning so I'm so glad I did it! My plan today was to be there from the start and keep an eye on the other girls, I was riding with a group when I thought well if I don't do something now I wont do anything so I just went and nobody seemed to follow me so I kept going and was so pleased to be up in 3rd but was equally gutted when Sue caught me on the last lap. I saw her bearing down on me but I gave it my all and there was nothing else I could do. I'm still pretty pleased with my ride, especially with riding last night as well, this weekend has been really good, I didn't want to think about it, but I'm so pleased now with how it's all gone, plus I'm only a first year junior, so hopefully next year I'll catch them!"

Sue Clarke: "I think I rode pretty shockingly today actually, I don't think I've felt quite so bad in a race before in my life! Down the start straight I was getting dropped and that shouldn't be happening to me, I woke up this morning with a sore throat, I've been a bit of a recluse a bit of a hermit for weeks, trying to keep away from all the illnesses that are out there, I managed to fend them all off until today and I knew this morning that I really didn't have it in my legs, but I stayed positive and I knew you don't have to feel good in a practise lap it's the race that matters. I still had it in my mind I could still go well I've had some really good training and some really good races these past couple of weeks but on the day I just didn't have that form. The only salvation is that I managed to get a medal out of it, and that only happened as I'm strong and suited to a longer race and managed to keep going and overhaul Ruby for 3rd spot. The two girls in front of me are a world class act to get a medal these days is not an easy task at all and to be honest I'm really pleased to get a medal at the British Championships, one of these days I'll get myself another jersey!"

Results
1 Helen Wyman Vision 1 Racing 39 46
2 Gabriella Day Vision 1 Racing at 0:50
3 Suzanne Clarke Science in Sport - Trek at 2:25
4 Ruby Miller (J) Individual Member at 2:44
5 Lily Matthews 100% Me at 3:33
6 Isla Rowntree Stourbridge CC/Wrap/CY Electrical at 3:49
7 Corrine Hall (J) Twickenham CC at 4:26
8 Annie Last www.Zepnat.com RT/Impsport at 5:9
9 Louise Day (V) Fat Birds CC at 5:17
10 Nina Davies Ogmore Valley Whs. at 5:26
11 Jasmine Adams-Friend Wyre Forest CRC/Fabricolor/DWT at 6:03
12 Jessica Allen 100% Me at 6:59
13 Martine Verweij Endura/Thule/24/7/Kinesis/MI Racing at 8:32
14 Anja McDonald VC Moulin at 9:03
15 Penny Rowson (J) Individual Member at 9:50
16 Lisa Parsons Welland Valley CC at 1 lap
17 Claire Hall Swindon RC at 1 lap
18 Elizabeth Clayton (V) CC Giro at 1 lap
19 Vivien Cox Team Cyclo-cross.com at 1 lap
20 Claire Beaumont London Dynamo at 1 lap
21 Katherine Mason (V) Sussex Nomads at 1 lap
22 Lynn Bland (V) Norton Wheelers at 1 lap
23 Denise Shackleton Yorkshire Velo at 1 lap
24 Noelle James VC Nottingham at 1 lap
25 Carolyn Wright (V) Horwich CC at 1 lap
26 Hilary Johnson (V) Derby Mercury RC at 1 lap
27 Chloe Parrington Welland Valley CC at 1 lap
28 Andrea Halman Swindon RC at 1 lap

JUNIORS
The Junior event was right up there with the previous day's Youth race as a contender for the race of the weekend. As with the Youths, the field had a real feeling of depth to it and it had to be one of the hardest races of the weekend to call.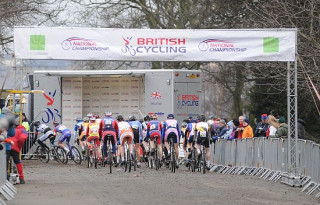 Above: The Juniors dive into the first corner

The start saw National Trophy leader Dan McLay taking the field through the first woodland section at the head of proceedings. Things remained very bunched until the tight banking section with the hurdles, about two minutes into the race. This section has influenced every race and again it began to split things up with four riders moving clear, if only by a small margin, namely McLay, Sam Harrison, Tom Moses and David Nichols.

By the end of the lap the lead group had swelled to eight riders who charged up the long banking climb together. As the women had found earlier, the banking was now beginning to cut up, but it was still very rideable. Amongst those joining the lead group were Scottish rider Kenta Gallagher, local lad Oli Webster and Thomas Lowe.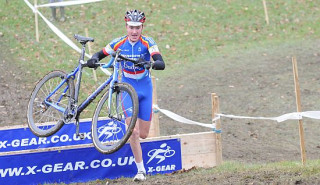 Above: Sam Harrison - a talented rider and gracious in defeat

The second lap saw Moses beginning to apply pressure and the leading four re-asserted themselves and broke free again. This group then split with McLay staying with Moses as Harrison and Nichols lost contact by a couple of bike lengths through the hurdles section.

Moses had another big dig, climbing hard out of the saddle, as they passed the pits for the second time in the lap, but McLay seemed to be holding on reasonably comfortably. Harrison was chasing hard and came up the big banking at the end of the lap alone, some 3 seconds down, with Nichols having dropped back and been joined by Webster. A further five seconds back was small group including Gallagher, Dibben and Lowe.

The first half of the third lap saw Harrison bravely getting back up to the leading duo with some slick work on the tarmac start-straight, where he used his power to cut through the gale forced winds which were still sweeping the venue. But Moses almost immediately went on the attack again through the hurdles section, where his agility really counted and he and McLay again dropped Harrison.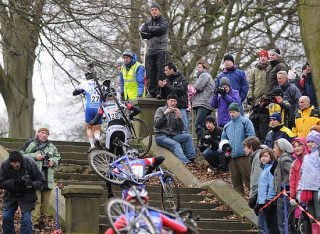 Above: Tom Moses leads up the steps

Moses continued to attack away from the hurdles and by the time he emerged again on the higher side of the course he'd finally broken clear of McLay and had a 6 second gap. Harrison soon pounced on McLay and caught him. Webster and Nichols were by now working together in fourth and fifth, but some 20 seconds down.

Once he'd got the gap, Moses did everything he could to open it up and he was really flying as he took the big banking for the third time and at the top he had 15 seconds over McLay and Harrison, with the latter moving into second as McLay appeared to have a mechanical problem.



Above: This one's for Yorkshire - Moses wins

McLay duly changed his bike at the start of the fourth lap, but Harrison took advantage to move clear into second place, 14 seconds clear of his unfortunate rival. The rest of the lap saw Harrison holding Moses' advantage at about 15 seconds, whilst maintaining his gap over McLay. But Moses again opened the gap still further through the technical first half of the fifth lap and was almost half a minute clear when the riders topped the big banking for the penultimate time. McLay seemed to be closing a little on Harrison, but with just one lap to go, the top three looked pretty settled.

And that's exactly how it was, with Moses, who lives just a few miles up the road, coming in to take a very well received win by almost half a minute from Harrison. Moses's celebration will go down as one of the more elaborate of the weekend, but he'd deserved it after a brave and attacking ride. McLay was third to complete an all first-year junior podium, whilst Nichols was fourth after catching and passing Oli Webster with just over a lap to go.


Post-Race Comments
Tom Moses: "I'm so pleased to bring a win home to Yorkshire, it was a hard win though, there was nowhere to rest around the course, `I just had to dig in hard, but once I got a gap I just sat back a bit a made sure I didn't go down round the corners and played it safe in that respect. Coming into the race, my thoughts were that I didn't want to go for the win early on but I made a move as I felt a lot stronger than everyone else, plus I reckon being a lot shorter than everyone else helped in all that wind! There were a lot of corners where I put on the pressure and I could see the group I was in suffering, so I pushed on and somehow got away and kept pushing on.
The competition was really strong, with Sam (Harrison) and Dan fighting to get back to me all race, I think I had them on all the corners and all the technical muddy bits. The support I had from the crowds was just amazing, it was a wall of sound as people cheered me on, that really helped me dig deep. My aim really coming into this had to be not only the win but also selection for the Worlds, I hope I've managed to secure that now to."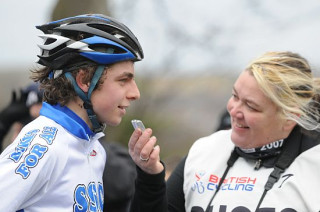 Above: Tom speaks to Joolze Dymond

Sam Harrison: "That was so hard, I had a bit of a cold at the start of the week, it hasn't affected my form really and Moses did a great ride out there, fair play to him, he was really strong, I wouldn't have been able to stop him even if I had been feeling 100%. I had a good start but coming into the technical bits, I was so slow, where as Moses was so good through there, I was getting faster towards the end but there was no way I was gonna be able to get him. Good ride and a well deserved win by Moses."

Dan McLay: "That was a hard one all the way round, Tom started attacking straight away and I was trying to stay on his wheel but round the corners he was flying round and dropping me. The first two or three laps I was just able to work my way back up but I just couldn't keep doing it. Later in the race I had a bit of trouble with my front mech, it slipped round and I couldn't get it into the big ring anymore and that's where Sam got past me. I changed bikes but the damage had been done and I couldn't quite close the gap to Sam. My legs didn't feel to great out there but they didn't feel bad either, I know I still have a bit of form to come and hopefully I'll get selected for the Worlds and do a good ride there. I guess I'm a bit disappointed I came here to win but it's not the end of the world there's plenty of more races to go for and I'm looking forward to the road season, it's nowhere near as muddy!"

Results
1 Thomas Moses SSC Cyclesport/Bikes for All 43 11
2 Sam Harrison Cwmcarn Paragon RC at 0:25
3 Daniel McLay Univega.co.uk at 0:46
4 David Nichols Glendene CC/Bike Trax at 1:52
5 Oliver Webster J D Cycles Ilkley at 2:57
6 Peter Dibben Hargroves Cycles/Trant/Next/GSI at 3:24
7 Kenta Gallagher 777 MTB Racing at 3:35
8 Joseph Perrett Glendene CC/Bike Trax at 3:45
9 Thomas Lowe Go Sports Spex RT at 4:20
10 Robert Watson Paul Milnes/Bradford Olympic RC at 4:47
11 Steven James Mountain Trax RT at 4:54
12 Luke Gray Hargroves Cycles/Trant/Next/GSI at 4:58
13 Alexander King GWR Team/Scott Wilson at 5:12
14 William Verney Felt Racing at 6:23
15 Martin Woofindin Sport City Velo at 6:51
16 Matthew Cook Mildenhall CC at 6:54
17 Luke Newby Diss & District CC at 7:49
18 Will Bushby Obricoaching RT at 7:55
19 Perry Bowater CC Giro at 8:10
20 Tom Castle Glendene CC/Bike Trax at 8:40
21 Matthew Jones Cwmcarn Paragon RC at 1 lap
22 Bruce Dalton Matlock CC/Impsport/Farmers/Wards at 1 lap
23 Andrew Hargroves Hargroves Cycles/Trant/Next/GSI at 1 lap
24 Bradley Burbridge www.cyclingbargains.com - Infinis - Metaltek RT at 1 lap
25 Nat Jarvis Orange Monkey MTB Team at 1 lap

SENIOR MEN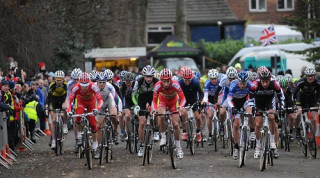 Above The start of the men's race and Ian Field, centre, is already leading

There's generally only been one question on the start line of senior men's national Championship races in the last decade or so - namely, who, if anyone, is going to stop Roger Hammond from winning? Saturday's rock-hard course had thawed to something little more testing, but it wasn't remotely technical or muddy by genuine 'Cross standards. However, the course did, at least, offer a number of climbs. Could they be Hammond's downfall, or would the best finisher in the business hang on in there to the end and and wrap it up in a sprint?

The way Ian Field went off from the start suggested he wanted to make the whole thing academic. He was first into the first corner and had a six second lead at the hurdles. Behind him the best riders in the country were strung out in rapid pursuit, led by Stuart Wearmouth, Jody Crawforth, Ian Bibby, Paul Oldham and the inevitable Roger Hammond.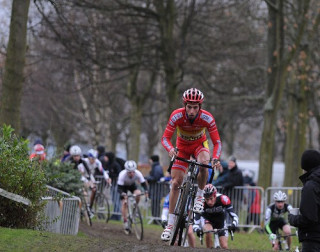 Above: Field leads through the first woodland section

They stuck to their task and by the start of the second lap it had all come back together at the front, with Lewis Craven, Oli Beckingsale, Rob Jebb and Nick Craig also joining a big lead group. Beckingsale, an occasional 'Cross rider, took things on at the front briefly and it was soon clear that no single rider was going to walk away with the race.

Up the big bank towards the end of the second lap, Oli led from Crawforth, Bibby, Field, Oldham, Hammond and Craven, with Jebb and Craig detached by about 5 seconds. Liam Killeen, fancied by many for the title and tipped by your correspondent, was struggling outside the top ten and would go on to play no part in the decisive action of the race.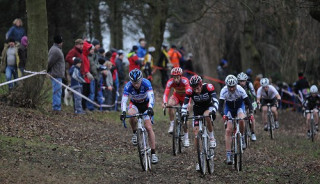 Above: L to R - Crawforth, Field, Bibby and Beckingsale, with Oldham and Hammond in the background

Lap three saw Bibby and Crawforth doing much of the work at the front, but apart from Craig and Jebb, the rest of the leaders looked comfortable. However, at the end of the lap, Paul Oldham launched an attack and although 9 seconds clear mid-lap, he was brought back, with Ian Bibby and then Jody Crawforth bridging across to him. The leading trio had a small gap of 2 seconds to Beckingsale at the top of the big banking, with Hammond and Field a couple of lengths further back, with Jebb also in touch. Craven and Craig were, however, losing touch fairly rapidly.

Lap five confirmed that the riders with an interest in the medals were now down to five in number - Crawforth, Bibby, Beckingsale, Oldham and Hammond. Jebb was holding them at 6 seconds, but making no progress, whilst Ian Field had quietly drifted off the pace and was now alone in seventh. Mid lap, the next attack came, this time from Crawforth, who was suddenly flying and at the top of the bank, he has 11 seconds over the four riders now chasing him.

Crawforth's lead stabilised mid lap, but Oldham wasn't ready to give up yet and chased hard and closed the gap through the second half of the lap. His efforts broke up the leading quartet and he finished the lap just 4 seconds behind Crawforth, and 3 seconds ahead of Hammond. Beckingsale was still in touch a few lengths further back, but Bibby had by now blown and was drifting back towards Field and Jebb who were still digging in behind him.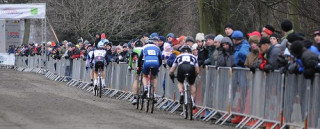 Above: The riders look for shelter down the finishing straight

The leading trio came back together during the seventh lap, with Oldham doing much of the work to bring himself and Hammond up to Crawforth, who still looked pretty fresh. Beckingsale was still just in touch, whilst Jebb had by now passed Field and Bibby and was up into fifth on his own, but almost half a minute down on the leaders.

The penultimate lap began with yet another attack by Crawforth and he had half a dozen bike lengths over Hammond at the hurdles. Hammond had likewise pulled clear of Oldham. However, just when it seemed like the final selection might have been made, the trio came back together again on the tarmac climb onto the upper half of the course, where the wind was at its worst. Beckingsale also took advantage of the climb to get back and suddenly we were back to a leading group of four and, with one lap to go, it was still anyone's race.

Although he'd not attacked up to this point, Hammond had done a lot of work marking other moves. Both Crawforth and Oldham had made several big attacks and were perhaps tiring. Beckingsale, meanwhile, looked weary too, but was still in there.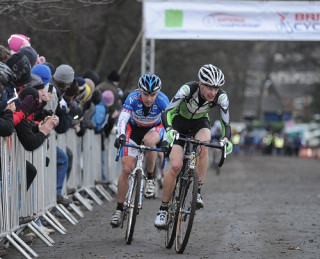 Above: The two main activists, Paul Oldham, leading, and Jody Crawforth

And so the final lap began and Beckingsale was soon in trouble again and became detached, but once more he was able claw his way back into contention up the tarmac climb. It was gutsy riding of the highest order. Oldham had tried again to attack up the big bank on the previous lap, but his attack lacked sting and he seemed to have played all his cards.

As the four riders made their last ascent of the banking, Beckingsale finally had to admit defeat and it was suddenly a three man race. If Hammond could get onto the long tarmac finishing straight, surely he would seal the race with his powerful sprint. Crawforth and Oldham knew this and the three of them absolutely flew down the final long camber to the steps which would lead them onto that final straight.

The crowds flocked to the barriers and craned down the course through the gathering gloom to see who would emerge at the top of the step in the lead. Crawforth looked clumsy shouldering his bike at the bottom of the steps, but somehow scrambled up them in the lead. Onto the tarmac he jumped on cleanly and put his head down. Hammond tried to go with him, but simply couldn't quite get it together as quickly and in an instant Crawforth was clear.



Above: Crawforth sprints clear up the final straight

Realising he was beaten, Hammond sat up and grateful Oldham didn't need any second bidding to go past him and claim the silver medal. The big crowd greeted the three riders with warm applause, realising they had just witnessed an epic battle. Crawforth was a worthy winner: he and Oldham had been much the most aggressive riders in the second half of the race. Hammond missed out on yet another title, but lost nothing in comparison with his rivals. For once it just wasn't his day.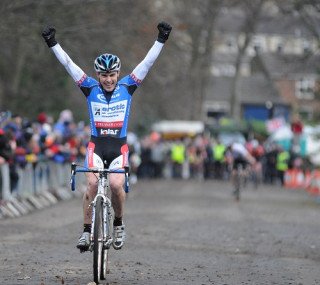 Above: That winning feeling and a first senior 'Cross title for Jody

Oli Beckingsale came in fourth, a fine ride given his lack of racing this winter and Rob Jebb - a real favourite with the Yorkshire crowd - claimed fifth, another fine and gutsy ride on a course which needed to have been a lot wetter to have suited his specific talents.

And so ended a weekend of truly excellent racing on a course which not only seemed to be to the liking of most riders, but which also proved to be one of the best spectator venues in the country, with much of the course visible from the start straight. Let's hope the championships return to Yorkshire soon!

Post-Race Comments
Jody Crawforth: "It was a bit cagey out there for the first couple of laps it was so windy, it would have been so hard out there on your own. Ian Field made the first move attacking on the first lap but I was pretty happy to let him go as I thought he would suffer quite a bit out there on his own. Then there were 3 of us all together, me, Hammond and Oldham, then I was feeling quite strong so I attacked and rode off on my own for couple of laps but it was so windy it just kept pushing you back.
We came back together and I got worried then as I was suffering a bit I didn't feel as good as I did over xmas but coming into the last lap Oli Beckingsale caught up with us and I thought I'm not happy with that, as I had a feeling he was going to attack and ride off from the front, which he did, so I jumped on his wheel and rode really hard up hill on this off camber section and just put my head down, you can only run up the steps at the same speed so I really put my head down and went for it.
I wasn't to worried about Hammond being on my wheel coming into the finishing straight, it's quite short run in and a sprint at the end of a cross race is a bit different. I was aware that Paul was riding quite strongly, but I was really confident, as like I said it was so hard on the front in that wind, so I wasn't too worried about him getting too far away. I quite liked the conditions out there, I like it a bit slippery and the technical stuff was just right, great course really suited my strengths I guess. I've been wanting to win this one now for quite a while and finally it was my day, brilliant!"

Paul Oldham: "One up from last year, so it's going in the right direction, that's the main thing! That was an awesome race, class, I was surprised that Roger sat up in the sprint but I came round him and got that silver, so it was good. I guess I did a bit of work out there, it kept going easy into the headwind so I thought I'd better take the initiative and give it some and that worked well it was good.
Riding up the to the steps was something I'd done in practise but no one would let me know if it was going to be quicker than running, but it seemed I had the right idea! My legs were giving up on the last lap but it was worth it. It's great to get a good result in front of such a great local crowd; I had loads of support, which really helped spur me on. Cracking race."

Roger Hammond: "Yeah a tough one, I have to say I wasn't feeling too well today so I was just hanging on for as long as possible really out there. I went as hard as I could for the finish, I certainly wasn't saving anything to come second, but Jody did the ride.
The 3 of us pretty much stayed together for the race which sort of played in my favour, but I think I've done a little bit too much road training leading up to this and not enough cross training and that really showed today. The cross riders were leading the way. It wasn't really flowing out there it was flat out or nothing, it's a very intervally kind of course, lots of little efforts, so it wasn't really suited to me I need more of steady tempo, just like Sutton, but hey I can't have it my own way every year now can I!
Great race, I think people really enjoyed watching it but for me cyclo cross is training, I've had a good winter of training and got a medal at the end of it, even though I don't have too many bronzes, I guess it's nice to get mix. Will I be back next year? Yeah why not, I've got another road team next year, so I guess I'll do another CX season, yeah why not."

Senior Men - Results (Overall Team Results)
1 Jody Crawforth Arctic - Premier RT 1 2m 43s
2 Paul Oldham Hope Factory Racing at 0:7
3 Roger Hammond Cervelo Test Team at 0:10
4 Oli Beckingsale Giant Racing at 0:27
5 Rob Jebb Wheelbase/Gore Bike Wear at 1:5
6 Ian Bibby Science in Sport/Trek at 1:22
7 Ian Field Hargroves Cycles/Trant/Next/GSI at 1:35
8 Nick Craig Team Scott UK at 1:54
9 Lewis Craven Wheelbase/Gore Bike Wear at 2:28
10 Stuart Wearmouth Picarsso-Pulman RT at 2:45
11 Lee Williams Abergavenny RC/Lane/Govilon/Bikebase at 3:18
12 Darren Barclay Arctic - Premier RT at 4:6
13 William Bjergfelt Sport Beans/Wilier at 4:6
14 Keith Murray Hope Factory Racing at 6:17
15 Darren Atkins Coventry RC/Ridecov.co.uk at 6:31
16 Christopher Ansell Team Corridori at 6:57
17 Stuart Jones London Phoenix CC at 1 lap
18 Nathan Miller Lotto Olympia Team Interbike at 1 lap
19 James Furniss www.Zepnat.com/Impsport at 1 lap
20 Rob Parkin Heanor Clarion CC at 1 lap
21 Lee Shunburne Matlock CC/Impsport/Farmers/Wards at 1 lap
22 Daniel Lewis RAF CC at 1 lap
23 Paul Prince Wyre Forest CRC/Fabricolor/DWT Legal at 1 lap
24 David Haygarth Wheelbase/Gore Bike Wear at 1 lap
25 Michael Warner Hargroves Cycles/Trant/Next/GSI at 1 lap
26 Andrew Waterman Dulwich Paragon CC at 1 lap
27 Mark Cotton Bycka Sport/Archway Insurance at 1 lap
28 Vin Cox Team Cyclo-Cross.com at 1 lap
29 Gareth Whittall Beauvale CC at 1 lap
30 Elliot Dinsdale Wyre Forest CRC/Fabricolor/DWT Legal at 1 lap
31 Rob Pugh FP Mailing Cycling Team at 1 lap
32 Colin Miller Coventry RC/Ridecov.co.uk at 1 lap
33 Jonathan Watson www.Zepnat.com/Impsport at 1 lap
34 Kevin Knox Dulwich Paragon CC at 1 lap
35 Stuart Reid Wheelbase/Gore Bike Wear at 1 lap
36 Robert Wimble www.Zepnat.com/Impsport at 1 lap
37 Ben Spurrier Team Mule Bar at 1 lap
38 Richard Lister Endura/Thule/24/7/Kinesis/MI Racing at 1 lap
39 Vince Potter Wheelspincycles.com at 1 lap
40 Duncan Walmsley www.Zepnat.com/Impsport at 1 lap
41 Robert Hunt API-Metrow at 1 lap
42 Jonathan Hobson Team Chevin Cycles at 1 lap
43 Steve Middleton Hambleton RC at 1 lap
44 Shane Lawton Royal Navy & Royal Marines CA at 1 lap