British Cyclo-Cross National Trophy (Derby)

Sunday, 18th of January, 2009; Round 6
Markeaton Park (Derby); By Larry Hickmott


Above: Jody Crawforth (centre) with the Series win jersey and the Trophy after winning today in Derby. Left is Paul Oldham who lost the series in this final round after finishing 4th and right Ian Field who was third in the series.

Report Overview
The final round of the 2008/09 National Trophy for Cyclo-Cross was fought out Markeaton Park (Derby) on Sunday with many of the national champions crowned the week before in Bradford present aiming to add more trophies to their name.

The course for the event, based around some hills in the park, was perhaps the toughest yet with the sticky mud right round the circuit and no fast sections, meaning there was no let up for the riders and the slippery surface was always ready to trip up the riders throwing caution to the wind.

Certainly, the results threw up some shocks and perhaps the course had something to do with that. During the day, the pits were kept extremely busy and as one rider explained, within 500 metres of getting a new bike, it was clogged up again. Some bikes were so clogged up, that riders had to stop mid circuit and remove the mud that stopped their wheels from turning or gears from working before continuing on their race. One such rider was young Tom Moses but he still came back at the rest and won his event.



Above: Commentating on the event as ever was Hugh Porter with help from wife Anita and Jon Burney.

There were many highlights during the day and they included seeing the new champions crowned last week in Bradford racing in Derby. Like Vets 40 Plus champion Noel Clough who won his race in a photo finish with series winner Geoff Giddings, Jody Crawforth who took his champions skinsuit racing for the first time and saw off the foreign opposition and won the series on countback and junior Ruby Miller who looked great as she again competed with riders in the senior ranks wearing her champions kit.

It was a wonderful day to finish the series, sunny and a little windy but not as cold as it has been. Now the focus of many riders turns to the World Cyclo-Cross Championships and British Cycling will have some one there to bring back reports and photos of the big event.

Rider Talk
After each of the events in Derby, British Cycling spoke to a few of the riders about their races:
Sam Lowe: "I was actually hoping it would be a dry race so I could do as well as I did last week at the Nationals, and I was shocked with the win today. I went over to Belgium over Christmas and did a few Super Prestige races and that is what I think has helped bring me on so much. This was more hard going than Bradford where everyone was in a group but today you had to work by yourself to get away."

"I had my fair share of crashes and slipped off a few times on the steps. I made five bike changes as well because a clean bike was getting clogged up after about 500 metres of racing. I didn't want to risk ripping my rear mech off or something and decided to do the bike changes."

Joshua Papworth: "This week was definitely a lot muddier. There was barely a pedal stroke without the wheel spinning. I'm really chuffed with the result having won the National Champs and now the National Series. Because of the mud, I was running the pressures in my tyres a lot lower".

"At the start, I was running mine too hard and couldn't get any grip at the start. Once I sorted that out, I managed to make my way back up through the grid. I was looking where all the other contenders were out there and thinking of the series and checking I had enough distance between myself and them."

Noel Clough: "The form is still there. Phil shot off like he normally does, and I think because I am going so well at the moment, I can adapt to any course. This type of course doesn't normally suit me. With half a lap to go, Phil fell off and I thought, right, sprint, and I went as hard as I could and caught Geoff on the last bit here (final 300 hundred metres)."

On what went wrong over the winter in his challenge for the series though, Noel explained "I had bad form after the Three Peaks when I over trained and was tired for the next two rounds and lost the overall there. After that I started to get better and better as the season went on and it went right for me at the nationals."

One what was the key on this treacherous course at Derby, Noel replied "consistency. Trying not to come off as there were a lot of hard slippery corners and to keep it steady, don't go to hard and stay on your bike. The champions jersey gave me extra motivation. On the last lap I thought I'll let Geoff have this and then I thought, no, I can't do that and so I went as hard as I could and got him".

Above: Over 40 race and champion Noel Clough (centre) came and won the race in style coming from behind on the last lap. Credit to Phil Roach who set the pace and swapped the lead with several riders including series winner, Geoff Giddings.

Geoff Giddings: "I could see Noel coming up to me on that final lap. I kept changing bikes because of the mud. I am pleased with the way the series went where I was consistent. I trained a lot during the summer and did my best to hold the form through out the winter by keeping the training short and intervals. The sprint was quite fun with Noel. We were side by side out of that final corner and it was all about who got the drive out of that final corner where we both had to sit down to sprint."

Ian Wright: "It was very different to Bradford out there. That was the best I could do on the day. I enjoyed it. Roy was gone from the start and then Peter Wilkin gave me a right good old race. He ran away from me on the climbs and fair play to Peter. All the riders in this category are very competitive and hats off to them all."

It was his first series win and adds to the Mountain Bike series in the summer. Ian now has a rest before getting ready for the mountain bike season and also some on the road like the Crit champs after getting some advice from his training partner Dan Fleeman. To finish, Ian said "hats off to all the organisers of the National Series events. Brilliant. They have done a really good job this year and put in a lot of hard work."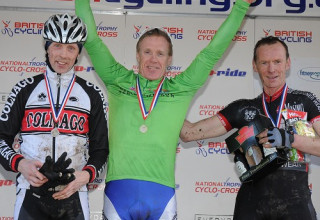 Above: Series podium and it is Wright (centre) who takes the spoils.

Sue Clarke: "When I went around this morning, it was a little wetter and there were bits of grass you could weave in and out of to get a bit of grip but I decided to do a lap after the vets race, and it had totally changed. It had dried out and got really cloggy and the mud was sticking to the bike more."

"It was more like a slog than a fast race. It makes up a little for my disappointment last week as its nice to go out on a win. I haven't touched my bike this week after having had the flu and have been going to and from the doctors and then got hit by a car on Friday. It's been my week from hell. I made a late call yesterday to come today because I had been feeling right rough and we just came down this morning and I'm glad I did".

"The start was important today but not as important as it would have been in a fast race. I haven't been starting very quickly but I knew today would be a test of strength and endurance which is kind of where I excel. Putting your head down, gritting your teeth and getting stuck in so I wasn't too worried I was a little bit back and as I started to make big in roads into the leaders, I just stuck my head down and enjoyed it."

"There were sections where it was quicker to run than ride but when I got a good lead, I was trying to challenge myself to ride them to help improve my skills."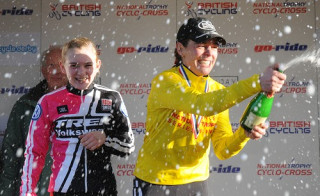 Above: Sue Clarke celebrates a series win by spraying the champagne as Ruby Miller looks on.

The Series Winner for Women then explained "I don't think the series means anything to anyone anymore because I wasn't even considered for the worlds. Saying that, if there were certain selectors who were only at the nationals then they would have seen me doing a poor ride. So from the nationals that is fair enough. But I think this National Trophy should count towards something as I was a little disheartened at not being selected."

"I had made other plans anyway and am off to a mountain bike camp in Lanzarote so I would have had to give up the place anyway. I think in the future, if I do want to aim for the Worlds, then I think I need to do some World Cup races to get a gridding and take it really seriously. I am not going to the worlds just to ride around – I'd want to do well."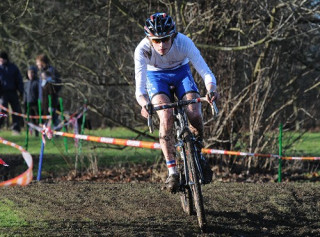 Above: Tom Moses despite dropping back at one stage, came back to win the race.

Tom Moses: "I had a good first half lap and then the bike got a bit clogged up so I had to stop and run a bit and un clog it and I lost a few places. I was back down to about eighth and decided to work my way back there and felt stronger and stronger as the race went on. I'm looking forward to the worlds now as I have good form."

Jody Crawforth: "I felt a bit tired this week so I rested up. I wasn't expecting to win today. I was feeling really sluggish riding around but that was probably more the course than me! I made sure I had done a long warm up and made sure I got a good start because there is no point in sitting on anybodies wheel in these conditions."

"I went as hard as I could on the first lap and tested myself. I was changing bikes every lap. There were a couple of corners on the last few laps that were getting so boggy, I had to get off and run them. It would be good fun in the dry!"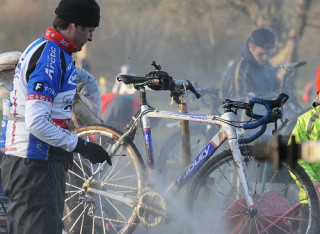 Above: Arctic Premier team boss Peter Ruffhead helps keep Jody Crawforth's bikes clean.

"It felt good wearing the jersey out there. I have been waiting a while to wear this. I'm really happy to win the series as well. Hatrick! I wanted to do well in the series and the first couple of races I wasn't going as well as I expected but then I started to get into it. It was close coming into it today and me and Paul were tied on points at the last round."

"The Worlds is going to be great. I did some racing in Belgium over Christmas and you have so many people crowding the course cheering you on, it makes you want to go really hard. I want to do more of them next year wearing the jersey!"

Paul Oldham: "Today I just never got into it. It took me until three laps to go. To lose the series by zero points is really disappointing. I usually love conditions like this but I don't know what went wrong. I had plenty of power -- I just couldn't get going at the start. I felt horrible. Overall, in terms of British riders, I haven't been off the podium so I can't complain really. Jody has had a brilliant end to the year. You win some, lose some."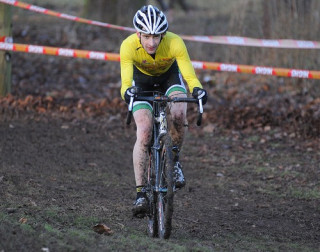 Above: A bad day for the man in yellow Paul Oldham who only had to finish third to keep the jersey -- he was fourth.

Stuart Wearmouth: "I got on with the course really well. I found I was taking different lines to a few lads and riding back onto the wheels through the corners so I think that helped a lot rather than purely pedalling all the time. It definitely suited me! I have been training really hard lately, and maybe over done it in a couple of races and perhaps just got it right today."

"I enjoyed the course too, it was really slidy and really nice. I had bike changes every lap and thank my dad. I just went as hard as I could from the start without going into the red too much and killing myself. The only thing I didn't realise I was getting myself in between Jody and Paul for the series which I wasn't aware of and I am sure he will understand."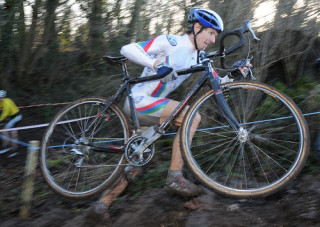 Above: Stuart Wearmouth rode a really strong race and is pictured 'flying' up the muddy steps.

And Finally. British Cycling would like to thank everyone on the National Series for their help through out with results and help too at the course from the organisers, judges and commissaires and not to forget, the riders who have provided us all with an exciting series of races. The number of riders competing and the interest in the reports on this website where the viewing figures are as high or higher than major road races and other disciplines, show how popular Cyclo-Cross is getting year on year.

Roll on next series! -- Larry Hickmott
________________________________________________________________

Results

Youth
1 Samuel Lowe Go Spex Sports RT @ 33m 54s
2 Taylor Johnstone Team de Ver @ 0:14
3 Joshua Papworth Wyre Forest CRC/Fabricolor/DWT Legal @ 0:16
4 Luke Grivell-Mellor Mid Shropshire Whs. @ 0:56
5 Alistair Slater Bourne Wheelers CC @ 1:55
6 Hugo Robinson Ipswich BC @ 2:00
7 Max Sykes VC Deal/Hammonds/Activ/Rowland @ 2:22
8 Alec Briggs Arctic-Premer RT @ 2:53
9 Hugo Humphreys Lee Valley Youth CC @ 3:11
10 Jack Humphreys Red Rose Olympic CC @ 3:44
11 Joseph Moses Bronte Whs/Neophix Engineering @ 4:06
12 Tom Young Leicestershire RC @ 4:28
13 Thomas Armstrong Ribble Valley CRC - Juniors @ 4:44
14 Kieron Tennyson Heanor Clarion CC (U14) @ 4:44
15 Ben Salt Leicestershire RC @ 5:10
16 Nicholas Barnes Seacroft Wheelers @ 5:18
17 Harvey Lowe GA Cycles (U14) @ 5:18
18 John Lomas Matlock CC/Impsport/Farmers/Wards @ 5:40
19 Jacob James Halesowen A & CC @ 5:53
20 Edward McParland JD Cycles Ilkley @ 6:00
21 Herschel Stevens Triangle RT/Bianchi @ 6:00
22 Ben Green VC Lincoln/Pygott/B&O/SPS/Impsport @ 6:29
23 Joseph Fox Solihull CC @ 6:42
24 Samuel Broughton Leicestershire RC @ 6:47
25 Joshua Parkin Herne Hill Youth CC (U14) @ 6:47
26 Harry Franklin Herne Hill Youth CC (U14) @ 7:11
27 Jake Womersley East Bradford CC (U14) @ 7:35
28 Bethany Crumpton Halesowen A & CC (Yth Girl) @ 7:39
29 Billy Harding East Bradford CC (U14) @ 8:00
30 Hannah Shenton Team Chance (Yth Girl) @ 8:39
31 Joe Kirkham VC Long Eaton (U14) @ 9:15
32 Jordan Gell VC Lincoln/Pygott&Crone/B&O/SPS (U14) @ 9:35
33 Joseph Home K Home International @ 9:40
34 Daniel Murphy Team Keyne - Trek @ 10:49
35 Edwyn Oliver-Evans East Bradford CC (U14) @ 1 lap
36 Adam Martin Hetton Hawks CC @ 1 lap
37 Hannah Payton Stourbridge CC (Yth Girl) @ 1 lap
38 Jack Ravenscroft Halesowen A & CC (U14) @ 1 lap
39 James Shaw Heanor Clarion CC (U14) @ 1 lap
40 Amy Roberts Lifeforce Cervelo (Yth Girl) @ 1 lap
41 Alan Trolove West Suffolk Wheelers (U14) @ 1 lap
42 Christian Braybrooke Eastlands Velo (U14) @ 1 lap
43 Lucy Garner Leicestershire RC (Yth Girl) @ 1 lap
44 Dafydd Davies Ogmore Valley Wheelers @ 1 lap
45 Adam de Smit VC Lincoln/Pygott&Crone/B&O/SPS (U14) @ 1 lap
46 Sean Dunlea PCA Ciclos Uno/Squeezy/Isaac (U14) @ 1 lap
47 Rosie Blount Derby Mercury RC (Yth Girl) @ 1 lap
48 Daniel Fox Solihull CC (U14) @ 1 lap
49 Jacob Kelly Lichfield City CC (U14) @ 1 lap
50 Alexander Curtis Heanor Clarion CC (U14) @ 1 lap
51 Saskia Hook South Pennine RC U14 Girl @ 2 laps
52 Callum Bramley Sherwood CC @ 2 laps
53 Harry Crew Derby Mercury RC (U14) @ 2 laps

Overall

Youth
1 Joshua Papworth Wyre Forest CRC/Fabricolor/DWT Legal 264
2 Max Sykes VC Deal/Hammonds/Activ/Rowland 252
3 Alistair Slater Bourne Wheelers CC 241
4 Alec Briggs Arctic-Premer RT 187
5 Luke Grivell-Mellor Mid Shropshire Whs. 183
6 Hugo Robinson Ipswich BC 181
7 Samuel Lowe Go Spex Sports RT 178
8 Hugo Humphreys Lee Valley Youth CC 175
9 Taylor Johnstone Team de Ver 155
10 Joseph Moses Bronte Whs/Neophix Engineering 107

Youth Boys U14
1 Harvey Lowe GA Cycles 206
2 Harry Franklin Herne Hill Youth CC 176
3 Joshua Parkin Herne Hill Youth CC 165
4 Billy Harding East Bradford CC 158
5 Joe Kirkham VC Long Eaton 134
6 Elliot Phillips Herne Hill Youth CC 93
7 Kieron Tennyson Heanor Clarion CC 92
8 Jake Womersley East Bradford CC 62
9 Noah Phillips Herne Hill Youth CC 59
10 George Wood Maldon & District CC 55

Youth - U14 Girls
1 Bethany Crumpton Halesowen A & CC 195
2 Hannah Payton Stourbridge CC 186
3 Lucy Garner Leicestershire RC 183
4 Amy Roberts Lifeforce Cervelo 168
5 Saskia Hook South Pennine RC 115
6 Hannah Shenton Team Chance 91
7 Alice Barnes Palmer Park Velo 38
8 Elinor Barker Lifeforce Cervelo 23
9 Rosie Blount Derby Mercury RC 20

Senior Men
1 Jody Crawforth Arctic - Premier RT 59m 05s
2 Ben Berden Revor Cycling Team @ 0:44
3 Stuart Wearmouth Picarsso-Pulman RT @ 1:45
4 Paul Oldham Hope Factory Racing @ 2:02
5 Ian Field Hargroves Cycles/Trant/Next/GSI @ 3:03
6 Rob Jebb Wheelbase/Gore Bike Wear @ 3:16
7 Stuart Bowers Hargroves Cycles/Trant/Next/GSI @ 3:53
8 Scott Thwaites Crosstrax (U23) @ 5:47
9 Lee Williams Abergavenny RC/Lane/Govilon/Bikebase @ 6:38
10 Mark Thwaites Asfra-Flanders RT (U23) @ 6:46
11 Darren Barclay Arctic - Premier RT @ 7:20
12 Keith Murray Hope Factory Racing @ 7:21
13 Anthony O'Boyle Cwmcarn Paragon RC (U23) @ 1 lap
14 Stephen Adams Pearl Izumi/Planet X/High 5 (U23) @ 1 lap
15 William Bjergfelt Sportbeans/Willier @ 1 lap
16 Lee Shunburne Matlock CC/Impsport/Farmers/Wards @ 1 lap
17 Nathan Miller Lotto Olympia Team Interbike @ 1 lap
18 David Haygarth Wheelbase/Gore Bike Wear @ 1 lap
19 Vin Cox Team Cyclo-Cross.com @ 1 lap
20 Paul Prince Wyre Forest CRC/Fabricolor/DWT Legal @ 1 lap
21 Tom Payton Wyre Forest CRC/Fabricolor/DWT Legal (U23) @ 1 lap
22 Tim Baldwin Paul Milnes/Bradford Olympic RC (U23) @ 1 lap
23 Stuart Jones London Phoenix CC @ 1 lap
24 Daniel Lewis RAF CC @ 1 lap
25 Ben Roach Wyre Forest CRC/Fabricolor/DWT Legal (U23) @ 1 lap
26 Richard Lister Endura/Thule/24/7/Kinesis/MI Racing @ 1 lap
27 Marco Forzini AS Tecnicolor Vernici Vaio @ 1 lap
28 Elliot Dinsdale Wyre Forest CRC/Fabricolor/DWT Legal @ 1 lap
29 Robert Wimble www.Zepnat.com RT @ 1 lap
30 Scott Chalmers John's Bikes RT (U23) @ 1 lap
31 Simon Maudsley Crosstrax @ 1 lap
32 Gareth Whittall Beauvale CC @ 1 lap
33 Nathan Kiger Ragnarok Racing @ 1 lap
34 Robert Hunt API-Metrow @ 1 lap

Overall
1 Jody Crawforth Arctic - Premier RT 268
2 Paul Oldham Hope Factory Racing 268
3 Ian Field Hargroves Cycles/Trant/Next/GSI 253
4 Stuart Wearmouth Picarsso-Pulman RT 198
5 David Collins Science in Sport - Trek 165
6 Rob Jebb Wheelbase/Gore Bike Wear 147
7 Stuart Bowers Hargroves Cycles/Trant/Next/GSI 142
8 Ian Wilkinson Science in Sport -Trek 120
9 Scott Thwaites Crosstrax 112
10 Anthony O'Boyle Cwmcarn Paragon RC 103

Under-23 Men
1 Scott Thwaites Crosstrax 200
2 Anthony O'Boyle Cwmcarn Paragon RC 184
3 Tim Baldwin Paul Milnes/Bradford Olympic RC 149
4 Ben Roach Wyre Forest CRC/Fabricolor/DWT Legal 130
5 Tom Payton Wyre Forest CRC/Fabricolor/DWT Legal 124
6 Scott Chalmers John's Bikes RT 117
7 Mark Thwaites Asfra-Flanders RT 94
8 Stephen Adams Pearl Izumi/Planet X/High 5 82
9 Leigh Andrews www.Zepnat.com RT 78
10 Jonathan McEvoy 100% Me 40

Junior Men
1 Thomas Moses SSC Cyclesport/Bikes for All 44m 49s
2 David Nichols Glendene CC/Bike Trax @ 0:47
3 Paul Young J D Cycles Ilkley @ 0:59
4 Daniel McLay Univega.co.uk @ 1:17
5 Luke Gray Hargroves Cycles/Trant/Next/GSI @ 1:51
6 Robert Watson Paul Milnes/Bradford Olympic RC @ 3:52
7 Thomas Lowe Go Sports Spex RT @ 4:04
8 Luke Newby Diss & District CC @ 6:58
9 Bruce Dalton Matlock CC/Impsport/Farmers/Wards @ 1 lap

10 Martin Woofindin Sport City Velo @ 1 lap
11 Joseph Curran Hetton Hawks CC @ 1 lap
12 Matthew Cook Mildenhall CC @ 1 lap
13 Samuel Brogan Leicestershire RC @ 1 lap

Overall
1 Daniel McLay Univega.co.uk 192
2 David Nichols Glendene CC/Bike Trax 163
3 Thomas Moses SSC Cyclesport/Bikes for All 154
4 Paul Young J D Cycles Ilkley 144
5 Oliver Webster J D Cycles Ilkley 143
6 Thomas Lowe Go Sports Spex RT 128
7 Sam Harrison Cwmcarn Paragon RC 108
8 Luke Newby Diss & District CC 102
9 Robert Watson Paul Milnes/Bradford Olympic RC 88
10 William Verney Felt Racing 50

Over-50
1 Roy Hunt Colnago/Ergon @ 45m 51s
2 Peter Wilkin Fietsen Tempo/The House/Chapters @ 0:43
3 Ian Wright Wyre Forest CC/Fabricolor/DWT Legal @ 1:43
4 Barry Kipling MTS Cycle Sport/Inkland RT @ 3:33
5 Vic Barnett Welland Valley CC @ 5:48
6 Joseph Rowe Wyre Forest CC/Fabricolor/DWT Legal @ 5:52
7 Robert Wood-Anderson Individual Member @ 5:56
8 Andrew Roberts Evans Cycles RT @ 7:00
9 David Smith Derby Mercury RC @ 7:19
10 John Galway www.Keswickbikes.co.uk @ 7:46
11 Tim Stowe Endura/Thule/24/7/Kinesis/MI Racing @ 8:09
12 Andrew Jones Wolverhampton Whs/Williams @ 1 lap
13 Peter Turner Derby Mercury RC @ 1 lap
14 Peter Mooney Rugby Velo @ 1 lap
15 Michael Webb Royal Sutton CC @ 1 lap
16 Michael Perrin Ashfield RC @ 1 lap
17 Tony Wilkins Endura/Thule/24/7/Kinesis/MI Racing @ 1 lap
18 Geoff Dingley Halesowen A & CC @ 1 lap
19 Martin Stephens Mid Shropshire Wheelers @ 1 lap
20 John Hughes Coventry RC/Ridecov.co.uk @ 1 lap
21 Glen Allison Sherwood Pines Cycles @ 1 lap
22 Richard Burnham Condor RC @ 1 lap
23 Michael McDermot Heanor Clarion CC @ 2 laps
24 John Dowell Heanor Clarion CC @ 2 laps
25 Stuart Hocknell St Ives CC/Richardsons @ 2 laps
26 Brian Fenwick Beeston RC @ 3 laps

Overall
1 Ian Wright Wyre Forest CC/Fabricolor/DWT Legal 208
2 Roy Hunt Colnago/Ergon 188
3 Peter Wilkin Fietsen Tempo/The House/Chapters 182
4 Barry Kipling MTS Cycle Sport/Inkland RT 127
5 Andrew Roberts Evans Cycles RT 114
6 Malcolm Cross Hargroves Cycles/Trant/Next/GSI 112
7 David Smith Derby Mercury RC 103
8 Vic Barnett Welland Valley CC 99
9 Joseph Rowe Wyre Forest CC/Fabricolor/DWT Legal 68
10 Graham Edwards Abergavenny RC/Lane/Govilon/Bikebase 61

Veteran
1 Noel Clough Fietsen Tempo/The House/Chapters 42m 43s
2 Geoff Giddings Endura/Thule/24/7/Kinesis/MI Racing @ 0:00
3 Philip Roach Rugby Velo @ 0:15
4 John Shaw www.Zepnat.com RT @ 1:04
5 Chris Young JD Cycles Ilkley @ 1:30
6 Kenny Johnson Science in Sport.com @ 1:32
7 David Stevens Triangle RT - Bianchi @ 3:04
8 Jonathan Marshall Belper BC @ 6:22
9 Nigel Hay Pedal Power Loughborough @ 6:34
10 Steve Barnes www.Zepnat.com RT @ 6:54
11 Steve Barron VC Lincoln/Pygott/B&O/SPS/Impsport @ 7:10
12 Stephen Poole www.Zepnat.com RT @ 7:23
13 Chris Green Matlock CC/Impsport/Farmers/Wards @ 7:27
14 Duncan Walmsley www.Zepnat.com RT @ 7:53
15 Duncan Stuart www.keswickbikes.co.uk @ 8:10
16 Keith Sheridan Corinium CC @ 8:50
17 Stephen Brazier Picarsso-Pulman Race Team @ 1 lap
18 Andrew Cosgrove Teesdale CRC @ 1 lap
19 Kevin Payton Stourbridge CC @ 1 lap
20 Stephen Clayton Lichfield City CC @ 1 lap
21 David Garrett Rugby Velo @ 1 lap
22 Stuart Pickering www.Cyclelogic.co.uk @ 1 lap
23 Mark Garrett Coventry RC/Ridecov.co.uk @ 1 lap
24 Charles Warren Individual Member @ 1 lap
25 Trevor Holmes Diss & District CC @ 1 lap
26 Robert Burns Wolverhampton Whs/Williams @ 1 lap
27 Paul Dalton Matlock CC/Impsport/Farmers/Wards @ 1 lap
28 Gary Hipwell Rugby Velo @ 1 lap
29 Andy Duffield Alpha RC/Team Corley Cycles @ 1 lap
30 Paul Roberts Hambleton RC @ 1 lap
31 Phillip Braybrooke Sport City Velo @ 2 laps
32 Peter Bromwich West Midlands Cyclo-X League @ 2 laps
33 Peter Lifford Becontree Wheelers @ 2 laps
34 Chris Davies Ogmore Valley Wheelers @ 2 laps
35 Paul Parker Beeston RC @ 2 laps

Overall
1 Geoff Giddings Endura/Thule/24/7/Kinesis/MI Racing 278
2 Chris Young JD Cycles Ilkley 239
3 Noel Clough Fietsen Tempo/The House/Chapters 231
4 Philip Roach Rugby Velo 198
5 Matthew Denby www.Zepnat.com RT 152
6 David Stevens Triangle RT - Bianchi 151
7 Steve Barnes www.Zepnat.com RT 144
8 Keith Sheridan Corinium CC 128
9 Andrew Shaw Endura/Thule/24/7/Kinesis/MI Racing 126
10 Kenny Johnson Science in Sport.com 120

Women
1 Suzanne Clarke Science in Sport - Trek 41m 42s
2 Isla Rowntree Stourbridge CC @ 2:10
3 Ruby Miller (J) Individual Member @ 2:49
4 Jasmine Adams-Friend Wyre Forest CRC/Fabricolor/DWT @ 3:50
5 Nina Davies Ogmore Valley Whs. @ 7:51
6 Lily Matthews 100% Me @ 8:23
7 Louise Day (V) Fat Birds CC @ 8:40
8 Martine Verweij Endura/Thule/24/7/Kinesis/MI Racing @ 9:45
9 Jadine Riley Team Group Health @ 1 lap
10 Elizabeth Clayton (V) CC Giro @ 1 lap
11 Noelle James VC Nottingham @ 1 lap
12 Denise Shackleton Yorkshire Velo @ 1 lap
13 Andrea Halman Swindon RC @ 1 lap
14 Hilary Johnson (V) Derby Mercury RC @ 2 laps
15 Christine Howard Matlock CC/Impsport/Farmers/Wards @ 2 laps

Overall
1 Suzanne Clarke Science in Sport - Trek 205
2 Ruby Miller (J) Individual Member 150
3 Gabriella Day Swift Racing 140
4 Isla Rowntree Stourbridge CC 139
5 Nina Davies Ogmore Valley Whs. 128
6 Annie Last www.Zepnat.com RT 74
7 Marie Stuart Team Chance 72
8 Rachel Moss Ford CC 67
9 Louise Day (V) Fat Birds CC 58
10 Paula Moseley Climb on Bikes RT 54