British Cyclo-Cross Championships - Day 1

10 January 2009; Peel Park Bradford
Reporting & Images: Joolze Dymond, Larry Hickmott & Phil Ingham

OVER 50 RACE
The Championship weekend got off to a chilly but exciting start with a very rapid over-50 Veterans' race. Billed as a head-to-head between the defending champion, Roy Hunt, and Ian Wright, the man who has threatened his mantle this season, it looked like living up to the hype when this duo went clear from the start.


Above: Roy Hunt leads Ian Wright in the frost on lap one

They very rapidly opened up a gap over the rest of the field and by half way round the opening lap they were some 70 metres ahead of Adge Last, Barry Kipling and over-60 category rider Vic Barnett, who were at the front of the chasing pack.

With the whole course white with frost and the ground hard as concrete, the riders were absolutely flying and Wright and Hunt continued to blast clear throughout the first lap. Hunt even had a bit a dig going up the long banking towards the end of the lap, but Wright responded and brought him back.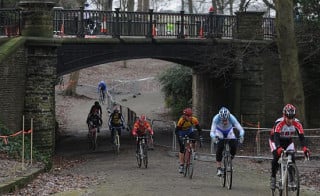 Above: Barry Kipling leads the group chasing Roberts early in the race

Things changed dramatically mid-way through the second lap as Hunt suddenly blew, dropped to crawling speed and waited to join the chasing group. Wright continued to forge on alone, whilst Hunt picked up the pace again. However, Hunt's recovery was only brief and the man who has dominated this category suddenly withdrew towards the end of the lap.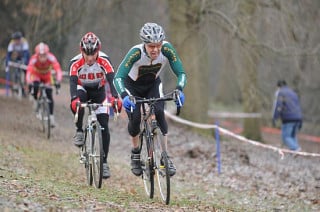 Above: Roberts begins to break clear of Kipling

That left Wright to control the race and the Wyre Forest rider pretty much had it in his pocket by the half distance as he continued to steadily build his lead lap by lap. He was 45 seconds clear at the end of the 3rd lap and had over a minute clear a lap later. He duly cruised round the final couple of circuits to claim a very popular and convincing win.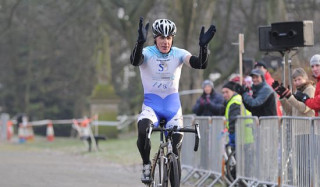 Above: By how much? - Ian Wright actually won by a proverbial mile!

Behind him a battle royal ensued for second place with Barry Kipling, Andy Roberts, and Malcolm Cross locked together for much of the second half of the race. Kipling in particular kept forcing the pace, but on the final lap the trio finally fragmented and it was Roberts who proved the stronger, going on to claim silver, with Kipling taking the bronze and Cross just missing out.

Ian Wright spoke to Joolze Dymond after the race: "That was brilliant, I've had a cracking year and to get this is fabulous I'm just over the moon with that. I really didn't expect to do so well, I came along here today thinking Roy's here, all the guys are on form and on the first lap I went over the handlebars, But I managed to get back to Roy and I kept looking behind me, thinking the others would be catching us but they never did. It's all down to the training, I've just done a 2-week block with Simon Holt and Dan Fleaman, and he's an inspiration.
It's always tough out there with all these guys everybody wants it. I went off with Roy and was thinking what's he got, I thought to myself it's gonna be a battle to the wire, but when Roy did go after a couple of laps, I just thought, Thank you Roy! He really wasn't his usual self out there, I don't know why, I know he's been ill of late and he just seemed a little out of sorts out there today for some reason. He'll be back, he never gets old. I wasn't expecting to go home with one gold medal and yet here I am going home with two after the team scooped the team prize. We weren't expecting that at all. The guys have done a great job here it is most definitely a stunning venue."

Results - Veteran 50 plus
1 Ian Wright Wyre Forest CRC/Fabricolor/DWT 41m 48s
2 Andrew Roberts Evans Cycles RT at 1:25
3 Barry Kipling MTS Cycle Sport/Inkland RT at 1:46
4 Malcolm Cross Hargroves Cycles/Trant/Next/GSI at 1:57
5 David Smith Derby Mercury RC (First Vet 55) at 2:14
6 Robert Wood-Anderson Individual Member at 2:17
7 Joseph Rowe Wyre Forest CC/Fabricolor/DWT (Second Vet 55) at 2:22
8 Vic Barnett Welland Valley Wheelers (First Vet 60) at 2:25
9 Adge Last Matlock CC/Impsport/Farmers/Wards at 2:39
10 Peter Wilkin Fietsen Tempo/The House/Chapters at 2:46
11 Peter Harris Pearce Cycles RT at 2:55
12 Jeff Standley Lakes RC (Second Vet 60) at 3:27
13 Peter Hargroves Hargroves Cycles/Trant/Next/GSI at 3:38
14 John Galway www.Keswickbikes.co.uk at 3:41
15 Clifford Featherstone MTS Cycle Sport/Inkland RT (Third Vet 55) at 3:47
16 John Ginley Condor RC (First Vet 65) at 3:58
17 Roger Broughton Alford Wheelers at 4:00
18 Timothy Stowe Endura/Thule/24/7/Kinesis/MI Racing at 4:12
19 Andrew Jones Wolverhampton Whs/Fred Williams (Vet 55) at 4:40
20 Barrie Mitchell Endura/Thule/24/7/Kinesis/MI Racing (Third Vet 60) at 5:02
21 Ray Pugh Liverpool Mercury CC at 5:12
22 Peter Turner Derby Mercury RC at 5:30
23 Tony Wilkins Endura/Thule/24/7/Kinesis/MI Racing at 5:46
24 Peter Mooney Rugby Velo (Vet 60) at 6:08
25 Michael Perrin Ashfield RC at 6:18
26 Andrew Stubbs Barrow Central Wheelers/Kirkbys at 6:22
27 David Miller Coventry RC/Ridecov.co.uk (Vet 60) at 6:37
28 Mick Ives Endura/Thule/24/7/Kinesis/MI Racing (Second Vet 65) at 7:01
29 Michael Webb Royal Sutton CC (Vet 60) at 7:08
30 John Terrell Ipswich BC at 7:26
31 Michael Hopkins Wyre Forest CRC/Fabricolor/DWT at 7:46
32 Eric Taylor Horwich CC (Vet 60) at 1 lap
33 John Dowell Heanor Clarion CC (First Vet 70) at 1 lap
34 Richard Durham Individual Member at 1 lap
35 Philip Helliwell Bradford RCC/Lynn Motors (Vet 60) at 1 lap
36 Graham Clements Endura/Thule/24/7/Kinesis/MI Racing (Third Vet 65) at 1 lap
37 Ian Small Zodiac CRC (Second Vet 70) at 1 lap
38 Stuart Hocknell St Ives CC/Richardsons (Vet 65) at 1 lap
39 Roger Gardner Leamington C & AC (Vet 65) at 2 laps
40 Harry Gould Matlock CC/Wards /Impsport/Farmers (Third Vet 70) at 2 laps

YOUTH RACE
The Youth race encompasses a number of age and gender categories, but you'll have to excuse us if we concentrate on the Under-16 boys' race. It was a super encounter, run off at lightning speed and, with no single rider able to break free, it was always in the balance.

Off the start it was Hugo Humphreys who got to the first corner at the head of the pack, closely followed by Josh Papworth and Taylor Johnstone. By the mid point of the lap a group of 8 riders began to pull themselves free, gradually gapping the chasers.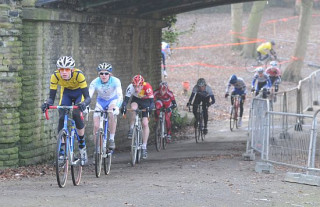 Above: The lead group in the Youth race thunder under the bridge

Up the big bank near the end of the lap, it was Luke Grivell-Mellor and Papworth at the head of proceedings, but the eight were very tightly bunched. The rest of the group consisted of Hugo Humphreys, Max Sykes, Sam Lowe, Hugo Robinson, Taylor Johnstone and Jonathan Dibben.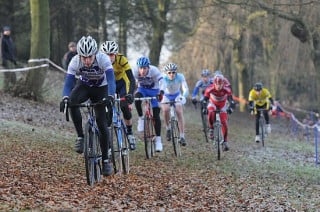 Above: Still together, the leaders on the camber leading to the start straight

The start of lap three so Humphreys have a go off the front and he soon had a couple of seconds lead, with the remainder of the group strung out in pursuit. For a few hundred yards it looked like he might make the attack stick or at least fragment the lead group, but by the mid lap the group had re-formed with Grivell-Mellor once again at the front.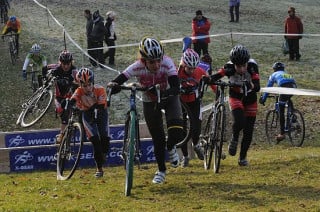 Above: A mid-race mix of riders at the planks!

Up the big bank for the third time Grivell Mellor was still leading, but Robnison and Dibben had become slightly detached and Sykes was just behind them and struggling. The rest of the field were out of it completely.

At the start of the final lap, the inevitable fragmentation of the lead group had finally happened and there was a leading trio of Lowe, Papworth and Humphreys, who were just clear of Johnstone, Grivell-Mellor and Robinson, with Dibben dangling just off the back of them. But still a clear leader didn't appear and Johnstone re-joined the leading trio briefly. The final time up the big bank saw Lowe, Papworth and Humphreys finally pretty much in the clear, with Lowe perhaps looking the stronger.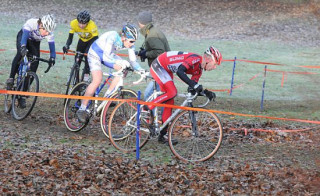 Above: Final lap, at the top of the final climb and leaders are going for it

However, Josh Papworth had clearly worked out how to win from a tight situation just like this and he hauled himself up the steps onto the finishing straight and down the final few hundred yards of tarmac with such fierce determination that he finally broke his rivals and was able to celebrate as he crossed the lines several lengths clear of Lowe, with Humphreys a brave third.

It had been a classic encounter, a wonderful race to watch and testament to the strength in depth and ability of the current generation of Youth riders.

Josh Papworth spoke to Joolze Dymond straight after the race: "Yeah that was a good race, you just had to play it in your head and see what came out really. I kept tucked in and watched what was going on around me and soon realised that the first rider to the steps was going to win it, so I just concentrated on making sure I was still in play and got to those stairs first. The finish on the tarmac was good as my work from the road and the track really helped.
The race didn't go as I thought it would do, for a start I thought there would be a much smaller group of us and unfortunately Max Sykes and Alistar Slater had a couple of problems so It was a bit strange not having them in the group really. But yeah it was a fantastic race. Because you race with these guys all year round you know you have he measure of them, what they're good at etc so you just play the race to their weaknesses and your strengths. Sam did a lot of the work and did a fantastic job for everyone, but I just used my head and waited for he bits I was best at and made my move. It was fantastic; I'm so chuffed with this!"

Provisional Results (full results to follow shortly)
1 Joshua Papworth Wyre Forest CRC/Fabricolor/DWT Legal 27m 07s
2 Samuel Lowe Go Spex Sports RT (U15) at 0:02
3 Hugo Humphreys Lee Valley Youth CC at 0:04
4 Taylor Johnstone Team de Ver at 0:09
5 Luke Grivell-Mellor Mid Shropshire Whs. at 0:23
6 Hugo Robinson Ipswich BC (U15) at 0:27
7 Jonathan Dibben I-Team CC/Trek/Wheel2Wheel.co.uk (U15) at 0:33
8 Max Sykes VC Deal/Activ/Hammond at 1:00
9 Alistair Slater Bourne Wheelers CC at 1:04
10 Tom Young Leicestershire RC (U15) at 1:38
11 Grant Ferguson Dooley's Cycles RT at 1:49
12 Alec Briggs Arctic-Premer RT at 2:29
13 Jack Humphreys Red Rose Olympic CC (U15) at 2:39
14 Nicholas Barnes Seacroft Wheelers (U15) at 2:50
15 Samuel Broughton Leicestershire RC (U15) at 2:59
16 Luke Panton VC Lincoln/Pygott/B&O/SPS/Impsport at 3:05
17 John Lomas Matlock CC/Impsport/Farmers/Wards (U15) at 3:09
18 Joseph Home K Home International at 3:19
19 Edward McParland JD Cycles Ilkley (U15) at 3:22
20 Joe Kirkham VC Long Eaton (First Under-14) at 3:37
21 Charles Fletcher Cairngorm CC at 3:45
22 Michael Butler Sandy Wallace Cycles at 3:45
23 Kieron Tennyson Heanor Clarion CC (Second Under-14) at 3:45
24 Samuel Connolley Maldon & District CC at 3:59
25 William Worrall Towy Riders (U15) at 4:04
26 Jake Womersley East Bradford CC (Third Under-14) at 4:13
27 Joshua Parkin Herne Hill Youth CC (U14) at 4:14
28 Harvey Lowe GA Cycles (U14) at 4:23
29 Ryan Fenwick Stewartwy Wheelers (U15) at 4:46
30 Ben Green VC Lincoln/Pygott&Crone/B&O/SPS (U15) at 4:51
31 James Newey Lichfield City CC (U15) at 4:53
32 Oliver Dixon Clifton CC at 4:58
33 Jacob James Halesowen A & CC (U15) at 5:15
34 Billy Harding East Bradford CC (U14) at 5:16
35 Lewis Kirkwood Glendtress Riders at 5:21
36 Edwyn Oliver-Evans East Bradford CC (U14) at 5:27
37 Luke Simpson Leeds St Christopher CC (U15) at 5:28
38 Scott Woodhead West Pennine RC at 5:33
39 Tom Arnstein Individual Member (U14) at 5:47
40 Luke Cowley Swindon RC (U15) at 5:53
41 Ben Salt Leicestershire Off-Road Club at 6:35
42 Thomas Warren Individual Member (U15) at 6:36
43 Ross Green Stewartwy Wheelers (U15) at 6:47
44 Thomas Saville Norton Wheelers (U15) at 7:05
45 Stuart McCluskey Glenmarnock Wheelers (U15) at 7:12
46 Alan Trolove West Suffolk Wheelers (U14) at 7:12
47 Thomas Armstrong Ribble Valley CRC - Juniors (U15) at 7:17
48 Dylan Kerfott-Robson Rhos on Sea CC (U14) at 7:28
49 Oliver Wood Wakefield Tri Club (U14) at 7:44
50 Christian Braybrooke Eastlands Velo (U14) at 8:6
51 Elliot Phillips Herne Hill Youth CC (U14) at 8:12
52 Jake Ledger Individual Member (U15) at 9:11
53 Jordan Gell VC Lincoln/Pygott&Crone/B&O/SPS (U14) at 9:38
54 Sam Beckingsale Abergavenny RC/Lane/Govilon (U14) at 1 lap
55 Geraint Manley Maindy Flyers Youth CC (U14) at 1 lap
56 Callum Ferguson Halesowen A & CC (U14) at 1 lap
57 Adam de Smit VC Lincoln/Pygott/B&O/SPS/Impsport (U14) at 1 lap
58 Rowan Miller Maindy Flyers Youth CC (U14) at 1 lap
59 Benjamin Pygott Pedalsport CC (U14) at 1 lap

Youth Girls
1 Lucy Garner Leicestershire RC 31m 13s
2 Bethany Crumpton Halesowen A & CC at 0:18
3 Hannah Shenton Team Chance at 0:53
4 Hannah Payton Stourbridge CC at 1:20
5 Hannah Layland Sport City Velo at 1:47
6 Amy Roberts Lifeforce Cervelo at 2:14
7 Hannah Barnes Pinarello RT at 3:37
8 Zoe Armstrong Ribble Valley CRC - Juniors (First Under-14) at 3:51
9 Alice Barnes Palmer Park Velo (Second Under-14) at 4:07
10 Rosie Blount Derby Mercury RC at 5:21
11 Hannah Ferguson Glentress Riders at 5:30
12 Emily Barnes Palmer Park Velo (Third Under-14) at 5:44
13 Rebecca Hunt Newport Youth Velo CC U14 Girl at 6:04
14 Rebecca Preece Red Rose Olympic CC at 6:55
15 Saskia Hook South Pennine RC U14 Girl at 8:01
16 Hazel Jowett Chapel Tri-Stars Junior Triathlon Club U14 Girl at 1 lap
17 Emily Nelson Lichfield City CC U14 Girl at 1 lap
18 Jessica O'Brien Wakefield Tri Club U14 Girl at 1 lap

VETERANS' RACE
The veterans' race was always going to see the usual suspects played the leading roles. Chris Young and Geoff Giddings have dominated this category for the last few years, with Giddings generally just getting the better of his rival in the National Series, but on the one-off national championships honours have been pretty even. And in the last couple of seasons, Noel Clough has also forced himself into the reckoning - perhaps not as consistent as the other two, but unbeatable when on-form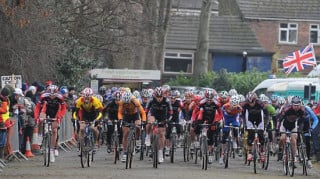 Above: The veterans get underway

Off the line the normally slow starting Young actually led into the first corner, with Phil Roach and Clough on his wheel. Roach broke clear briefly on the first loop of the first lap whilst Young slipped back. But soon Clough was at the front of the race and at the top of the big banking he was 5 seconds clear of the field. Second was Keith Sheriden, with Roach and John Shaw in hot pursuit.

Coming over the line at the start of lap two, Clough was continuing to pull clear and he was looking very smooth and composed. Giddings had moved up into third, behind Sheriden, with Kenny Johnson fourth, and Chris Young back down in seventh.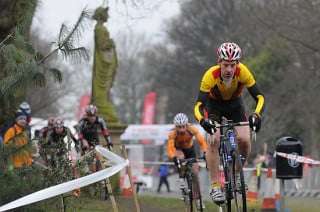 Above: Phil Roach led briefly on lap one

Lap two saw Clough continue to push out his lead to some 10 seconds. Behind him Giddings briefly moved clear in second place, whilst Chris Young, having settled into a rhythm, was also moving up through the field. By the fearsome banking - which was by now beginning to thaw and get very slippery - Young was almost up to Giddings, but Clough was still looking very composed in the lead. As the field fragmented, Kenny Johnson and John Shaw were the only riders to keep the leading trio in sight.

Behind them Phil Roach had settled down, and although not threatening the race lead, he was in control of the over-45 age category, some 5 seconds clear of rival Dave Stevens.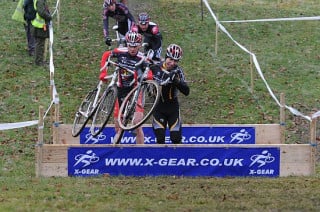 Above: Keith Sheriden leads Geoff Giddings early in the race

The third lap saw Clough serenely continue on his way. Young had passed Giddings, who was on his wheel and these two were at least holding the leader, though not making any real impression on the gap.

If you were to characterise the race, you'd say that it was tense. Clough and Young both contest the Yorkshire League and both had a lot of support course-side. Giddings too has a big support network and it was nail biting watching the race slowly unfold with the various supporters shouting their encouragements. Young continued to lead Giddings and it was hard to tell if it was because the tall midlander was struggling or if he was merely biding his time.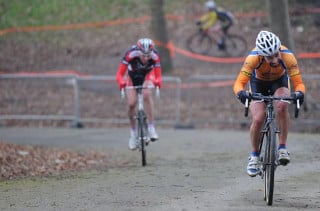 Above: Finally! Chris Young gets rid of Geoff Giddings

With a lap to go, Young suddenly wound it up a bit on the big banking and broke free of Giddings. He appeared to be flying and the question was, would he be able to close down Clough? The gap did seem to be dropping, but a careful check at the mid lap still had Clough some 10 seconds clear by my watch, with Young's progress apparent mainly because Giddings was slowing.

And so it proved as, despite Young's best efforts, Clough held the 10 seconds he had for most of the race right to the line. It was a very popular win for a rider who has endured some remarkably bad luck this season, despite having the form of his life - a freak mechanical robbing him of the Mallory National Trophy race being just one a run of incidents which would have tried the patience of a saint. But this time he was able to enjoy a trouble free race, just when it really mattered.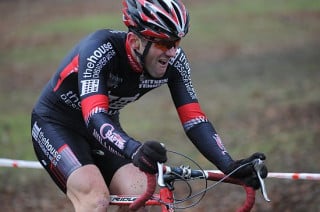 Above: Nearly there! Noel Clough sucks in oxygen at the top of the big bank on the last lap

Young took a very well deserved second whilst Giddings had to settle for Bronze. Kenny Johnson was a fine fourth, never entirely out of contention, with John Shaw fifth. Phil Roach took the over-45 title ahead of Dave Stevens.

Noel Clough spoke to Joolze Dymond: "Hopefully that's but all the bad luck I've had at the National trophy's behind me now, I started so well at the beginning of the season but then I had fair amount of hassle after the 3 peaks, an accident on the road, coming off on the ice. Thankfully this course was dry, I really didn't want to do this in the wet. I know Phil (Roach) gets a really good start, he goes off like a bullet and I just got on his wheel looked behind saw there was no one there so I just went.
I struggled a bit on the 3rd and 4th laps but after that I was fine. I was constantly looking over my shoulder, I knew Chris (Young) wouldn't be far behind, I could always see that orange figure in the corner of my eye and I was just thinking great just keep him there. I never once thought I had it in the bag, you just can't especially with the luck I've had of recent. I was leading the last Trophy until the last lap and a stone went into my rear mech so I was hoping that that wouldn't happen again or something like it. This race meant everything to me, the icing on the cake. I rode as hard as I could that's all you can do so now I'm looking forward to celebrating with a few beers, it'll make up for missing out in the New Year celebrations!"

Results - Veterans
1 Noel Clough Fietsen Tempo/The House/Chapters 39m 50s
2 Chris Young JD Cycles Ilkley at 0:14
3 Geoff Giddings Endura/Thule/24/7/Kinesis/MI Racing at 0:27
4 Kenny Johnson Science in Sport.com at 0:46
5 John Shaw www.Zepnat.com RT/Impsport at 1:15
6 Duncan Walmsley www.Zepnat.com RT/Impsport at 1:32
7 Jonathan Marshall Belper BC at 1:37
8 Philip Roach Rugby Velo (First Over 45) at 1:43
9 Keith Sheridan Corinium CC at 1:56
10 David Stevens Triangle RT - Bianchi (Second Over 45) at 2:20
11 Gary Allan GA Cycles (Third Over 45) at 2:54
12 Andrew Shaw Endura/Thule/24/7/Kinesis/MI Racing (Over 45) at 2:54
13 Steve Barnes www.Zepnat.com RT/Impsport at 3:10
14 Mark James Endura/Thule/24/7/Kinesis/MI Racing at 3:21
15 Mick Rowson JD Cycles Ilkley (Over 45) at 3:33
16 Chris Green Matlock CC/Impsport/Farmers/Wards at 3:39
17 Gary Bryant Old Portlians CC at 3:44
18 Steve Barron VC Lincoln/Pygott/B&O/SPS/Impsport (Over 45) at 3:54
19 William Girvan North Hampshire RC at 4:30
20 Nigel Hay Pedal Power Loughborough (Over 45) at 4:40
21 Stephen Poole www.Zepnat.com RT/Impsport at 4:40
22 Mick Bell London Fire Brigade CC (Over 45) at 4:47
23 Dave Headon Horwich CC at 4:52
24 Stephen Brazier Picarsso-Pulman Race Team at 4:56
25 Chris Ledger www.Zepnat.com RT/Impsport (Over 45) at 5:01
26 Julian Gould www.Zepnat.com RT/Impsport at 5:14
27 Ian Cleverly Mosquito Bikes (Over 45) at 5:16
28 James Melville Glasgow United CC at 5:39
29 Darrell Bradbury Norton Wheelers at 5:44
30 Stephen Whitehouse Lichfield City CC at 5:55
31 Mark Ferguson Individual Member (Over 45) at 5:56
32 Kevin Payton Stourbridge CC/Wrap/CY Electrical (Over 45) at 6:6
33 Brian Tear Endura/Thule/24/7/Kinesis/MI Racing at 6:11
34 Anthony Dyment North Hampshire RC (Over 45) at 6:18
35 Mick Style Manchester Wheelers (Over 45) at 6:23
36 Duncan Stuart www.keswickbikes.co.uk (Over 45) at 6:41
37 David Garrett Rugby Velo (Over 45) at 6:45
38 Stuart Pickering www.Cyclelogic.co.uk at 6:51
39 Colin Davies Individual Member at 6:58
40 Peter Sharkey Matlock CC/Impsport/Farmers/Wards (Over 45) at 7:10
41 Charles Warren Individual Member (Over 45) at 7:42
42 Sean Beswick Buxton CC/Sett Valley (Over 45) at 7:55
43 Sean Davidson Aire Valley RT at 7:57
44 Andy Duffield Alpha RC/Team Corley Cycles at 8:05
45 Peter Bromwich West Midlands Cyclo-X League (Over 45) at 1 lap
46 Martin Worner Teesdale CRC (Over 45) at 1 lap
47 Stephen Clayton Lichfield City CC (Over 45) at 1 lap
48 Graham Piccavey Individual Member at 1 lap
49 Glenn Hord Team Darenth (Over 45) at 1 lap
50 Mervyn Dudley Sherwood Pines Cycles/Polaris (Over 45) at 1 lap
51 Paul Dalton Matlock CC/Impsport/Farmers/Wards (Over 45) at 1 lap
52 Ian O'Brien Wakefield Tri Club at 1 lap
53 Andy Smith Swindon RC (Over 45) at 1 lap
54 Darren Bibb Yorkshire Velo at 1 lap
55 Stephen Newton Stockton Wheelers CC at 1 lap
56 Chris Davies Ogmore Valley Wheelers (Over 45) at 1 lap
57 Kevin Hickie Bronte Wheelers/Neophix at 1 lap
58 Paul Warrener Rossendale RC at 1 lap
59 Chris Blount Derby Mercury RC (Over 45) at 1 lap
60 Anthony Jones Individual Member (Over 45) at 1 lap
61 Phillip Braybrooke Sport City Velo (Over 45) at 1 lap
62 Kevin Saville Norton Wheelers at 1 lap
63 Gary Ducker Barton Wheelers CC at 1 lap
64 Lester Young Team Cyclo-cross.com (Over 45) at 1 lap
65 Stephen Sears Individual Member at 1 lap
66 Douglas McLellan Halesowen A & CC at 1 lap

UNDER-23 RACE
The Under-23 race began with a real bang, literally, as pre race favourites Dave Fletcher and Jonny McEvoy crashed heavily in the first section of woodland within seconds of the race getting underway. It was hard to tell if one brought the other down or whether they fell simultaneously, but with a slight thaw having set in, the still hard-frozen soil was now topped off with a greasy layer of mud and grass and there were several falls during the race.

As the pair picked themselves up and gathered their thoughts, Stephen Adams was putting the hammer down at the front along with Scott Thwaites and Ben Roach. They were soon joined by Mark Thwaites in a four-man lead group.

To their credit, McEvoy and Fletcher were up and running again very quickly and they were soon catching the leaders and by the time the race climbed the big banking towards the end of that first lap, they had made contact and a six man lead group had formed.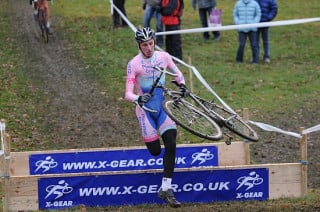 Above: Stephen Adams leads early in the race

Adams led over the line at the start of the second lap with the group still all together, but by the mid-lap point, Fletcher had attacked, dragging McEvoy and Scott Thwaites with him. Adams was struggling and drifting off the back at times, though these four riders went up the big bank together.

As they set out on their third lap, McEvoy and Scott Thwaites briefly had a small gap over Fletcher and Adams. Adams then had something of a bad patch and fell back as the other three forged on ahead. Such were Adams' problems that he was swept up by Mark Thwaites, who looked to be getting into the race very nicely and at 10 seconds back still had plenty of time to catch the leaders.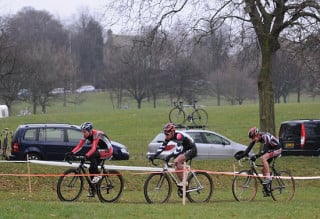 Above: McEvoy leads Fletcher and Scott Thwaites mid-race

At some point late in the third lap - perhaps at the foot of the steps up to the finish straight - McEvoy apparently fell, slowing Scott Thwaites in the process. Fletcher, seeing this, attacked and at the start/finish line at the end of the lap he'd pulled 4 seconds clear.

Fletcher's attack forced McEvoy to chase and he dropped Scott Thwaites in the process. But Fletcher really had the bit between his teeth and he opened the gap throughout the lap, having a healthy 10 seconds as he went through the finish area, with McEvoy chasing alone.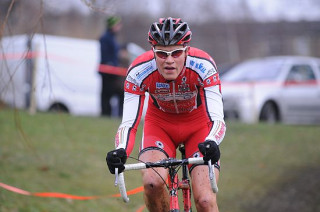 Above: Mark Thwaites looked good for a medal mid-race, but had to settle for fourth


Scott Thwaites was beginning to struggle at this point and was reeled in by his brother, Mark. But although Mark briefly held third place, the rider making the most progress, all of a sudden, was Adams, who seemed to have got his second wind. He caught and passed both Thwaites brothers and was soon on his own in third.

Meanwhile, at the head of the race Fletcher had his head down and McEvoy simply couldn't respond to the mountain biker's pace over the ground and skill. It was effectively race over and McEvoy's body language soon reflected this.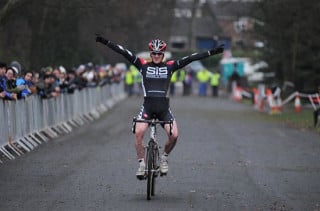 Above: Despite a first lap crash, Dave Fletcher's win was pretty convincing

At the finish, David Fletcher took the win by a very comfortable and convincing 47 seconds from Jonny McEvoy, who was another 40 plus seconds clear of Stephen Adams, who claimed the bronze medal. Mark Thwaites won the battle with his brother for fourth. Full credit to the top two for getting up from their very early falls and going on to produce some very high quality riding which the rest of the field simply couldn't match.

David Fletcher spoke to Joolze Dymond after the race: "That was a mint race for me I got a bit of luck with Jonny (McEvoy) coming off unfortunately but as soon as that happened I just tried to get as much of a gap as I could. So they would have to make more effort to get back to me. It wasn't the best of starts either for me as on the 3rd corner on the first lap I came down quite heavily, but after that I didn't make any mistakes and it was a really good race, I really pleased.
The race kinda happened how I would have liked it to, not with the crashes of course, I would have liked to have got away naturally kind of thing but I think I did really, really well, I got all my technical sections right all my effort sections right and that was a really good race. It was a good course and I was quite surprised it was dry I wasn't expecting that so that played into my hands. I've been over in Belgium recently and it's really fast racing over there so all the work I've been doing over there has helped me today."

Results - Under-23 Men
1 David Fletcher S.I.S. - Trek 51m 52s
2 Jonathan McEvoy 100% Me 0:46
3 Stephen Adams Plowman Craven - Madison 1:29
4 Mark Thwaites Asfra Flanders RT 1:58
5 Scott Thwaites Crosstrax 2:24
6 Anthony O'Boyle Cwmcarn Paraqgon RC 2:57
7 Tim Rowson Sportscover/SPIUK/JE James 4:0
8 Tom Payton Wyre Forest CRC/Fabricolor/DWT 4:10
9 Ben Roach Wyre Forest CRC/Fabricolor/DWT 4:24
10 Tim Baldwin Paul Milnes/Bradford Olympic RC 4:36
11 Daniel Bill Team Echelon - SPIUK 5:37
12 Jack Kirk Wyre Forest CRC/Fabricolor/DWT 5:48
13 Joel Davison Glendene CC/Bike Trax at 1 lap
14 Andrew Nichols Cambridge University CC at 1 lap
15 Luke Beswick Buxton CC/ Sett Valley Cycles at 1 lap

MORE POST-RACE RIDER REACTION

Barry Kipling - 3rd over 50's
That was very, very hard out there, very fast, it was non-stop and Andy and Malcolm were just snapping at my heels all the time. I was attacking them on the hill every lap, and what I should have done is to have hung back the last couple of laps and attacked them on the last lap, but you're never too old to learn are you! I've been hitting and missing all season with my form, I just haven't been consistent at all for no reason I can't think why, but it's the way it's been.
I guess the plan was to keep an eye on Ian and Roy but they both went out really quickly I hardly saw them. I had a bit of a bad start I got held up a little bit and they'd got away but I probably wouldn't have been able to keep with them anyway. I really enjoyed the race though it was cracking, it was different here to recent years with it being so hard and frosty, but you have to adapt to every course that's thrown at you, everyone is different so those that adapt the quickest always do the best.

Andy Roberts- 2nd over 50
It all sort of came together on the last lap really. The 3 of us were going for most of the race for 2nd-4th place and I was just waiting for Malcolm to launch something and after the last boards I looked behind and he was adrift, so at that point going up the drag I would put a bit of pressure on, Barry seemed to be losing my wheel and I thought right it's now or never!
It's was fast out there, but that suits me, I seem to do well when it's slippy or fast so I was feeling okay out there, which was brilliant. I thought at best I'd be going for 3rd place because well Roy (Hunt) and Ian (Wright) I've got nowhere near or year, but then when Roy pulled over everyone I was with I'd beaten at some point in the year so I was thinking I've just got to hold it together and not fall to pieces. It all fell into place and I got 2nd, fantastic!

John Dowell - Over 70's winner
It was hard under foot out there and mush easier to ride than past years when we've ridden in the mud here, I had reasonable competition but they start dying off when they get to this age!! Though it's a great when to spend your retirement you have plenty of time to get the miles in and this medal is a great reward for my love of the sport which I pursue all the time, hopefully I'll be back again next year.

Sam Lowe - 2nd Youth
That was really tight out there and worked really hard to keep the pace up as much as I could. I led for a fair bit as no one wanted to come through so I thought I didn't want the other group behind us catch us and risk a spot on the podium so I just got my head down and worked hard. I really didn't expect this result, to be honest the best I expected was to be in the top 5 but never a spot on the podium, so I'm pretty pleased with the outcome in the end. I may have looked like I wasn't very happy at the end but I really was, that was my best result all season so I can't complain!

Lucy Garner - Youth women's winner
That was a really tough course and I put everything into it and I just had to dig in, grit my teeth and get on with it. Beth (Crumpton) had a really strong race, I just went for it from the start, I knew she was catching me and then she went past me, but she had some bad luck just before the finish, coming off her bike as a result, so I went round her and just managed to get to the finish before her, it was so close.

Chris Young - 2nd vet
That went very well for me actually, I had a good start and Noel just attacked us all and he got a gap of about half a lap and that was it he were gone, I couldn't match that pace and then I got myself going and got up to 2nd/3rd place I thought I could get him back I put everything in to catch him, I beat him twice last week, he obviously got it right for this week. It was close, it was only 10 secs, but that was enough. A bit more mud would have helped me here instead of the ice. It was great course but if it had been a bit stickier it would have been right for me. Good race, With Geoff coming 3rd as well, we race each other all year round and give each other stick every week, so it was good that we shared the podium up between us.

Jonny McEvoy - Under 23, 2nd
It was just a flat out race really Fletcher crashed and I rode straight into him at the start and I had another spill later on, I think Fletcher had as many as I did but he was strong enough to win today. It was fast but there was a lot of steps and a lot of running, it's so much different to road and it took me a while to adjust to the accelerations and the change of pace. I haven't done a great deal of 'cross so far, I stepped back into it jut before Xmas, entered this and then hopefully from this I'll be selected to ride the Worlds. It was good hard course a tad bit slippy but good none the less I just beat fair and square by the stronger man today.

Stephen Adams - Under-23 3rd
I had a good start, Jonny and David got to the front straight away and then stacked it on the first corner so I thought right I'll have a dig while they're sitting on the floor, see if I can get a bit of a gap, but they were both really strong and rode back up to us very quickly and then by the 3rd lap the race just blew into pieces when David had a go and then it was just the case of trying to hold myself in a decent enough position and not drop too far back.
I've been finishing well in the CX races I've done so far this year, I just had to have a bit of faith that it would all come good in the last 15 or so minutes. I was down to 5th at one point but I dug in and I thought that maybe Scott and Mark had gone a bit hard, a bit early to try and go with the front boys. It came back together as I hoped and great that was it. I thought I rode a nice even race and it paid off, I'm really happy, I came into the race with no expectations, I've not been doing any CX training and it's nice to come along and have a bit of a go and go home with a result.