Thwaites Wins Colne Valley Summer 'Cross

Some of the younger competitors line up at the start
The third round of the Paul Milnes Cycles sponsored Yorkshire Summer Cyclo-Cross series took competitors to a brand new venue, Colne Valley High School, on the edge of Huddersfield. A fine summer evening greeted an excellent turnout of over 100 riders. The course looped around the schools extensive playing fields, with some tricky cambers and corners, along with some shot, sharp climbs to break up the riders' rhythm.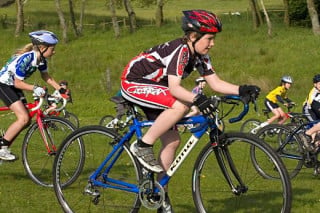 Under-14 riders enjoying the sunny evening
The Under-14 race was dominated by Edwyn Oliver-Evans who gave a fine display of controlled riding. Runner-up was Chris Barnes, who was also the leading under-12 rider in the race, with Amira Mellor third. Top under-10 was Mason Hollyman, whilst Elliott Smith was the first uner-8 home.
The over-14 race saw over 80 riders on the start line - testament to the success of the summer 'Cross formula in this area. A grand cavalry charge down the length of the main playing fields broke things up nicely and it was Mark Thwaites who emerged as the race leader at the end of the first circuit. The tall Crosstrax rider soon opened up a big lead and was never really in any trouble.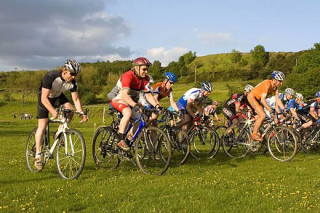 The start of the over-14 race and series organiser Fred Rothwell (second from left) looks like getting one of his usual fliers!
Behind him things were a lot closer between the next three, Matt Denby, Neal Crampton and Ian Taylor. Crampton held on to second for a time, but Denby - happily returning to full fitness after his nasty leg break at Rutland last year - came through to claim second. He was also the first vet home. Crampton had a decent excuse in that he backed up a fine second at the weekend's masters' race at the MTB event at Margam, with a ride in the following day's 100km Marathon championships at the same venue.
Matt Denby looked in very good form
Oli Webster was a fine fifth and the first Junior home just ahead of Steve Barnes and Richard Binks. First woman home was experienced mountain biker Julie Barrett, who came back well from a first lap crash which left her more embarrassed than hurt.

Winner, Mark Thwaites, in a class of his own on the day
The next round of the series is on Sunday 7 June at Duncombe Park, near Helmsley in North Yorkshire (postcode: YO62 5EB). U14 riders race at 11:45 and over 14 riders at 13:30. This event is also part of the Rydale Grand Prix promotion (Premier Calendar Road Race).
Results
YOUTH U14
1 Edwyn Oliver-Evans East Bradford CC (U14)
2 Chris Barnes Seacroft Wh (U12)
3 Amira Mellor Holme Valley Wheelers (U12)
4 Joseph Parker Crosstrax (U12)
5 Ben Pygott Pedalsport (U14)
6 Leon Crossley Wakefield jnr tri (U14)
7 Bryan Barrett Pedalsport (U12)
8 Skye Beagley SSC Cyclesport (U12)
9 Mason Hollyman Sowerby Brothers RT (U10)
10 Rebekah Lord Eastlands (U12)
11 Chandler Beagley SSC Cyclesport (U10)
12 Jenson Young Pedalsport (U10)
13 Christopher Bullett Huddersfield Star Wheelers (U10)
14 Tom Whitworth Huddersfield RC Salamander Fabrications (U10)
15 Elliott Smith Huddersfield Star Wheelers (U8)
16 Lucy Wheavey Pedalsport (U8)
17 Henry Hollyman Sowerby Brothers RT (U8)
18 Simon Young Pedalsport (U10)
19 Jacob Mortimer Huddersfield Star Wheelers (U10)
20 Oliver Moses Bronte Wheelers (U10)
21 Dylan Boyes Huddersfield Star Wheelers (U8)
OVER 14's
1 Mark Thwaites Crosstrax (Sen)
2 Matthew Denby Zepnat RT (V40-49)
3 Neal Crampton Crosstrax (Sen)
4 Ian Taylor Paul Milnes RT/Bradford Olympic (Sen)
5 Oliver Webster Crosstrax (Jun)
6 Richard Binks Holme Valley Wheelers (V40-49)
7 Steve Barnes Seacroft WH (Zepnat.com RT) (V40-49)
8 Richard Thackray Paul Milnes RT/Bradford Olympic (Sen)
9 Roy Hunt Colnago (V50-59)
10 Ed McParland JD Cycles (U16)
11 Jough Watson Zepnat.com (V40-49)
12 Darrell Bradbury Norton Wheelers (V40-49)
13 S Woodhead Crosstrax (U16)
14 Greg McNally Greater Manchester Fire Service (V40-49)
15 Jack Humphreys Red Nose Olympic (U16)
16 Alistair Jowett Pendle Forest (Sen)
17 Paul Whatmough Shepherds Cycles (V40-49)
18 Simon Pateman U/A (Sen)
19 Nick Kotlarewski Paul Milnes RT/Bradford Olympic (Sen)
20 Owen Mitton Huddersfield RC Salamander Fabrications (Sen)
21 Nick Barnes Seacroft Wh (U16)
22 Mike Young Pedalsport (V40-49)
23 Charles Warren U/A (V40-49)
24 Simon Watts Zepnat.com (Sen)
25 Wayne Nicholson K Clarke Training (V40-49)
26 Kyle Burleigh Notts Clarion (Sen)
27 Richard Barratt Ride On (Sen)
28 Richard Crabtree Pedalsport (Sen)
29 Mark Rushby Pedalsport (Sen)
30 Paul Smith Huddersfield Star Wheelers (Sen)
31 Ian Chapman Moonglu RT (Sen)
32 Graham Bird JD Cycles (V40-49)
33 J Breenwell Triangle RT (Sen)
34 Scott Weston Crosstrax (Sen)
35 Myles Chandler Batley CC (Sen)
36 D Woodhead West Pennine (V40-49)
37 Giles Bailey Huddersfield Star Wheelers (V40-49)
38 Michael Schofield Pedalsport (V40-49)
39 Graham Piccavey Huddersfield Star Wheelers (V40-49)
40 Dan Small Manchester Wheelers (Sen)
41 Ralph Bentley Otley CC (V50-59)
42 Adrian Jebb U/A (Sen)
43 Chris Donohue Otley CC (V40-49)
44 Paul Milsom Calder Clarion (Sen)
45 Ed Battye Crosstrax (Sen)
46 Suneil Curwen Pedalsport (Sen)
47 Julian Hodgson U/A (V40-49)
48 Ian McParland U/A (V40-49)
49 Jason Hudson Crosstrax (Sen)
50 Martin Jones Colnago (Sen)
51 Phil Ingham U/A (V40-49)
53 Steve Sears Sowerby Bros CRT (V40-49)
54 Richard A Thackeray Featherstone Road Club (V40-49)
55 Adam Cooper Huddersfield Star Wheelers (Sen)
56 Nigel Hollyman Sowerby Bros CRT (V40-49)
57 John Belson U/A (V40-49)
58 Ian Small Zodiac CRC (V70)
59 Owen Henrikson U/A (V40-49)
60 Andrew Cook U/A (V40-49)
61 Richard Truman Private Member (Sen)
62 Brian Crossley U/A (V50-59)
63 Jack Clarkson Pedalsport (U16)
64 Peter Stone U/A (V40-49)
65 John Redmond Paul Milnes RT/Bradford Olympic (V50-59)
66 Peter Bradford Paul Milnes RT/Bradford Olympic (V40-49)
67 Paul Smithson Keighley & Craven AC (V40-49)
68 Steve Parker Pedalsport (Sen)
69 Adam Baker Wharfedale Harriers (Sen)
70 Christian Burdess U/A (Sen)
71 Tim Evans East Bradford CC (V40-49)
72 Peter Hamilton Paul Milnes RT/Bradford Olympic (V40-49)
73 Colin Humphreys Red Nose Olympic (V40-49)
74 Julie Barratt Ride On (Sen Lady)
75 A Lord U/A (V40-49)
76 Richard Durham Team Swift (V50-59)
77 Jonathon Jolly U/A (V40-49)
78 Steven Cavell Condor Road Club (V50-59)
79 Spencer Beagley SSC Cyclesport (U16)
80 Richard Stansfield VC Bradford (Sen)
81 Christopher Parker East Bradford CC (V40-49)
82 N Rollinson U/A (V40-49)
83 Dawn Hartley (Sen Lady)
84 John Gravling U/A (V40-49)
85 Clare Crabtree Pedalsport (Sen Lady)
86 Fred Rothwell Paul Milnes RT/Bradford Olympic (V50-59)
87 Christopher Beetham West Yorkshire Police CC (V40-49)