---
Mildenhall Cycling Club will once again be promoting their annual cycling festival over the August Bank-Holiday weekend in 2012.
Now in its 26th year, the 2012 Mildenhall Cycling Rally will have an Olympic flavour, being held between the Olympics and the Paralympics.
The Rally isn't expected to see any major changes to the tried and tested line-up of events over the three days, but as one of the organisers Mark Burchett explained, "we are planning to celebrate the fact that the Olympics are being held in London, something that's very unlikely to be repeated within most of our lifetimes."
We also hope by the Rally we will have another reason to be celebrating the Olympics. One of our (former) members, Victoria Pendleton, is a strong contender for the Gold medal in the Woman's Sprint, as well as in the Women's Team Sprint and the Keirin. She was an active member of our Club as she was growing up and in recognition of her international achievements she was unanimously voted an Honorary Golden Member in 2008." he added.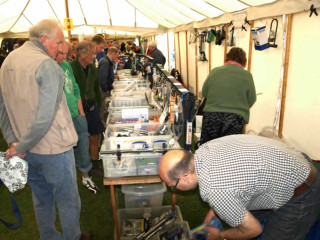 The Rally will be held at the town's Riverside Middle School from Saturday 25th – Monday 27th August 2012. Demand for the onsite camping and caravan spaces is always high, with all pitches last year allocated well in advance of the event, so would encourage everyone to watch out for when the bookings forms become available on the Rally website." said Mark Burchett.
For those that prefer a bit more comfort, the Mildenhall Club will once again be providing a list of local B&B's, guest-houses and hotels.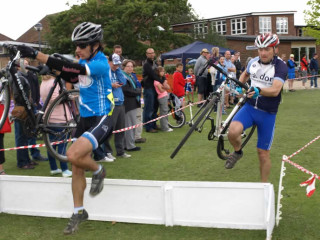 The grass-track will as ever form the centrepiece of the Rally, with a full supporting list of grass-track events everyday from 12 noon. The highlight of these will be the National 8km Championship. Other competitive events will include a Madison Cyclo-Cross and especially for the under 17's there will be the ever-popular Children's Duathlon and the under 16's the Go-Ride Skilful Riding.
On the touring front, Suffolk DA (District Association) of the Cyclists Touring Club will be organising 50, 100, 200 & 300km Audax Rides on the Saturday. For those that want something more relaxing, Mildenhall Cycling Club will have their range of touring leaflets, offering a variety of scenery of varying distances.
There will be a two-day Trade Show (Sunday and Monday) open to the public. Other attractions will include the ever-popular Cycle Jumble and Quiz Nights. Every day there will be the Children's Sports, while on the Sunday and Monday there will be the bouncy castle and face painter, both free of charge. Additionally on the Sunday there will be a circus skills-workshop and on the Monday, Adam Strange with his Magic and Puppet Shows!
The Mildenhall Club plan to publish all the details at Easter on the event's website at www.mildenhallrally.org.uk.