Cameron Mason and Anna McGorum embraced the mud in wild and technical style to take elite wins at the opening round of the 2023 National Cross-country Series in Parkwood, Tong.
A tough weekend's racing saw several podium positions were decided by luck, as the demanding course and conditions proved challenging.
Elite
Cameron Mason (Trinity) took the elite men's win after staying away solo from the start. Mechanical issues affected the racing heavily, as the positions behind Mason changed with every lap. Corran Carrick-Anderson (T-Mo) kept out of most trouble to take second with Huw Buck Jones (Wales Racing Academy) grabbing the third spot ahead of Grant Ferguson (Hope) and Joe Blackmore (Team Inspired).
A brilliant day in the McGorum household saw Anna McGorum (Peebles) take a convincing win in the women's elite race, while sister Elena McGorum (Peebles) outsprinted Amy Henchoz (Scott) for second. Jo Thom (Torq) took fourth place, while Mieke Kalmijn came in fifth.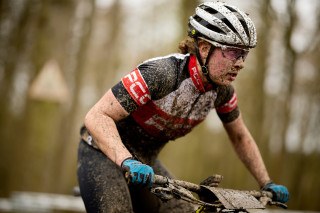 Expert and sport categories
In the men's expert category, Joe Barker (Shibden) nipped ahead of Joe Curran (Muckle) for the win with Spencer Davies (Wales Racing Academy) taking third.
In the women's combined expert and sport category,Melissa Baker (Team Empella) was the first home
with Ffyona Booker (University of Nottingham CC) and Holly Bradbrook (Marsh Tracks Racing–Trek) completing the podium.
The men's sport category saw Jim Vernon (Ride Revolution Coaching) win convincingly ahead of Jack Bent (UEA) and Giorgio Coppola (Four4th).
Junior
Max Greensill (Hope) kept his winning streak in the junior men's race with a solid victory. Reuben Oakley (Rotor) was a clear second ahead of Oli Akers (Albion), while Ben Allen (Peebles) and Nat Henderson (Hetton Hawks) took the final podium places.
Aine Doherty was the first female junior home, having been chased by Kacey Eyeington (Derwentside) the entire race. Daisy Taylor (Royal Albert) was third, while Phoebe Roche (WXC Racing) and Lucy Allsop (Rotor) completed the podium.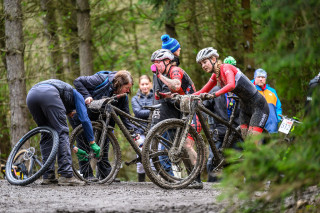 Youth and juvenile
Gus Lawson (Pentland) led from start to finish in the juvenile boys, with Luke Trafford (Shibden) and Leon Parker (Rotor) taking second and third. In the girls' equivalent, Olivia Poole (Deeside Thistle) took the win well ahead of Orla White (Dartmoor Velo) and Katie Allsop (Rotor).
In the youth boy's race, Innes McDonald (Scotia Off Road Team) attacked solo after the first lap to take a commanding win ahead of Max Standen (Southfork Racing) and Noah Ellison (Shibden). In the girl's category, Evie Strachan (RR23 – runandride.co.uk) had a brilliant start, and then led through to the finish with Maddie Moorhouse-Smith (Hope) in second and Zoe Roche (WXC) in third.
Veterans
Paul Oldham (Hope) returned to his winning ways after missing last season, taking a clear victory in the men's veteran race, while the podium spots were closely fought after. Sam Humphrey grabbed second, with Philip Holwell (ZepnatcomRTLazer) nipping in for third. Ceris Styler showed off her national championship jersey with her win in the women's veteran race, with Helen Jackson (Kendal) and Verity Appleyard (Velo Fixers) completing the podium.
The men's grand veterans were led out by Nick Craig (Scott) with Dougie Cameron managing to get away from Mark Chamberlain (Hunt Wheels) on the final hill to take second. Cheri Mills (Oneplanet Adventure) not only won the grand veteran's race but overtook all the veterans ahead of her too. In a war of attrition, she was followed home by Alison Kinloch (Shibden) and Caroline Mansfield (Magspeed).
In the men's super veterans, it was Grant Johnson who thrived on the muddy technical sections ahead of Kevin Holloway (Racing Club Ravenna) and Andy Weaving (Cotswold Cycles RT). The one and only Carolyn Spiers (Kendal) took the win in the women's category.