The Cyclo-Cross National Trophy Series kicks off this weekend at Moorways Leisure Centre in Derbyshire – with the best British riders taking to the start line. Here we have pulled together all the key information you need for the series.
National Trophy Series
The National Trophy Series begins this weekend with around 780 riders registered for the first round of six at Moorways Stadium in Derby. There will be racing for all ages, from under-14 right through to the veteran-60s category as the top level of cyclo-cross riders will take to the start line.
Moorways Stadium is a well-established venue in the sport, having held many rounds of the series over the years, as well as the National Championships in 2011. The course is well loved amongst participants and is normally very fast and flowing in its traditional start of season spot. The event is not ticketed, however parking is charged at £2 per car.
Round 2 will be held in Falkirk (22-23 October), which successfully hosted its debut National Trophy event in 2021. The series continues a week later (29-30 October) on a new course in South Shields, at Gypsies Green.
Riders will then have to contend with Torbay Velopark – another new addition to this year's series – on 19-20 November, before Round 5 at Broughton Hall in Skipton on 17-18 December. The series then concludes in the new year at Cyclopark in Gravesend (7-8 January) before the 2023 National Cyclo-cross Championships will be held at the Westmorland Country Showground in Milnthorpe the following weekend.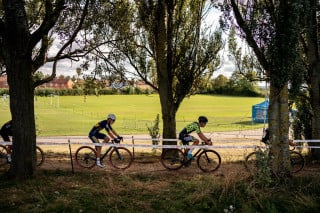 Ones to watch
The 2022 national men's champion Thomas Mein will be hoping to retain his stripes this year for Hope Factory Racing, but will surely be challenged by the likes of Toby Barnes (Garden Shed UK-Ribble-Verge Sport) and junior national champion Joseph Smith (Tofauti Everyone Active) who has moved up to the elite ranks.
The women's elite races will host a fierce field, including last season's national bronze medallist Anna Kay (UCI CX Team), the under-23 silver medallist Xan Crees (Spectra Wiggle p/b Vitus) and bronze medallist Alderney Baker (Team Empella Cyclo-Cross.Com). Christina Wiejak (Saint Piran) will be hoping to add to her accolade of achievements after a strong season on the road and the mountain bike, while Anna Flynn (Spectra Wiggle p/b Vitus) will be hoping to challenge for the podiums as the 2021 Scottish cyclo-cross champion.
In the junior men's category, the 2022 national bronze medallist Max Greensill (Hope Factory Racing) will be hoping to make it back on the podiums this year, but will face competition from Oliver Pearce (Tofauti Everyone Active) and Oliver Akers (Garden Shed UK-Ribble-Verge Sport).
The junior women's 2022 national silver medallist Elizabeth McKinnon (Montezuma's Race Team) and bronze medallist Emily Carrick-Anderson (T-Mo Racing) will be taking to the start lines over the cyclo-cross season, with aims of battling for the gold at the National Championships.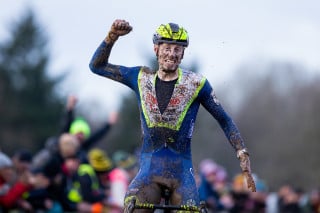 2022-23 National Trophy Series:
Round 1: Moorways, Derby: 8 - 9 October
Round 2: Callendar Park, Falkirk: 22 - 23 October
Round 3: Gypsies Green, South Shields: 29 - 30 October
Round 4: Torbay Velopark, Paignton: 19 - 20 November
Round 5: Broughton Hall, Skipton: 17 - 18 December
Round 6: Cyclopark, Gravesend: 7 – 8 January
2023 National Cyclo-cross Championships:
Westmorland County Showground, Milnthorpe: 14 – 15 January
Follow British Cycling's social media to stay on top of all the action from this amazing weekend of cyclo-cross action, or, if you're in Derbyshire, head down and watch the action live for yourself.