Current women's HSBC UK | National Trophy series leader Sophie Thackray says it's a 'dream come true' to go into next weekend's final round in York in possession of the leader's jersey.
The 20-year-old's consistency across the series has been impressive, with her solid results in all five previous rounds ensuring that she's two points ahead of nearest challenger Ffion James heading into next weekend.
The chance of winning the elite and under-23 series, she says, surpasses the expectations that she took into this season.
"My aims were to win the under-23 national series, and get on the elite podium as much as I could," Thackray explains. "It's an amazing feeling to be wearing the elite leader's jersey. I've raced the national trophy since I was an under-14, and although I've come close a few times, I've never worn a leader's jersey, so to have two at once is a dream come true!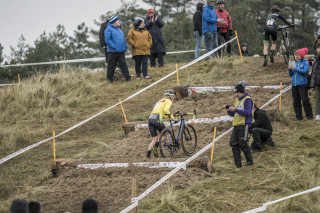 "I'm really pleased that I've had such a good season so far. It's rewarding to see the work that I'm putting in paying off. To be at the front of races fighting for wins is a good feeling.
"Each year I feel that I have consistently improved and so to keep doing that is a step in the right direction. I'm pleased as well that this season has shown that I can perform across all different courses. You have to be versatile – there can't just be one type of course that suits you."
This weekend's series-concluding round will see Yorkshire's Thackray on familiar territory.
She continues: "I'm extremely lucky that my family and friends will come out to support me, so for them to see me ride in the jersey and see my progression in the sport will be really nice.
"The course at York is known to be technical, with a lot of mud and sometimes some running. One of the things I love most about cyclo-cross is that anything can happen, and one slip could be the difference between winning and losing. With so much at stake, it's going to be a hard-fought race."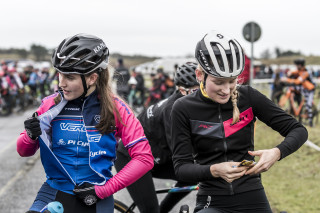 Despite the prize on offer, Thackray is full of praise and appreciation for the skill of James, who won the last round at Pembrey to move her overall points total on to 174, just behind Thackray's 176.
Of her rival for the trophy title, she says: "Ffion is a brilliant rider and a good friend. I admire her as a rider – she's had so much success in cyclo-cross, winning multiple national championships titles.
"She's a few years older than me, and so it's been really motivating growing up through the youth ranks and watching her win. To ride alongside her now is pretty cool, and I'm looking forward to another close battle in York."
Both the men's and women's HSBC UK | National Trophy will be decided in York next weekend. While the top two in the women's standings are separated by two points, the men's title is also up for grabs, with Ian Field just 13 points clear of Gosse van der Meer.