Dutchman Gosse van der Meer says that he his enjoying the 'intense' racing in Britain, as he continues to win more admirers with his performances in the HSBC UK | National Trophy.
Van der Meer won the elite men's race in the third round of the series at Irvine last weekend, and currently sits second behind Ian Field in the overall standings.
With a clear affinity with British racing building, he is hoping to maintain that level of performance across the rest of the series, putting himself in contention for selection for the Dutch team for the world championships, which take place in Switzerland in February.
He explains: "My main ambition this year is to peak towards the important world cups and the Christmas period. I would love to make the team for the world championships in Switzerland - Switzerland is kind of my second home, because I spend so much time there."
That time spent in Switzerland is beginning to be rivalled by hours in Britain though, despite the fact that van der Meer only made his first trip to these shores last year.
"I use Hunt Wheels, and because they are a British-based company, that pulled me towards Britain," he continues. "I travel all over the world but last year was actually the first time that I came to Britain.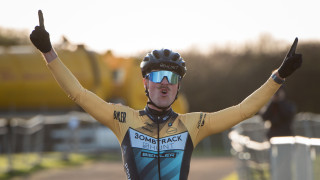 "I did a race in Shrewsbury which I won, and then we started looking at the possibility of doing the entire HSBC UK | National Trophy series this year. I'm planning to do all of the races in Britain.
"The courses here are really grassy, and tend to either be really wet or really dry. They often don't have big technical features, which makes racing more intense and more tactical. A big difference here is that races have huge numbers of riders starting in every category – that's a really cool thing to see, and shows that the sport here is alive on every level."
Van der Meer's growing love of Britain seems to be reciprocated, with his popularity among riders on the circuit continuing to surge.
Of his experiences in Britain so far, he says: "I enjoy coming over here a lot. I travel to every race with a solid crew around me – my team manager Ollie Gray drives me all over the country and always ensures that there is a good group of lads there to help me out in the pit.
"After every race we drive back to Brighton, then on the Monday morning we head over to the Hunt headquarters, and everyone is always stoked if I pass by. These things all make the trips to Britain very worthwhile to me.
"Racing here has given me a lot of nice friendships, mainly because every weekend is just an awesome road trip out with the lads! To all the people who support the series: thanks for everything so far, and I hope to hear you guys cheering for me over the coming rounds!"
The HSBC UK | National Trophy continues with round 4 in Crawley on November 10.