Anna Flynn believes that the strength of cyclo-cross in Britain at the moment provides the perfect preparation for riders with international aspirations.
Flynn has made an excellent start to the HSBC UK | National Trophy series, and currently tops both the elite and junior standings after the first three of the six rounds.
As she targets key dates in the international calendar later in the season, she is delighted with the start she has made to the cyclo-cross campaign.
"So far, this season has gone really well for me, and I've had some results that I'm really pleased with," she says. "I spent a week racing in Belgium and the Netherlands, I gained a lot of experience and good results there."
Consistency has been the key for Flynn in the HSBC UK | National Trophy so far, something which she believes is getting more difficult to achieve due to the increased level of competition in this country.
She explains: "I think the national trophy events are getting better and better every year. All of the courses are very different but are very challenging in their own way.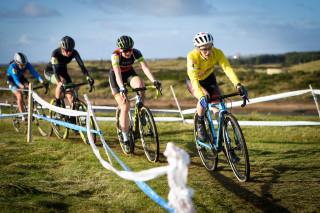 "People like Nikki (Brammeier) and Helen (Wyman) have played a big role in inspiring young female riders to take up cyclo-cross, and the women's scene is really strong at the moment. The level of competition is high and the rounds so far have included some really close and exciting racing, which is what I like about cyclo-cross.
"The cyclo-cross scene in Britain right now is really big and the number of people racing is high, so the races are really good for preparing to compete internationally."
It is that potential international competition that is in the forefront of Flynn's mind as the season progresses, with racing in Great Britain colours a key target.
"I'm racing at the European championships in Italy (next weekend), which has been a big goal of mine this year, as this is the first year that there has been a junior women's race. My goal is to get a top ten finish, and anything better than that would be amazing," she continues.
"I'm also hoping to be selected for the world championships in Switzerland in February, while another goal of mine is to podium at the national championships in Shrewsbury in January."
Round 4 of the HSBC UK | National Trophy takes place in Crawley on November 10.