Tom Pidcock, and reigning junior world champion Ben Tulett proved too good to beat at the 2019 UCI Cyclo-Cross World Championships in Bogense, Denmark.
Tulett was the early winner, taking home the junior men's world championship title in the first race of the day.
Having won the junior national title in Kent three weeks ago near to his home, Tulett came in to the race confident on defending his title.
A tough start to the race, Tulett managed to stay with the leading group making his winning move on lap four, riding away from his competitors comprehensively.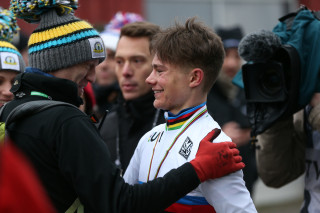 The 17-year-old said after, "There was a lot of pressue on me today as I was a first-year junior champion last year. I had to just keep calm and go through the processes. I did that really well and picked my moment where I was going to go in the race and did what I needed to do and it worked. So I'm chuffed.
"It feels like a dream come true. It's what every cyclist dreams of doing, so to win one it's more than special."
Only two hours later Yorkshire-born Pidcock took a lesson from fellow Britain Tullett, attacking again on the fourth lap.
Eventual silver-medallist, Belgium's Eli Iserbyt let up on the pace as the leading group chased him down on the middle straight, as Pidcock chose this as his opportune moment to sprint by.
It was a ride reminiscent of his elite national title win three weeks prior when he went clear, putting time into his rivals on every lap.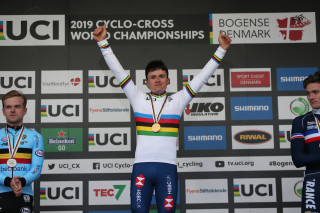 "Yeah it was good, I was feeling really good. I had a mechanical with my gears early on, but yeah it turned out alright. I was always going to take it easy the first few laps and then you know assess the race form there but yeah unbelievable."
In the elite women's race Nikki Brammeier got off to a flying start and found herself leading the chasing group to catch the leaders.
A mechanical early on in the first couple of laps however left her wondering what could have been after showing great form in Hoogerheide last week.
Fellow British rider Helen Wyman went on to finish 15th, on her 16th Cyclo-Cross World Championships appearance, after the race she said, "Yeah it got really wet during our race – it was actually really good because it slowed it down enough for me to be able to get a good result.
"15th doesn't sound good, but on a fast course, and I had a terrible start, I don't know what happened. I ended up way back and had to work my way through. I would have loved it be like last year's world cup [in Bogense] but yeah, best conditions of the week for me so yeah happy with that.
"Every year the sport gets better and better, and it's amazing to see. I remember watching the first women's world championships in 2000, and thinking that was really exciting at the time. But you look at it and 15 different riders could have won that race today. It's fantastic to see and it's fantastic to be part of the journey."
GB Results
Junior Men
1st – Ben Tulett
23rd - Rory McGuire
30th - Oliver Fraffan
32nd - Simon Wylie
DNF – Lewis Askey (Mechanical)
U23 Men
1st – Tom Pidcock
6th – Ben Turner
9th – Thomas Mein
19th – Dan Tulett
30th – Cameron Mason
Elite Women
8th – Nikki Brammeier
15th – Helen Wyman
26th – Beth Crumpton