Junior Harriet Harnden conquered the mud to charge to victory while Belgium rider Gianni Siebens also prevailed in the fourth round of the HSBC UK | National Cyclo-Cross Trophy.
Junior national champion Harnden saw off the more experienced Eileen Roe (Dooleys Cycles) to take a slender win after a race-long battle in the women's event.
While after finishing sixth in the final round in Ipswich last season, Siebens returned to British soil and took his first victory.
Harnden embraces the conditions en route to victory
York Sports hosted the series for the first time and wet conditions led to technical riding with tricky descents and off-camber climbs which tested riders' bike handling.
Both Harnden (T-Mo Racing) and series leader Beth Crumpton (Storey Racing) had problems away from the start line with the latter working her way back from mid-field back to the front with a piece of smart riding through the opening corners after unclipping her foot.
The hardest back section of the course saw Harnden make her move and Roe followed, with the pair matching each other stride for stride for the rest of the race.
After being inseprable the elastic finally snapped on the final lap and Harnden established her winning gap on the hardest section of the course with Roe settling for second.
Crumpton kept her overall series leader's jersey with her third-place finish.
A muddy @HHatt1e gave us her thought's after yesterday's women's race at the @HSBC_UK | National Cyclo-Cross Trophy

A superb effort to power through to victory#NationalTrophy pic.twitter.com/snENX0Wlg1

— British Cycling (@BritishCycling) November 26, 2018
Siebens leads it home as van Tichelt takes Trophy lead
Meanwhile, Belgium under-23 rider Siebens (Young Cycling Talent D&D) took an emphatic solo victory in the men's event gapping countryman Yorben Van Tichelt (Neon-Velo Cycling Team) midway through the race to eventually win by more than one minute.
The pair rode away from their English domestic rivals on a tough deciding section of the course and wouldn't be seen again.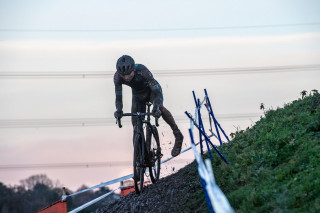 Behind them, a fascinating battle for third place developed with under-23 rider Toby Barnes (Lichfield City CC) initially chasing the leading pairing behind.
But it was Scott Racing's Nick Craig, who finished second in the veteran's aged 40 category the previous day, who powered clear on the final section for third overall.
What they said
"It was really good and the conditions were what I like and as the day changed you had to make the most of it," said Harnden.
"We pushed each other on a bit and she (Eileen) definitely made me ride faster than if I was on my own.
"I think it was a really good race. I just pushed on everywhere I could with everything I had left and fortunately it was enough but she was really strong too and it could have gone either way."
Meanwhile the new series leader Van Tichelt was pleased to have the yellow jersey.
"It was pretty good considering I've been sick all week long and have been fighting flum" he said.
"I'm just happy with the leader's jersey and could have gone worse. I know Gianni Siebens as he used to be a team-mate of mine so knew his abilities although I felt sick I hoped to follow him most of the race and maybe get it to a sprint.
"But I just didn't have the legs today so I was happy with seconds. It's a course which suits me really well when I'm in top shape and it's a course which suits me really well but you can't fight sickness."
What's next
There are just two weeks to wait until round five gets going, with riders descending on Ipswich's Trinity Park on December 8-9.
Then it's a trip back north with Shrewsbury playing host to the sixth and final round of the HSBC UK | National Cyclo-Cross Trophy series after Christmas.
Results
Elite men
1 Gianni Siebens (Young Cycling Talent D&D)
2 Yorben Van Tichelt (Neon-Velo Cycling Team)
3 Nick Craig (Scott Racing)
Elite women
1 Harriet Harnden (T-Mo Racing)
2 Eileen Roe (Dooleys Cycles)
3 Beth Crumpton (Storey Racing)
Junior men
1 Simon Wyllie (Halesowen A&CC)
2 Harry Birchill (Mid Devon CC)
3 Tom Couzens (Zappi Racing Team)
Junior women
1 Harriet Harnden (T-MO Racing)
2 Lara Gillespie (Cycling Leinster)
3 Elena Smith (Fossa Racing)
Gallery