The 2017/18 HSBC UK | Cyclo-Cross National Trophy reaches round four this Sunday as Gravesend's Cyclopark hosts the competition.
Bethany Crumpton and Ian Field have established overall leads in the elite women's and men's categories respectively after three rounds and will look to grow their advantage in the absence of some of their key competitors.
About the series
The HSBC UK | Cyclo-Cross National Trophy is a six-round competition which takes place between October and January, with a rider's best five scores from the series counting towards their overall total.
The series opened at the Moorways Centre in Derby with defending men's champion Ian Field picking up the win, while Bethany Crumpton got off to the perfect start in the women's competition.
The second round saw Crumpton win once again while Tom Pidcock beat Field at the Abergavenny Leisure Centre.
The third round was the first truly muddy affair in Shrewsbury, where junior rider Harriet Harnden pipped under-23 Ffion James to the elite win and Field came out on top once more.
After Gravesend, the series will head to Peel Park in Bradford for round five in December before concluding at Trinity Park in Ipswich on 7 January.
Elite, under-23 men and junior men
Ian Field (Hargroves-Ridley-Montezuma) sits at the top of the elite men's standings after wins in Derby and Shrewsbury and a second place finish in Abergavenny.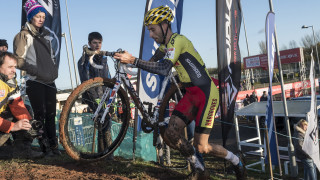 Five-time national champion Field will start as favourite in the absence of Pidcock but will face tough competition from up-and-coming stars of the sport as well as some of the more established names.
Ben Turner, the junior world bronze medallist in 2017, will be looking to challenge after he gave Field some tough competition in Shrewsbury, before a crash put paid to his podium prospects.
Liam Killeen (Malvern Cyclesport) rode himself to a top-three finish in Shrewsbury and will be looking to move into the podium positions in the overall standings after the fourth round.
Billy Harding (PH-MAS/Paul Milnes/Oldfield) still leads the under-23 standings but, after finishing 10th in the category in Shrewsbury, will have to ride well to keep the likes of team mate Joe Williams and George Fox (Paul MilnesBradford Olympic RC) at bay.
European bronze-medallist Ben Tulett (Beeline Bicycles RT) tops the junior men's standings having taken wins in Derby and Shrewsbury and a third place finish in Abergavenny but will be on international duty for round four.
Points and positions will be up for grabs in Tulett's absence and the likes of the returning Lewis Askey (Team Backsteadt/Hotchillee), round two winner Sean Flynn (Edinburgh RC), and Cameron Mason (Leslie Bike Shop/Bikers Boutique) will be on the hunt for the top spot.
Elite, under-23 and junior women
Storey Racing's Bethany Crumpton had two commanding victories in the opening rounds of the elite women's competition and still leads the standings despite slipping to sixth in Shrewsbury.
Round three winner, junior rider Harriet Harnden won't be racing so the rest of the field will be eyeing her current spot in second place in the overall standings.
Under-23 rider Anna Kay (EDCO Continental) has twice crossed the line in second place and sits third in the overall standings, while Sophie Thackray and Amira Mellor both of PH-MAS/Paul Milnes/Oldfield and Hannah Payton (Team Kinesis UK) are all also within reach of the podium positions.
Under-23 riders Ffion James (Abergavenny Road Club) took second place in Shrewsbury and will be wanting to bag herself another podium spot as her season's results continue to improve.
Schedule
The men's veteran races begin at 10.15 am, followed by the youth girls at 11.15am and youth boys at 12.05pm.
The junior men start at 1.30pm, followed directly by the elite, under-23, junior and veteran women, with elite and under-23 men racing at 2.45pm.
How to follow
Report and gallery will appear on the British Cycling website.