Photo Report: Brooksbank 'Cross
Paul Milnes Summer Cyclo-Cross Series
Yorkshire Cyclo-Cross Association
15 July 2009
A beautiful evening greeted a good turn-out of 'Cross riders for the latest round of the Paul Milnes Cycles sponsored summer 'Cross series. The venue, Brooksbank school, near Halifax, was a new one and provided a stern test with a mixture of playing fields and sharp climbs up grass bankings.
The Youth race went to Edwyn Oliver-Evans from Seb Marsh and Chris Barnes. The Senior race saw a fine battle between Neal Crampton and Oli Webster, the latter getting the verdict after finally breaking clear on the last lap.
There are full results below, plus some images - there are hundreds more images in the galleries linked above.
Rest of the series
Sunday 19th July Ampleforth Colege, York, YO62 4HP - U14's@11:00am and 14+ event @ 12:00 noon
Weds 29th July Huddersfield New College, Huddersfield, HD3 4GL - Under 14's @ 19:00 and 14 years and over@19:30
Weds 12th Aug Greetland All rounders Rugby Club, Greetland, HX4 8PS - Under 14's @ 19:00 and 14 years and over@19:30
Action from the Under-14 race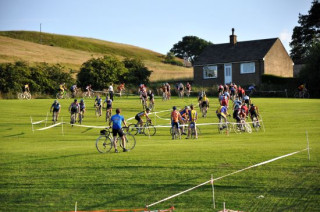 The Over 14 race snakes up the hillside on lap 1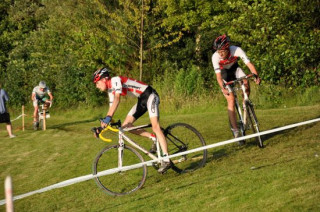 Winner, Oli Webster (left) and runner up, Neal Crampton mid-race

Third-placed Matt Denby
YOUTH U14

1 5 Edwyn Oliver-Evans East Bradford CC U14
2 30 Seb Marsh Seacroft Wh U14
3 1 Chris Barnes Seacroft Wh U12
4 7 Ben Pygott Pedalsport U14
5 29 Amira Mellor Holme Valley Wheelers U12
6 19 Madeleine Robinson Eastlands U14
7 4 Matthew Jones Sowerby Bros CRT U14
8 51 Niall Read Brooksbank U14
9 53 Zak Thomson Brooksbank U14
10 3 Leon Crossley Wakefield jnr tri U14
11 57 Jack Mayo Brooksbank UU14
12 55 Ainsley Stevenson Brooksbank U14
13 18 Rebekah Lord Eastlands U12
14 54 Arron Stevenson Brooksbank U14
15 52 Ben Edwards Brooksbank U14
16 36 Jenson Young Pedalsport U10
17 56 Ben Jackson Brooksbank U14
18 60 Connor Singleton Brooksbank U14
19 40 Simon Young Pedalsport U10
20 14 Tom Whitworth Huddersfield RC Salamander Fabrications U10
21 61 Ben Siddall Brooksbank U14
22 39 Lucy Whearby Pedalsport U8
23 63 Olivia Ingham U/A U8
24 58 Lucy Thorp U14
25 59 Joe Thorp U8
OVER 14's

1 7 Oliver Webster Crosstrax Jun
2 15 Neal Crampton Crosstrax Sen
3 35 Matthew Denby Zepnat RT V40-49
4 69 Ian Taylor Paul Milnes RT/Bradford Olympic Sen
5 104 Simon Maudsley Crosstrax Sen
6 153 Simon Rodgers Car Park Heroes Sen
7 101 Roy Hunt Colnago V50-59
8 76 Ed McParland JD Cycles U16
9 33 Darrell Bradbury Norton Wheelers V40-49
10 29 Steve Barnes Seacroft WH (Zepnat.com RT) V40-49
11 3 Joseph Moses Bronte Wh U16
12 1 Nick Barnes Seacroft Wh U16
13 2 Jack Clarkson Pedalsport U16
14 55 Andy Whitworth Huddersfield RC Salamander Fabrications V40-49
15 68 Nick Kotlarewski Paul Milnes RT/Bradford Olympic Sen
16 56 Mike Young Pedalsport V40-49
17 12 Myles Chandler Batley CC Sen
18 99 Tom Jolly Aire Valley RT U16
19 155 Jon Wolff U/A Sen
20 158 Sam Streeton York Cycleworks Sen
21 109 Wayne Nicholson K Clarke Training V40-49
22 81 David Woodhead West Pennine V40-49
23 44 Graham Piccavey Huddersfield Star Wheelers V40-49
24 65 John Ginley Condor Road Club V60-69
25 77 Ian McParland Bronte Wh V40-49
26 156 Dermot McKee U/A V40-49
27 143 Jon Barnbrook U/A Sen
28 14 Richard Crabtree Pedalsport Sen
29 122 Richard Barratt Ride On Sen
30 164 Jacob Rogan Sport City/Brooksbank U16
31 50 Richard A Thackeray Featherstone Road Club V40-49
32 124 Ralph Bentley Otley CC V50-59
33 28 Giles Bailey Huddersfield Star Wheelers V40-49
34 32 Graham Bird JD Cycles V40-49
35 23 Mark Rushby Pedalsport Sen
36 27 Scott Weston Crosstrax Sen
37 150 Eric Taylor Horwich CC V60-69
38 105 Paul Milsom Calder Clarion Sen
39 40 Julian Hodgson U/A V40-49
40 97 Dan Small Manchester Wheelers Sen
41 41 Chris Jones Sowerby Bros CRT V40-49
42 60 Richard Durham Team Swift V50-59
43 166 Dan Goodey Crosstrax Sen
44 111 Dave Senior Huddersfield RC Salamander Fabrications V60-69
45 130 Colin Humphreys Red Nose Olympic V40-49
46 46 Steve Sears Sowerby Bros CRT V40-49
47 57 Richard Burnham Condor Road Club V50-59
48 62 John Redmond Paul Milnes RT/Bradford Olympic V50-59
49 16 James Dyson Pedalsport Sen
50 92 Martin Jones Colnago Sen
51 132 Andrew Cook U/A V40-49
52 49 Peter Stone U/A V40-49
53 165 Brian Perks Pedalsport Sen
54 36 Tim Evans East Bradford CC V40-49
55 117 Steve Parker Pedalsport Sen
56 98 Jonathon Jolly U/A V40-49
57 38 Peter Hamilton Paul Milnes RT/Bradford Olympic V40-49
58 82 N Rollinson U/A V40 Lady
59 87 John Gravling U/A V40-49
60 58 Steven Cavell Condor Road Club V50-59
61 112 Garry Marsh Seacroft Wheelers V50-59
62 88 Richard Stansfield VC Bradford Sen
63 30 Christopher Beetham West Yorkshire Police CC V40-49
64 20 James Meehan U/A Sen
65 22 Stewart Ross U/A Sen
66 59 Brian Crossley U/A V50-59
67 8 Clare Crabtree Pedalsport Sen Lady
68 63 Fred Rothwell Paul Milnes RT/Bradford Olympic V50-59