Follow britishcycling.org.uk on
British Team Champs Quarter Finals: Wednesfield v Ipswich
Event: 4th July 2010 | Report and Images: Andy Whitehouse
Wednesfield Aces booked their place in the semi finals of the team championships on 4th July beating Ipswich 116-64. A young Ipswich side found the going tough up against a Midland side fielding the likes of Lee Aris, Roger Cox and Mark Griffiths but credit must be given to the Suffolk team for a spirited effort up against one of the favourites for the 2010 title.
A total of eleven 7-3 heat wins to Wednesfield put the match way out of reach of Ipswich but Captain Jamie Chittock kept his side motivated and was the pick of the riders with Young, Lewis and Roberts scoring eight points in three outings and Dan Johnson having the ride of the day holding off Lee Aris for three laps in heat eleven making the British Champion work for his points.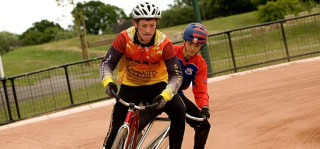 Wednesfield fielded three of their usual second team riders with the pick of the afternoon being Luke Draisey scoring eighteen points and taking three heat wins in the second half of the match.

Wednesfield won't find the going that easy in the semi finals in September which is held at East Park but after last year's defeat to Horspath they will ertainly want to make amends.

Result
WEDNESFIELD 116 POINTS: Roger Cox 19+1, Luke Draisey 18+2, Scott Doherty 16+2, Chris Jewkes 14+1, Lee Aris 14, Matt Turley 12+2, Tony Deleon 12+1, Mark Griffiths 11+2

IPSWICH 64 POINTS: Jamie Chittock 11, Jordan Stant 10, Marcus Szyszlyk 10, Dan Johnson 8, Lewis Roberts 8, Ashley Hill 7, John Mason 6, Will Clarke 4,