Findon hosted the Cycle Speedway World Individual Finals in Adelaide, South Australia.
While Australian rider, Joel Chadwick, took home the top prize, the day also saw Great Britain's Brandon Whetton, Norman Venson and Macie Schmidt claim top prizes in their categories, along with Australia's Jack Norman and Poland's Zaneta Siemianowska.
In the senior men's competition, Great Britain's Myke Grimes and Josh Brooke tied fourth on 13 points, while compatriots Paul Heard and Zac Payne secured heat wins during the fiercely competitive final.
The racing was fast, furious and provided an epic finale to the British team's tour down under.
Junior men
Brandon Whetton put his disappointment from the 2015 Junior World final on his home track at Wednesfield behind him in tremendous fashion to win the 2017 title with 18 points.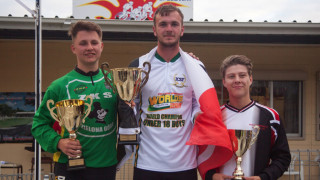 Having won his first three races, Whetton finished second behind compatriot Ed Morton in his third race meaning that he could afford to finish second in his final race in heat 20 to claim the title.
Whetton did just that, finishing behind Leicester and Poland's Damian Pelaczyk, whose victory in heat 20 gave him the runners-up spot.
There was a tie between Jack Norman and Ed Morton for third after both riders finished with 16 points, and it was the Under 16 Boys World Champion, Norman, who won the run-off.
Results
Brandon Whetton 18, Damian Pelaczyk 17, Jack Norman 16, Ed Morton 16, Jakub Kosciecha 15, Ewan Hancox 15, Patryk Katarzynski 13, Maciej Stefanski 12, Will Jeffery 12, Todd Clarke 12, Adam Watson 11, Carl Parfitt 12, Max Evans 12, Fraser Garnett 12, DJ Thompson 8, Szymon Tywczyński 6
Under 16 girls
The Under 16 girls world championship was the first of two new world titles to be decided in Adelaide, and Great Britain's Macie Schmidt became the inaugural champion with a faultless maximum.
Australia's Holly Greenhalgh took the runner-up spot on 18 points, dropping her only points in her first race.
Sheffield's Niamh Morton, Ipswich's Chloe Pearce and Australian rider Delacia Pride all tied on 17 points, necessitating a run-off for third place, which was won by Morton.
Results
Macie Schmidt 20, Holly Greenhalgh 18, Niamh Morton 17, Chloe Pearce 17, Delacia Pride 17, Miriam Thompson 16, Emily Makepeace 14, Bethany Briggs 13, Sophie Mitchell 12, Georgia Ward 11
Veteran
History was made in the veterans final when Great Britain's Norman Venson became the first rider to regain the championship title.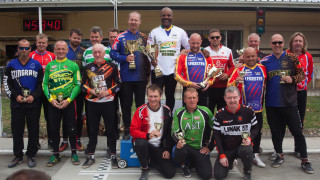 'Storm' dropped his only point to his Leicester team mate and 2015 world veterans champion Craig Marchant in his fourth race, but had to wait for the outcome of heat 19, when Mark Winwood needed a win to force a run-off for the title. Winwood could only manage a 3rd place, which meant that Venson couldn't be caught.
Brad Hoppo finished as runner-up, just as he had in 2011 in the USA. Winwood and Marchant were tied for 3rd place on 17 points; the following run-off was won by Marchant.
Results
Norman Venson 19, Brad Hoppo 18, Craig Marchant 17, Mark Winwood 17, Paul White 16, Martyn Hollebon 14, Steve Harris 12, Mark Whitehead 12, Elliott Jones 12, Steve Mullinder 11, Mick Knowles 10, Eddie Ridley 10, Paddy Wenn 8, Bob Prince 8, Graham Kemp 8, Steve Jenkins 6
Senior men
Australia's Joel Chadwick capped off an impressive performance across the three week long ICSF Cycle Speedway World Championships in Adelaide, South Australia, by becoming world champion after a three way tie at the top with brother Cody Chadwick and 2015 world champion, Bartek Grabowski.
Chadwick, did not get off to the best start in heat two, running a third after an intense battle with Heard, while brother Cody Chadwick took the race win ahead of Brooke.
Grabowski also dropped points early on, registering a third and second in his opening two rides. It was then Cody's turn to drop his three points, coming second to Bas in his second ride and just missing out on another second to Grimes on the line in heat 11.
Meanwhile, Joel Chadwick reeled off three impressive wins to put him in the driving seat ahead of his final race.
Cody Chadwick kept himself in contention with two heat wins to finish on 17, likewise Grabowski took his first two wins from his third and fourth ride, setting up a potential title showdown with Joel in their final race.
If Joel Chadwick won, he would be the champion, but a strong gate by Grabowski kept the ever-pressing Chadwick behind, meaning both riders joined Cody Chadwick on 17 points to force a three-way run off for the title.
Joel Chadwick drew grid one, with Grabowski splitting the two brothers. The title was never in doubt from the first bend, as Joel Chadwick rocketed from the tapes and pulled an unassailable first lap lead to leave Grabowski and Cody fighting for second and third.
A visibly tired Grabowski kept Chadwick behind for three quarters of the race, until the Australian executed a fine pass along the line down the back straight, pushing the former champion wide on the final bend to make it a Chadwick one-two.
Results
Joel Chadwick 17, Cody Chadwick 17, Bartek Grabowski 17, Ross Priest 13, Myke Grimes 13, Marcin Kolata 13, Josh Brooke 13, Paul Heard 12, Lukas Nowacki 12, Zac Payne 12, Dawid Bas 11, Shane Bentley 11, Mateusz Ludwiczak 9, Brandon Whetton 9, Ben Mould 8
Women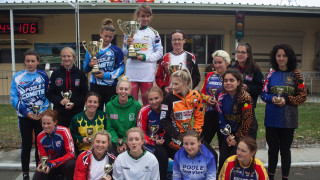 The only Polish rider in the field, Zaneta Siemianowska, became only the second Polish woman to be crowned women's world champion after Anita Wlodarczyk in 1999.
Siemianowska won her first four races meaning she could afford to finish second in her final race to wrap it up, which she did by finishing behind Letitia Collins in heat 19.
That win for Collins put her level on 18 points with her Le Fevre club mate Lucy Millikin, and those two would be joined by Under 16 Girls World Champion, Great Britain's Macie Schmidt, who won heat 20 to set up the 3 way run-off for second and third, which was won by Schmidt ahead of Collins and Millikin.
Results
Zaneta Siemianowska 19, Macie Schmidt 18, Letitia Collins 18, Lucy Millikin 18, Lauren Hookway 16, Holly Greenhalgh 12, Miriam Thompson 12, Lizzie Rigley 12, Laura Watson 12, Krissy Mines 11, Kayleigh Clarke 11, Michelle Whitehead 10, Charlie-Jane Herbert 10, Lauren Jacobs 9, Chloe Pearce 6, Delacia Pride 6
Under-16 boys
The Under 16 boys world championship was the second new title to be decided at the Australian-hosted edition.
All six British riders who entered made the final, with the remaining riders all hailing from Australia.
It was Jack Norman, racing in the first of his three world finals that day, who took the title with a faultless maximum.
The Australian junior test captain, Matty Snowden, took the runner-up spot with 18 points, dropping his points to Thomas Jansen in his first race and to Norman in his third race.
Britain's Fraser Garnett was third, much to the delight of his supporters. Compatriot, Horspath rider Will Jeffery missed out on a podium place when he finished third in his final ride, where a win would have given him second place overall.
Results
Jack Norman 20, Matty Snowden 18, Fraser Garnett 17, Will Jeffery 16, DJ Thompson 15, Devon Campbell 15, Ben Clarke 14, Max Evans 12, Aussie Jones 12, Josh Whetton 11, Jacob Pudney 10, Thomas Jansen 10, Michael Ratcliff 10, Braylan McDonald 8, Cooper Osborne 6, Seth Foster 6