Andy Storey (brother of tandem pilot powerhouse Barney) has got his commuter bike dialled. It's good job, because Andy commutes five days a week in all weathers. Freedom and fitness are his primary movers and beating car drivers is always fun!
---
Name: Andy Storey
Workplace: Prendas Ciclismo
Tell us about your commuting rig:
For the vast majority of the year I ride a Charge Duster SS MTB with semi-slick tyres. I basically got fed up with continually replacing expensive bike parts during the winter, so every year all I need is a new chain ring, chain and rear cog and along with a new set of disc pads front/back and it feels like new again! Saying that, over time I have been gradually replacing the stock parts with gold Hope components. I happen to think the gold goes really well with the frame colour. A new Hope front hub is the next on the list!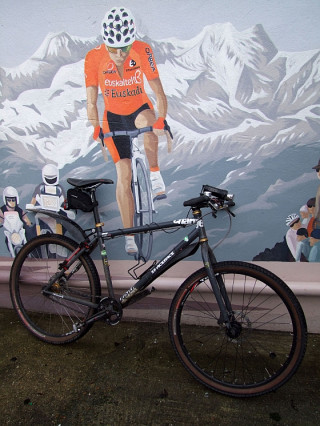 In the drier and nicer weather I favour my Orbea Igorre cyclo-cross bike (Altec frame, with Ultegra components and Mavic Ksyrium SL wheels). It's jus so damn fast in comparison!
What's your commute like?
My commute is a mixture of road, off-road and cycle paths. I live in Creekmoor, Dorset and get to ride past Upton Country House along the way, then ride alongside Poole Harbour until getting to Poole town. Then it's through Poole Park to Baiter when I then take 2-3 different routes into Parkstone. Takes about 30 mins normally, or I put in an extra loop if I know my brother and sister-in-law are coming to visit!
How many days a week do you commute by bike?
I cycle to work five days a week, whatever the weather!
What do you enjoy the most about bike commuting?
The freedom. I quite often beat people from my road into Poole town, which, given the fact the dual carriageway (Holes Bay Road) has a 50mph speed limit, says a lot about the speed you can achieve at 8:30 in the morning!
What's your least favourite thing about commuting by bike?
Riding in the wet. Saying that, one year I noted down on a calendar all the times I got wet on the ride to and from work and it was surprising how few and fair between the days were when I got wet both ways.
What are your main reasons to commute by bike?
I do not have that much time to ride and train these days, so without the ride to work I'd really struggle to get the amount of riding in that I do. Plus – by going down to being a one- car family, it saves a whole heap of money every year.
Have you got any funny or interesting bike commuting stories or experiences to share?
Riding to work in the snow last winter was a blast! The coldest it got was minus 9 degrees C and the bike coped admirably with it. Did not fall off once, although it did add an extra 10-15mins to the journey time!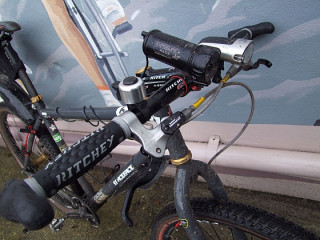 What's your killer commuting tip?
Go for a MTB with semi-slicks or a cyclo-cross bike. With these you can find more bike friendly routes without having to worry about punctures/road surfaces so much. And get some decent lights!
How does your British Cycling membership support your bike commuting?
I have been knocked off twice in the time I have been working at Prendas full time and Leigh Day & Co have helped get bikes and me repaired as part of my Gold membership. It offers piece of mind, although I'd rather not get knocked off in the first place!
---
Send us your Commuter Profile!
We want to know about your commuting experiences; how far you go, why you choose to ride, your killer tips and your commuter grumbles. Download, complete and email back your commuter profile to editor@britishcycling.org.uk and tell your story. Feel free to include a photograph/photographs of you and your trusty commuting bike!
Download Commuter Profile Form (Word Document)
---