---
Merino wool is widely regarded as the ultimate fabric for cycling gear, especially if that cycling gear has to do a shift in the office too. So it's always exciting when a new merino jersey is released onto the market, more so when that jersey is styled to be just as appropriate on the bike as it is in the workplace or the pub.
Cue the Muxu long sleeved merino wool jersey, the latest in a line of exquisite creations from Barcelona based brand Muxu. The Spanish concern produces a range of urban cycling attire, styled to subtly blend in with the cityscape, yet crucially offer cycling-friendly functionality. In short, Normal clothes v.2.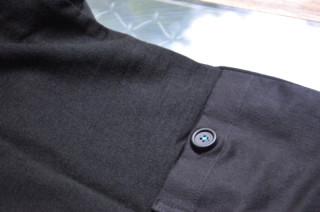 The jersey is constructed from a sumptuous, mid-weight merino wool, knit so it's smooth on the outside and looped on the inside (a little like the classic 'Norgie' army top). Generously cut arms and back means that the fit works when it cycling position, however Muxu haven't gone overboard on the short front, like so many cycling makers do, meaning that the jersey doesn't look weird when off the bike.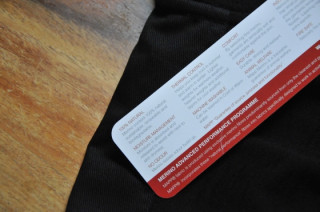 A half-zip front means that you can regulate your temperature easily - all the way down for chilly summer evenings, all the way up for brisk wintry mornings. I received the jersey at the end of summer and it was a wee bit too warm for the climate. However the weight of fabric is ideal for the autumn and winter cycle commuter. The jersey fabric is soft enough to be worn next to the skin, although I've often teamed it with a lightweight merino wool base layer for added warmth and comfort. The cut is best described as generous if you're used to cycling attire, or normal if you're not. I generally wear large or extra large tops at the XL is roomy enough to not scream 'cyclist' when you're off the bike but not at all flappy when aboard.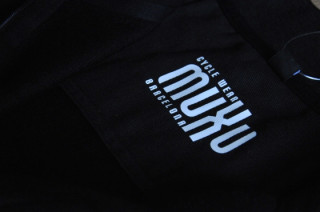 Other neat features include robust cotton canvas shoulder reinforcements, to help prevent abrasion from bag straps (and also add a dash of detail). Likewise the single, right hand sided buttoned rear pocket is ideal for the wallet, mobile and other daily portage. It also looks pretty cool too, in a retro sort of way.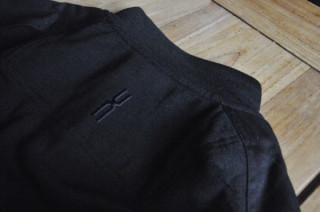 Being merino, the jersey can cope with vigorous, multi-day usage without getting smelly, unlike synthetics. It washes in a cool machine wash with ordinary powder and dries on the line, so there are no elaborate washing rituals to attend to. After repeated washes there's no sign of pilling, fading or shrinkage - it looks as good as it did when I removed it from the packaging.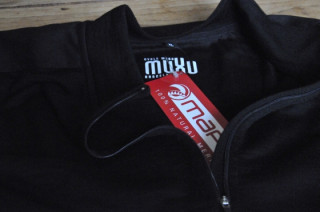 The Muxu jersey is available in a range of colours that only Henry Ford would approve of (that's just black for those who think history is 'bunk'). This is no bad thing. Whilst not the most hi viz of colours, it means that everyday commuting grime won't show up. It also means that the jersey will blend with anything in your wardrobe.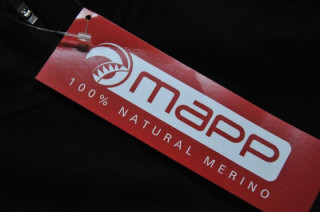 And this leads me to the most telling point of all. Since getting my mitts on the jersey a few months back, it's hardly been off my back. I've worn it just as much on cycling as non-cycling days. I've worn it in the workplace and no-one has batted an eyelid. I've worn it in the pub and blended in without a trace. I've also worn it on daily commutes and longer, more challenging rides and it's worked admirably.
Now, at £115 this is not a cheap garment and one could get a number of synthetic cycling mid layers for the same price. However, the Muxu jersey is so versatile, durable and everyday cycling compliant that one could argue that it does the job of a whole heap of jerseys. If you're in the market for something like the Muxu, similar jerseys are available through a number of cycling and non-cycling specific outlets. The most obvious competitor is Rapha's similarly appointed and priced Long Sleeve City Ride Jersey. Red Ram also produce a mid weight, zip fronted merino jersey, which, although not cycling specific nor as sumptuosly thick or well appointed, is generously cut in the arms and body and retails for around half the price of the Muxu offering. Howies and Embers Merino also produce merino mid layers aimed at the commuter market.
Website: Muxu