An urban cycling photo document from Hugo Gladstone.
---
Everywhere you turn in Cambridge there are people on bikes. According to the local council, the city has the highest level of cycling in the country. This is perhaps no surprise. The city is after all naturally suited for getting around by bike.
It is no exaggeration to describe Cambridge as being as flat as the proverbial pancake. The most significant inclines are railway bridges and crossings of the Cam. Only once you leave the city limits will you find anything that can be called a hill - even by East Anglia's modest standards.
Cambridge's famous university is of course another factor in the popularity of cycling here. Colleges can be dotted anywhere within a three kilometre radius of the city centre. Forget the stereotype of students being hard up and thus not able to afford cars. The simple truth is that bikes are the quickest, easiest and most straight forward way to get between lectures, the library and the rowing club.
But it's far from just the students who cycle in Cambridge. So do the school kids, the pensioners and the layabouts. As for all the workers in the city: apparently one in four commutes by bike. You see them amble by in their business suits, their builder's overalls and their nurse's uniforms.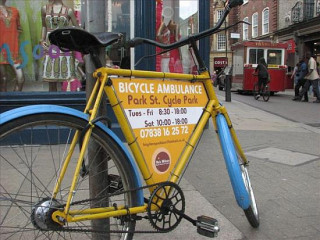 On a balmy evening, it's not unusual to see ladies pedalling out in summery frocks; gents riding down the street in bow ties. Racquets in hands, folks ride out to the sports centre. Beer in belly, they wobble back from the pub.
Cycling in Cambridge is not necessarily an activity in itself. In fact it's very much an aspect of everyday life.
Links
Cambridge City Council cycling pages
Resources