Daily Commuting Tip
Why the touring bike is the best commuting bike
Posted: 3rd November 2009 | Eddie Allen
More: Daily Commuting Tips Archive

Above: Dawes Galaxy - the archetypal British touring bike - www.dawescycles.com

Touring bikes have fallen out of fashion in the past few years. In fact, scratch that. Touring bikes have never been in fashion. But that's beside the point. The touring bike, designed for long haul, unsupported holidaying, camping, and weekend breaks, is the best commuting bike you can buy, and also the best all-rounder. Here's why:
Low key - Touring bikes tend to drop under the radar of bike thieves. They're generally pretty plain looking, with skinny steel tubes, low key graphics, mudguards and racks. Enough to put off any self respecting thief.
Load Carrying - Tourers are designed to carry heavy loads really well. For starters, they've got strong (generally steel) frames. They've got attachment points for racks front and rear. They've got a long wheelbase and relaxed geometry making for a stable ride. All of these features are essential for touring and pretty damn good for commuting and general use too.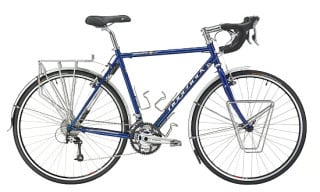 Above: Ridgeback's Panorama, a serious Galaxy rival - www.ridgeback.co.uk

Strong braking - Most touring bikes have cantilever or V brakes, both of which mean powerful, reliable braking.
Tyre capacity - Touring bikes have capacity for wide tyres (usually up to around 38mm) - essential for a bike carrying heavy touring loads and again really useful for negotiating potholed city streets with a pannier full of commuting gear.
Low gears - Most touring bikes have a really low bottom gear (akin to that of an MTB). The low gear that can winch you and 40lbs of gear up an alpine pass is also really useful for hauling you and two panniers full of groceries up a steep cobbled high street.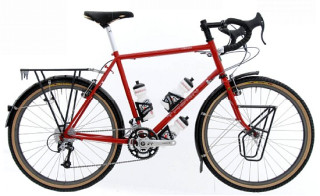 Above: Thorn Cycles' Sherpa - using 26inch wheels - www.thorncycles.co.uk

Drop bars - They're not just for racing. Most UK touring bikes come with drop handlebars, which give you plenty of different positions and are narrow enough to allow you to squeeze through narrow gaps in traffic.
Commuting aside...
The real killer punch of the touring bike is what you can do with it on your days off. Obviously, you can go touring on it - weekend breaks, weeklong tours, six month disappearing acts, you name it.
But stripped of the panniers a quality touring bike is a superb comfortable all day road bike. It might give away a few pounds to a road bike but it will pay you back tenfold in comfort, durability and the ability to handle rough roads.
Your touring bike can also handle mild offroading and even some casual cyclo cross. Touring bikes are built tough and can take cyclo cross tyres if you fancy dabbling in the sport. The Roughstuff Fellowship is a wonderful organisation that's all about seeking out the UK's wild places on touring bikes (MTBs are welcome too).
So if you're getting serious about your cycling but can only handle one bike, make it a tourer - you won't be disappointed. Get a good quality one with a steel frame and look after it - it might be the last bike you'll ever have to buy.