Review: Pacific Outdoor Co-op Pannier
RRP: £75.99
Source: www.pacoutdoor.com
For the past week I've been using the 'Co-op' shopping pannier from Montana based outdoor equipment makers Pacific Outdoor.
Above: All this fits easily into the shopping pannier
From their background in making drybags, sleepmats and other items of outdoor gear, Pacific Outdoor have only recently branched out it cycle luggage, making a range of bags for tourists and everyday riders.
The Co-op is a 30 litre, open topped pannier in a fetching two tone chocolate and caramel colour, made from welded waterproof nylon, featuring tried and tested Rixen and Kaul fittings. The bag is also available in Black, Apple and 'Raft Blue'…

The basic idea of the shopping pannier is a rigid, single pannier with no lid, which is easy to load and you can carry into the supermarket in your trolley, fill with shopping (Top tip – drop your shopping into your bags so you know how much you can carry), pay and go.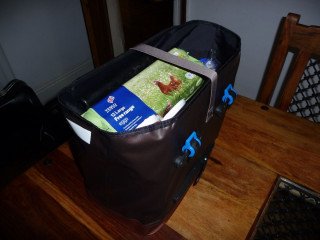 Above: The Co-op ready to unload after a supermarket trip
The open top design is great and features a simple webbing strap closure, so you can cinch the top closed. Sure if it rains, your stuff will get wet, but for short shopping trips this isn't as much of an issue as you think. The open top design also means that you can load other bags into it. You can use it to carry large items that are much taller than the bag itself and its boxy shape means that your groceries behave themselves once you load up. In the past I've used a standard 'touring panner' and delicate items like salad, eggs, etc have been crushed on the way home.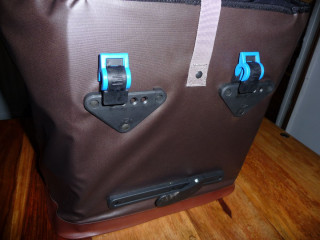 Above: Quality Rixen and Kaul fitting system

The pannier should be just as useful on the daily commute too – the ability to drop your rucksack or laptop bag into it makes it ultra convenient. You could add a drybag from an outdoor shop if you're worried about your stuff getting soaked in a downpour. In this respect, the Co-op has the same kind of 'stop-go' usability of a basket, without the basket aesthetic, which isn't everyone's thing.
So the price… I must admit that I choked at the £75 price tag at first, but this bag is beautifully made with a first class fitting system. The styling and colour scheme will go with any tasteful utility bike, teaming perfectly with a honey or brown Brooks saddle.
The one issue that you'd need to be careful with is heel clearance. This is a big pannier, so if you've got big feet, a bike with short chainstays, a rack which doesn't allow you to position panniers far back, you might get heel strike problems. For instance, I couldn't run the pannier on my Dahon D7 without my size 11 shoes hitting. However, on my 700c wheeled bike, with longer chainstays and an SL Tournee rack (which has specially low and rearset pannier mounts), there's plenty of clearance.
IN SUMMARY: Pricey but beautifully appointed shopping pannier that'll do a whole lot more than shopping.