---
British Cycling partner city Bath in Somerset is home to the very first Sustrans traffic-free path and has long been a cycling stronghold.
Bath's compact city centre and narrow busy streets give the bike the edge of the car every time. And for those commuting into the city from the surrounding areas, the city is served by great off road cycle paths which take advantage of the area's watercourses and former railway lines.
Cycle Route Provision
The main route running approximately west to east through the city is National Cycle Network (NCN) Route 4. To the west of the city, this is more colloquially known as the Bristol-Bath Railway Path, which was the very first of civil engineering charity Sustrans' cycling and walking route projects. This 13 mile traffic free path links historic Bath with its larger neighbour Bristol. Entering the city, NCN4 quits the former railway bed and joins the banks of the River Avon briefly before cutting through the centre of town. To the east of the city, NCN4 is the Kennet and Avon Canal towpath, which it follows all the way to Reading!
In the city centre itself there is a network of signposted advisory routes which are highlighted in yellow on Better By Bike's Bath Cycling Map. Better By Bike is a joint project to promote cycling of all kinds, supported by Bath & North East Somerset, Bristol, North Somerset and South Gloucestershire Councils.
Cycle Parking
Better By Bike's Bath City Centre Map shows over 20 on-street cycle parking locations in convenient locations throughout the cultural centre.
Cycle Hire
Bath By Cycle and Bath Bike Hire are both located in Bathwick Hill and both offer cycle hire. Go here for more details.
Cycle Shops
Given Bath's reputation as both an urban and rural cycling stronghold it comes as no surprise that the city has more than its fair share of bike shops. John's Bikes is on Walcot Street while Green Park Bike Station is located, as its name suggests at the city's splendid Victorian Green Park Railway Station (now a market hall) and offers bike hire, servicing, repairs and sales. Use our online shop finder to locate more shops in the Bath area.
Cycling and Public Transport
Bath Spa railway station has partially sheltered bike parking on the ground floor and platforms 1 and 2. The area's primary rail operator First Great Western allows bicycles on the train free of charge, subject to availability of spaces. If you are travelling with a different operator you are advised to check out the individual rail operator's cycle policy here.
Commuting and Beyond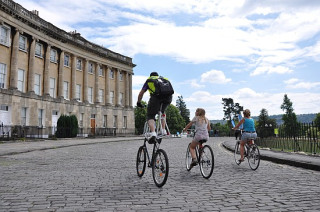 Bath is a British Cycling partner city, and has been host to an annual Sky Ride mass participation event since the programme's inception in 2009, seeing thousands of cyclists of all kinds hitting the streets on a closed roads and parkland paths. Sky Ride Local also operates in the area, with rides suiting a wide range of riders, from beginner to 'really quite good', all led by British Cycling qualified Ride Leaders.
The Bristol/Bath Cycle Path is a great leisure and fitness route in its own right, as is the picturesque waterside route on the Kennet and Avon Canal. Better By Bike's website has a comprehensive array of recreational routes to choose from in the splendid North East Somerset countryside surrounding Bath.
If it's cycle sport you're interested in, Bath and North East Somerset Council has recently begun work on a 1.5km closed road circuit at Odd Down Playing Fields, thanks to a £600,000 grant from British Cycling, which will become a safe, sustainable venue for road racing for riders of all ages. Find out more about the project here.
Don't leave home without...
...consulting the excellent Better By Bike resource, with information on routes, events and other pro-cycling initiatives in the South West. They have a specific commuting section, with advice for employees and employers, including help with work-based travel plans. More.
Links
Sustrans - Bristol and Bath Railway Path