---
Leicester is one of British Cycling's key partner towns and has been part of the Sky-Ride programme from the start – just one aspect of the work that Leicester City Council is doing to encourage cycling in the city and beyond.
Working under the banner of Ride Leicester, the city has a growing portfolio of cycle routes, cycle hire, events, mapping and more, firmly establishing the city on the cycling map.
Cycle Route Provision
National Cycle Routes 6 and 63 both pass through the centre of Leicester – NCN6 running into the city through the green, watery corridor of the River Soar, joining with Route 48 at Birstall. Route 63 runs through the city on minor roads, on its long distance journey from Burton-on-Trent to Wisbech.
Within the city there is a comprehensive network of on road advisory routes and off-road traffic-free paths, the latter often exploiting Leicester extensive green space, including Abbey Park, Western Park and Watermead Country Park.
Leicester is amongst a few progressive councils pioneering Dutch-style shared-use pedestrianised areas within the city centre.
Leicester City Council's range of cycle maps shows these routes and other cycling facilities in detail.
Cycle Parking
'Bike Park' at Leicester Town Hall is the central hub of the cities bike commuters, featuring secure parking, showers, changing facilities, lockers, repairs, information and cycle hire. Click here for more details. Further cycle parking around Leicester is identified on the City Council's cycling maps.
Cycling and Trains
There is covered cycle storage in the short stay car park at Leicester's railway station. If you intend to take your bike on the train, please be aware that cycle policies differ considerably between train providers. To find out the individual policy of the train company that you intend to use please go here.
Other Facilities
Cycleworks is at Leicester Adult Education Centre on Wellington Street and is a cycle maintenance facility set up by Ride Leicester offering full cycle workshop facilities available for the use of local groups. For more details go here.
Cycle Shops
Check out our Bike Shop Finder for Leicester bike shops here.
Beyond Commuting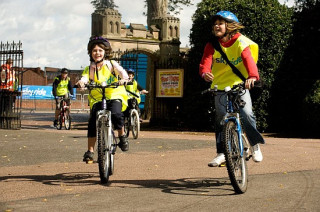 Leicester has been part of the Sky Ride programme from year one, with a massive city ride every summer and year round Sky Ride Local and Breeze rides, led by qualified ride leaders.
Campaigning
The City Cycle Forum meets on the third Wednesday every month while there's a Critical Mass ride at 6pm on the last Friday of every month. For more details check out Leicester City Council's cycling events calendar.
Don't leave home without...
... a copy of Leicester's cycling maps, which detail routes and other facilities throughout Leicester and the surrounding area.
Essential Links
Ride Leicester – Leicester City Council's cycling pages