Repeating their victories from 12 months ago, Manon Carpenter and Gee Atherton took wins at the opening round of the British Cycling MTB Downhill Series in the Ae Forest in Scotland.
Atherton (Trek Factory Racing) edged to victory in the Elite Men's category by around a third of a second from rival Innes Graham (Propain-Dirt-Zelvy), while Matthew Simmonds (Madison Saracen Factory Team) completed that podium in third spot, two seconds back despite having been fastest on seeding.
Atherton showed his class, having been a second down on the split, but came back stronger in the lower sections of the course to take the win.
Last year's winner of the British Cycling MTB Downhill Series, Manon Carpenter (Madison Saracen Factory Team) took a slightly more convincing win, finishing 6.7 seconds ahead of Tahnee Seagrave (Transition Factory Racing) in second, while Katy Curd (Rose Vaujany) was another 1.3 seconds back in third.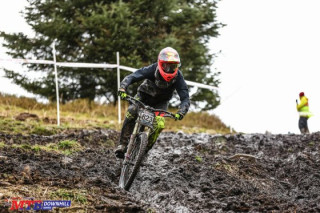 With Rachel Atherton out with flu the event looked likely to be a three-horse race, and so it proved. Curd beat Tahnee at Ae Forest 12 months ago, so the pressure was on. All three hit the pro lines, except for the stump gap with Curd looking strong on the big jumps.
Tahnee put in a solid run to beat Katy, but it just wasn't enough to beat Manon, who took a clean win.
In other categories, Eleanor Maxfield (Static Clothing) won the Women's category by 1.9 seconds from Megan Whyte (Creation Cycles), while in the junior women's class Cairn Bell (Ruts) won by 3.1 seconds from Rona Strivens (Highland Bikes RT).
James Hurst (One Vision Global Racing) was less than a second ahead of rival Calum McGee (Decade Europe) as he won the Expert Men category.
Thomas Auger (AJ Eng) was victorious in the Senior Men's race by a similar margin, with Jake Martin second and Ryan Middleton a close third. And Dave Wardell (Twin Seal) comfortably won the Masters Men.
Fastest in the junior men's category was Charlie Hatton (Wideopen Mag) from Elliott Heap (Chain Reaction Cycles), while James Elliott (Descend Hamsterley) was top in the juvenile men's race and Henry Kerr (Sick Skills) was best youth men.
Andrew Titley (Intense-Bad Ass Bikes) was 3.4 seconds ahead of his nearest rival in the Veteran Men's category, while Alastair Maclennan (Nukeproof-MTB Ride Guide) was 14 seconds faster than anyone else in the Grand Veteran Men's category.
Racing stays in Scotland for the second round of the British Cycling MTB Downhill Series next month, with Fort William playing host on May 14-15.
Results