The National Downhill Series returned to Fort William's legendary downhill track this weekend, with more junior wins for Phoebe Gale and Jordan Williams, and a brilliant display of strength in the elite races from Germany's Nina Hoffmann and Danny Hart.
Fort William has the longest track in the series, covering brutal rock gardens down the Ben Nevis mountainside, with the elite men finishing in a time close to 4:30. With the World Cup in town in two weeks' time, there was a strong turnout of elite riders from both home and abroad competing for the victory on the old track.
The Scottish sunshine brought about challenging conditions, with the track surface becoming very loose throughout the weekend. Riders suffered plenty of punctures, while some people lost an entire wheel to the many rock gardens down the track.
First out of the gate were the juvenile 13-14 boys, which saw Stan Nesbitt take the win 12 seconds ahead of Nathan Dafoe, and Max Lewis following up in third. In the 15-16 men, George Madly took the top step on the podium, joined by Morgan Williams in second and Will Haines in third.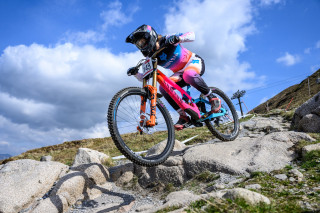 The women's 13-16 category saw Heather Wilson put in a dominant performance, crossing the finish line 15 seconds ahead of Jessica Winpat, while Darcy Turner took third.
Jordan Williams took his second junior win of the series, finishing one second ahead of world champion Jackson Goldstone of Canada, while William Brodie took third in a stacked race full of World Cup-level riders.
Phoebe Gale also made it two wins out of two in the National Series with another strong performance in the junior women's race. The Canyon rider showed off her class alongside Aimi Kenyon for the first and second placings, with Bethany Mccully taking third.
The elite women's field comprised a mix of UK riders and World Cup professionals, with Santa Cruz Syndicates rider Nina Hoffmann from Germany topping the podium ahead of Valentina Holl and Veronica Widmann in third – providing fans with a glimpse of just how exciting the World Cup round will be in two weeks' time. Britain's Mikayla Parton took an impressive fourth place.
The men's race also showed off plenty of big names and put on a true masterclass of downhill racing. In the end Danny Hart posted the fastest time of the day by just over half a second ahead of Laurie Greenland, while Matt Walker took the third step on the podium to cap off a brilliant weekend of racing.