After a three year break, the National Downhill Series returns to Rheola in Wales. The Welsh track is a firm favourite with riders thanks to its blend of technical features and flat-out speed. However, this track is not one for the faint-hearted and Saturday morning's practice session began slightly damp, creating a slick track through parts of the rock garden.
With a practice day littered with red flags, the slick conditions didn't seem to bother some, with Stacey Fisher the elite women's race winner saying: "I felt really comfortable in the morning despite the challenging track conditions."
A different track greeted the riders for the rest of the weekend with sunshine on race day. The track began to dry out, although the lower section stayed slightly damp still. The elite riders and those fortunate enough to have spare sets of wheels then had a hard decision to make - whether to run a fast-rolling tyre for the upper section or something with a bit more bite for the middle and lower areas that were still slightly damp. Before the race started, the morning practice session was again littered with red flags, with riders and their bikes succumbing to this brutal Welsh track.
First out of the gate in the morning were the junior riders, and an amazing amount of riders under 18 were racing. The fastest junior of the day for the men was Jordan Williams, with a fantastic time that would've seen him fifth overall, closely followed by Dom Platt also in the male junior field, who would've finished ninth overall.
The women's junior field top step was taken by Phoebe Gale, who was also the fastest woman on the hill this weekend, with Ami Kenyton behind her in second place. With a time that saw Ami third fastest woman overall for the weekend, it's safe to say that the future is bright for British Downhill racing. With these young riders also racing at the World Cup and returning podiums, it's great to see them also out at the National Series.
In the elite races, Stacey Fisher headed up to the elite women's race ahead of Natasha Bradley. Fisher put in a dominant time six seconds ahead of her closest rival, with Anna Craig rounding out the top three for the elite women.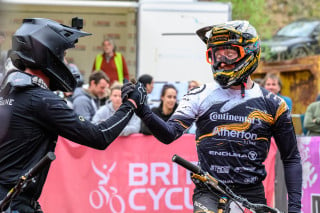 The elite men's race was a packed field with over ten elite World Cup racers racing this weekend. Seeing some really tight racing, the difference between first and third was less than half a second, but this race proved that Charlie Hatton really is the master of the Rheola track, backing up his win at the regional race just two weeks before. Hatton took the win ahead of Christopher Philogene by just one 10th of a second, with Matt Walker, the British champion, just over half a second behind Hatton in third.
It's fantastic to see these elite riders racing back in the National Downhill Series, with the next round being at Fort William. We are bound to see more of these top riders battling it out for the podium's top step.

Race Photos