British Cycling can today announce the dates and venues for the 2022 national mountain bike championships and series, with national champions' jerseys to be awarded for cross-country in Glentress, downhill in Glencoe and marathon in Kielder Forest.
Cross-country
Kicking off in April at Parkwood Outdoor Centre in Tong, the cross-country series will then head north to Newcastleton and Drumlanrig Castle for rounds two and three, and Cannock Chase makes a welcome return to the schedule for round four.
The series concludes at Woody's Bike Park in Fowey, which successfully hosted its debut national series event in 2021, and we are pleased to announce that next year's event has been awarded UCI C1 classification.
A favourite of the Scottish MTB scene, Glentress will host the 2022 national championships, having last hosted a round of the national series in 2019.
In the 2022 series Jane Barr and Ben Wadey will be defending their titles, while Isla Short and Frazer Clacherty will be hoping to hold on to the national champions' jerseys they collected this summer at Plymouth's Newnham Park.
Downhill
Also confirmed today are the dates and venues for the National Downhill Series. The series is to be delivered by five separate organisers, beginning in Rheola in April. Round two will be a UCI C1 in Fort William, followed by a UCI C2 event in Llangollen for round three.
The series ends with rounds in Caersws and at Revolution Bike Park, which hosted the national championships in 2019.
The 2022 national championships will make a welcome return to Glencoe, which last hosted the showpiece event in 2018, and means that both the downhill and cross-country national championships will be held in Scotland across the same weekend from 23-24 July.
A close-fought 2021 downhill series ended in victories for Roger Novack Vieira and Stacey Fisher, while Matt Walker and Katherine Sharp were victorious in the national championships at Rhyd-y-Felin in July.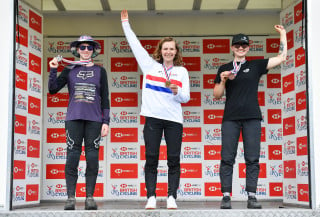 Marathon
In a landmark moment for the discipline, 2022 will see the first-ever national series for mountain bike marathon. The series will feature one round per month from July through to September, beginning in Pippingford, while the third round in Kielder Forest will double up as the National Marathon Championships. Jacob Scott and Isla Short will return as defending champions
British Cycling's Cycling Delivery Director, Dani Every, said:
"We're delighted to be able to confirm such a strong calendar of events for 2022, offering riders and fans in England, Scotland and Wales the opportunity to watch and compete against some of the world's best.
"I'm particularly pleased that we will have three series events on the UCI calendar and look forward to delivering our first national series for mountain bike marathon, once again highlighting our commitment to innovating, developing and growing all of our disciplines, as set out in our long-term plans earlier this year.
"Huge thanks go to the organisers, commissaires and officials who are putting on these events and we hope that they will showcase the very best of mountain biking and inspire a new generation of riders."
Full calendars
National Cross-country Series
Round 1: 9 - 10 April, Tong
Round 2: 16 – 17 April, Newcastleton
Round 3: 7 – 8 May, Drumlanrig Castle
Round 4: 28 – 29 May, Cannock Chase
Round 5: 25 – 26 June, Woody's Bike Park (UCI C1)
National Cross-country Championships
Kirroughtree, Scotland: 23 – 24 July
National Downhill Series
Round 1: Rheola, 16 – 17 April (event organiser – Malc Dunn, Gravity Events)
Round 2: Fort William, 7 – 8 May (UCI C1) (event organiser – Colin Houston, SDA)
Round 3: Llangollen, 28 – 29 May (UCI C2) (event organiser – Si Paton, BDS Events / Malverns Classic Team)
Round 4: Caersws, 13 – 14 August (event organiser – Malc Dunn, Gravity Events)
Round 5: Revolution Bike Park, 17 – 18 September (Mike Marsden, Borderline Events)
National Downhill Championships
Glencoe, Scotland, 23 – 24 July
Event organiser: Scottish Downhill Association (SDA)
National Marathon Series
Round 1: 2 – 3 July, Pippingford
Round 2: 31 July, Isle of Man
Round 3: 13 August, Kielder Forest
National Marathon Championships
Kielder Forest, 13 August
.