Joe Smith and Sarah Crellin kept their calm in slippery conditions to take the men's and women's victories in Round Four of the HSBC UK | National Downhill Series.
The latest round of the series saw riders take on the wooded course of Hopton Castle nestled in the Shropshire countryside.
Spells of heavy rain between the seeding runs and the race runs kept the ground moist as the riders had to make a decision on whether to run wet or dry tyres.
The courses started with a flat rutted section to test the rider's strength and technical ability before the wooded descent started down to the finish arena.
Smith prevails in tight battle
Number one plate Adam Brayton (Hope Factory Racing) proved he had the skills during the seeded run setting the fastest time on the dry course in 2:09.538.
However, he was just 0.988 of a second faster than Smith, in what was set to be a battle during the race run.
It was Smith who kept his calm and was over 0.7 of a second ahead after the first split over his rival and from then increased his gap into a winning margin of 2.242 seconds by the finish.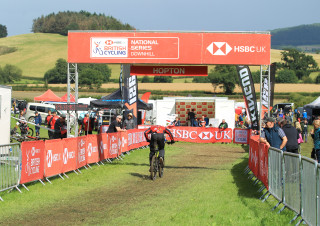 Despite finishing 12th in the seeding run, Joe Breeden (Intense Racing UK) improved his time by over six seconds to take third place.
"It feels great and it was a last minute decision to come and race here, it just felt like there weren't many races left this year," said Smith.
"It's a relatively local race so I wanted to give it a go and I'm really happy I came now. There wasn't many people who liked the opening section and yesterday I was really struggling, as everybody was.
"You couldn't attack too much but had to be really precise and smooth. My seeding run was a bit messy and I thought if I could clean it up and pedal through there I would do well.
"I did pretty much that and just got all my lines dialled and pedalled where I could, it was good."
Crellin enjoys first series win
Crellin took her first win of the women's downhill series in a dramatic finish which saw her beat Meg Whyte by just 0.633 of a second.
It was Sarah Gamsjager who used her speed to set the fastest seeded run with Whyte second and Crellin 2.765 seconds behind.
However, a rain shower shortly before the race run start changed the conditions and played to the strengths of Crellin.
In a tight battle for the victory, Crellin was just 0.110 of a second faster at the first split which grew slightly at the second split and was enough for victory.
Whyte had to settle for second while last rider away Gamsjager took third.
"I'm shocked because of who I was up against but I'm really happy with it," said Crellin.
"It was wild after the shower and really rutty at the top which was quite a hard section which I had struggled with all weekend. The middle section because of the downpour was greasy.
"But I managed to stay on my bike so it was good fun. The surface got a bit loose and I was on the boarder of being out of control but yes it was really good."
Dan's the man in junior race
Dan Slack was fastest on the seeded run and in the race to clinch his first ever HSBC UK | National Downhill Series men's junior race victory.
Slack set an emphatic time of 2:13.061 on his seeded run, over three seconds faster than his rivals.
National Series Round One winner Luke Williamson (Propain Factory Racing) was Slack's closest challenger and narrowed the gap to a 2.219 seconds deficit on the race run to take second with Morgan Tyrrell (Intense Racing UK) in third.
"It was wet and slippery, but was still quick," said Slack. "I knew Luke would go quicker but I had to do another run. The top section of the course was really good and new.
"Nobody has ever done it before and there were loads of different lines as well. It's my first National win which feels weird, it feels good though and hopefully more to come."
Gale force Phoebe tops podium
Phoebe Gale took her second win of this year's HSBC UK | National Downhill Series after a dominant display in the junior women's category.
Gale was 2.54 seconds of her nearest rival in the seeded run before stretching that to win by over six seconds in the race clocking 2:49.518.
She beat series rival Tea Jansen into second while Karra Laing finished third and said: "It was good, the rain made it a bit more slippery but I enjoyed it and it was an alright track.
"I like the fast bits in the middle of the course and the jumps were quite cool as well. It was quite a good result for me so I'm looking forward to the next one."
The final series round takes place at Ae Forest on September 21 and 22.
Round Four Results
Elite men
1. Joe Smith 2:08.581
2. Adam Brayton (Hope Factory Racing) 2:10.823
3. Joe Breeden (Intense Racing UK) 2:11.053
Elite women
1. Sarah Crellin 2:44.334
2. Meg Whyte 2:44.967
3. Sarah Gamsjager 2:45.365
Junior men
1. Dan Slack 2:11.604
2. Luke Williamson (Propain Factory Racing) 2:13.823
3. Morgan Tyrrell (Intense Racing UK) 2:19.530
Junior women
1. Phoebe Gale 2:49.518
2. Tea Jansen 2:55.581
3. Karra Laing 2:58.737
Gallery