British Cycling is pleased to confirm the dates for the 2017 British Cycling MTB Downhill Series.
The 2017 series will comprise six rounds and will be co-ordinated by British Cycling in partnership with British Downhill Series.
Won by Manon Carpenter and Matthew Simmonds in 2016, the series begins at Nant Gwrtheyrn on the North Wales coastline, on 1-2 April with the venue featuring a brand new course.
The second round then heads to Fort William in Scotland in May and will be a UCI C1 event. With the UCI MTB Downhill World Cup taking place at the same venue three weeks later the best British downhill riders in the country are expected to attend in preparation for the world cup.
From there the series moves to Rhyd-Y-Felin in June, before heading to Moelfre at the end of July, an event which will also host the British Cycling MTB Four Cross National Championships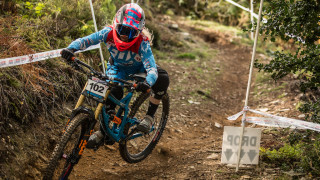 The fifth round dips back into Wales for the penultimate event in Llangollen with competitors tackling one of the most technical downhill courses in the UK.
The series winner will be crowned at the final race of the season in the middle weekend of September in Hopton, Shropshire.
Si Paton, Event Director, said: "On behalf of the British Downhill Series Team we are both delighted and honoured to be entrusted with delivering British Cycling MTB Downhill Series.
"British downhill racing is at a pivotal moment and with the vision and support of British Cycling we can now embark on the implementation of our strategic goals for the 2017 and 2018 seasons.
"I would like to highlight the work done by the British Downhill Series team that will deliver this vision. Their commitment, hard work and unwavering attention to detail allows us to safely deliver these fantastic events come rain or shine."
2017 British Cycling MTB Downhill Series dates
1-2 April
Round 1: Nant Gwrtheyrn, Wales
13-14 May
Round 2: Fort William, Scotland (UCI C1)
17-18 June
Round 3: Rhyd-Y-Felin, Wales
29-30 July
Round 4: Moelfre, Wales
19-20 August
Round 5: Llangollen, Wales
16-17 September
Round 6: Hopton, England