Epic conditions greeted riders in Crawley on Saturday as 10 new national champions were crowned on the first day of the National Cyclo-cross Championships.
Heavy rain and deep mud caked the riders throughout in a brilliant day of racing, with every winner more than earning their national stripes as they battled to overcome the course as much as their rivals.
Men's Veterans 50-59
The first competitors to face the challenges of the day were the veteran men.
A relatively fresh course meant the riders had the pick of the racing lines, and Darren Atkins (Team Jewson-M.I.Racing), Nicholas Craig (SCOTT Racing), and Mike Simpson (Beeline Bicycles RT) were the first to take advantage of that fact.
The first lap saw the trio come through the line together, but Nicholas Craig played the conditions to his advantage.
The next time the crowds saw them, Craig had a 15-second advantage over Atkins and Simpson was five seconds further back.
From that point on, Craig's lead was never in doubt. He pushed on alone, stretching his lead to 45 seconds by the time he crossed the finish line.
Darren Atkins finished strongly in second, a further 30 seconds ahead of third-placed Mike Simpson.
Men's Veterans 60+
The dominant force of this year's National Trophy Series has been Robin Delve (Mid Devon CC), but right from the start, he was under pressure.
Michael Davies (Pedal Power Loughborough) has battled with Delve all season, and it looked like he had the upper hand in the mud and technical sections, building a 20-second lead over the first two laps.
However, coming through a steep descent on lap three, disaster struck - Davies lost control and ended up on the floor. He quickly regained his feet, but his lead had been lost.
Delve seized the opportunity to make up lost ground. Rejoining Davies, he pushed on and the two riders battled it out over the remaining laps until a dramatic sprint for the line, where Delve powered away to take the win.
Behind the leading duo, Peter Harris (Pearce Cycles RT) rode to a solid third place, with 30 seconds in hand over the next rider.
Men's Veterans 40-49
Adrian Lansley, the reigning age group World Champion, added another jersey to his collection with a fine victory in the men's veterans 40-49 race.
Paul Oldham (Hope Factory Racing) came into the race as a favourite, having won every head-to-head between himself and Lansley in this year's National Trophy, but that wouldn't be the case this time.
Lansley started fast and only got faster. His closest competitor was Lewis Craven (Wheelbase CabTech Castelli), and the pair spent the early stages trading blows. However, at the halfway point, Lansley had the upper hand by a handful of seconds.
By the finish line, Lansley was alone with a 20-second advantage and he had plenty of time to celebrate the win, congratulating Craven and Oldham as they crossed the finish in second and third respectively.
Women's Veterans 50-59, 60+
Catriona Ross (Bridport CC) took the women's veterans 50-59 national champion's jersey after a close-fought race with Isla Rowntree (Islabikes) and Helen Pattinson (Montezuma's Race Team).
The three riders came through lap one together, and separating them looked like it would be a difficult task.
Before they could settle into a rhythm, Rowntree put in a big effort to break the small group apart. Pattinson and Ross were distanced, and for a moment it looked like Rowntree would take the lead.
But Ross had other plans. A huge surge saw her overtake Rowntree and put daylight between herself and her two companions, holding a slim lead all the way to the line. Rowntree took second, 35 seconds ahead of Helen Pattinson.
In the women's veterans 60+ category Nicola Davies (www.cyclocrossrider.com) took hom the national champion's jersey, ahead of Lydia Gould (Velo Club Venta) in second place.
Women's Veterans 40-49
Ceris Styler reproduced her fine form from the National Trophy series to take the champion's jersey in Crawley
She beat Kate Eedy (Team Empella Cyclo-Cross.com) and Lucy Siddle (Reifen Racing) by more than 90 seconds.
Styler led from the first lap, quickly building up an unassailable lead. Behind her, Siddle and Eedy tried to chase in vain. Before halfway, their alliance had crumbled and Eedy broke away from Siddle.
Little could be done to stop the imperious Styler, and she crossed the line with one arm raised, with plenty of time to take in the victory.
Men's Under-16
Sebastian Grindley (Garden Shed UK-SCOTT) continued his run of good form to take the under-16 crown.
He started fastest after earning a good grid placement throughout the year, and he used that to his full advantage. Grindley set the fastest lap time every time passed the finish and his victory was never in doubt.
Behind, Nathaniel Henderson (Hetton Hawks Cycling Club) and Alfie Amey (DB Racing) were chasing hard, but the pace proved too much for Amey. Just before halfway, the elastic snapped and Amey was dropped.
Grindley crossed the line with no one else in sight, but Henderson would have to push all the way to the line, eventually finishing 15 seconds ahead of Amey.
Mackenzie Riley (Shibden CC) was awarded the trophy for first placed under-15.
Men's Under-14
Leon Atkins (Welwyn Wheelers CC) came into the race as favourite, having dominated the recent National Trophy rounds, and he proved unstoppable here.
A perfect performance saw Atkins put more than two minutes into second-placed Dillon Preece (Clancy Briggs Cycling Academy) and third-placed Albie Jones (North Cheshire Clarion).
Preece and Jones battled it out for the remaining podium places for the duration of the race; it was only in the last lap that the difference was made when Preece pulled away by a few seconds, with Jones unable to match him.
The two riders would cross the line five seconds apart, behind a storming Atkins.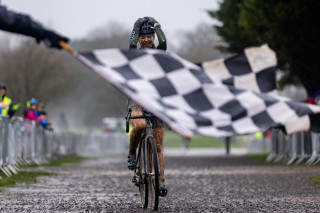 Women's Under-16
Cat Ferguson (Hope Factory Racing) continued her winning streak, asserting her position as the strongest rider in the women's under-16 race.
Imogen Wolff (Shibden Cycling Club) tracked her at every turn but she slowly slipped out of contention, losing just enough time each lap to allow Ferguson a shot at a solo victory.
Carys Lloyd (VC Londres) looked like she might challenge for the win, but a slow penultimate lap put her out of contention.
In the end, Ferguson took the win by eight seconds over Wolff, with Lloyd a further 20 seconds back.
Women's Under-14
Aelwen Davies of Velo Myrddin CC p/b Y Beic took the win in the women's under-14 race ahead of her season-long rival, Zoe Roche (WXC World Racing).
Previous races in this year's National Trophy have been close, but this was a much more one-sided affair.
Aelwen was fastest off the line and she rode that wave all the way to the finish, winning by almost 90 seconds.
Behind, Zoe Roche and Mabli Phillips (Maindy Flyers CC) were battling it out, and the final podium placings would come down to the line, with Roche narrowly beating Phillips in a hard-fought final sprint.
Podiums
A full list of podium placings from day one can be found below, with full results to follow.
Men's Under-16:
Sebastian Grindley (Garden Shed UK-Ribble-Verge Sport)
Nathaniel Henderson (Hetton Hawks Cycling Club)
Alfie Amey (DB Racing)

Men's Under-14:
Leon Atkins (Welwyn Wheelers CC)
Dillon Preece (Clancy Briggs Cycling Academy)
Albie Jones (North Cheshire Clarion)
Women's Under-16:
Cat Ferguson (Hope Factory Racing)
Imogen Wolff (Shibden Cycling Club)
Carys Lloyd (VC Londres)
Women's Under-14:
Aelwen Davies (Velo Myrddin CC p/b Y Beic)
Zoe Roche (WXC World Racing)
Mabli Phillips (Maindy Flyers CC)
Women's Veterans 40-49:
Ceris Styler (Backstedt Bike Performance RC)
Kate Eedy (Team Empella Cyclo-Cross)
Lucy Siddle (Reifen Racing)
Women's Veterans 50-59:
Catriona Ross (Bridport CC)
Isla Rowntree (Islabikes)
Helen Pattinson (Montezuma's Race Team)
Women's Veterans 60+
Nicola Davies (www.cyclocrossrider.com)
Lydia Gould (Velo Club Venta)
Men's Veterans 40-49:
Adrian Lansley (Pedalon.co.uk)
Lewis Craven (Wheelbase CabTech Castelli)
Paul Oldham (Hope Factory Racing)
Men's Veterans 50-59:
Nicholas Craig (SCOTT Racing)
Darren Atkins (Team Jewson-M.I.Racing)
Mike Simpson (Beeline Bicycles RT)
Men's Veterans 60+:
Robin Delve (Mid Devon CC)
Michael Davies (Pedal Power Loughborough)
Peter Harris (Pearce Cycles RT)