HSBC UK | National Trophy winner Ffion James is looking to maintain the consistency which earned her the title as she targets a national championships podium later in the winter.
James wrapped up her series win with a third-placed finish at the final round in York last weekend – her fourth podium finish in a row – which brought her points total up to 214, 36 clear of second-placed Sophie Thackray.
James says that national trophy success was a priority, and is delighted to have reaped the rewards of some exceptional riding.
"I'm obviously very happy to get the series win," she explains. "It was actually my main aim for the season, given that I've come close for the last two years. I definitely thought it was possible, but I knew it would be hard work due to the standard of riders, so to be able to pull it off is a good feeling.
"I managed to podium in all but one of the rounds I raced in, and that consistency was super important in being able to get the series win. I usually prefer the tougher, muddier courses, but this year I've also managed to perform in the faster races, which I've often struggled with in the past."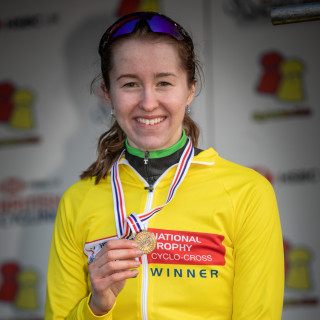 James is part of the Great Britain Cycling Team which will compete at the world cup round in Namur this weekend, and while solid international results are a target, she believes that the standard among British riders at the moment means that the forthcoming HSBC UK | National Cyclo-cross Championships represent a real challenge and opportunity to measure progress.
She says:
"My main focus is to be going well for the national championships, where I'd love to get on the podium.
"There are so many strong junior and under-23 riders in Britain who have made a big step up this year – I'm often one of the oldest riders in the top ten and I'm only 21!
"With Helen (Wyman) and Nikki (Brammeier) retiring, it's great to see riders such as Anna (Kay) and Beth (Crumpton) making the step up to race and perform internationally, which is definitely an inspiration and a confidence boost for the rest of us.
"The future for British cyclo-cross as a whole is very bright, and I'm sure we'll see British women performing at world level for years to come."
The HSBC UK | National Cyclo-cross Championships take place in Shrewsbury over the weekend of January 11 and 12.